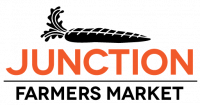 TORONTO JOBS
Position: Market Manager (contract, part-time position)
Organization: Junction Farmers Market 
Location: Toronto, Ontario
Hours: approx 15 hours/week (see below)
About us
The Junction Farmers Market (JFM) is an outdoor market that operates every Saturday morning from the end of May to early November in the Junction neighbourhood. Governed by a volunteer Board of Directors, the market strives to provide local, sustainably produced fresh foods in ways that build community, support local food growers and producers, and promote access to healthy food for all. We will be entering our tenth season in 2021.
Job Summary
The Market Manager acts as an ambassador, representing the market in the community. They are responsible for managing the weekly Saturday morning markets and the Junction Night Market, a summer fundraiser that brings in thousands of participants.
Weekly market responsibilities:
Overseeing set-up/take-down of the market
Staying on site for the entire market; enforcing market rules, liaising with Public Health officials and addressing any issues that may arise
Recruiting and managing market volunteers
Administering the voucher program with Four Villages Community Health Centre
Administrative and financial responsibilities:
Organizing vendor applications and acting as primary point of contact for vendors
Weekly scheduling of vendors, musicians and other community engagements
Taking meeting minutes during Board meetings
Generating/coordinating a weekly newsletter
Maintaining financial records of day-to-day market operations (invoices, vendors fees, receipts)
Submitting weekly cash income and sales reports
Night Market responsibilities:
Coordinating vendors: confirm participation, collect agreements, etc.
Ensuring all permits and logistical elements necessary are secured
Preparing and implementing marketing strategies focused on the Night Market
Conducting outreach with Junction community/residents to provide notice of the event
Recruiting and training volunteers
Overseeing all aspects of the Night Market on the day of the event, including set-up, volunteer management and clean-up
Required skills:
Strong relationship-buildings skills and ability to mediate a dispute
Problem solving skills and the ability to multitask
Organizational, time management and overall project management skills
Excellent oral and written communication skills
Event-planning experience
Comfortable dealing with finances
Excellent computer and social media skills, specifically with Instagram, Facebook, and MailChimp
Enjoys working outdoors regardless of weather conditions
Fundraising and grant application writing experience an asset
Previous customer service and cash handling experience an asset
For 2021, the format of weekly market operations (e.g. online versus in-person sales) and our ability to host a Night Market, will be dependent on COVID-19 restrictions. The ideal candidate must be flexible and able to adapt to changing circumstances.
Remuneration and time commitment:
This is a contract position from January to December 2021 (with possibility of extension). The overall average weekly commitment is 15 hours, though this may be more in the spring/summer and much less during the fall/winter months. The Market Manager is required to attend monthly Board meetings, the weekly Saturday morning markets (9 am-1pm, plus set-up and take-down) and the annual Night Market. Reliable access to a computer and internet, and a smartphone (for use during the market) are required. The remuneration for the contract period is $12,000.
How to apply:
Submit your resume and answers to the questions below to info@junctionmarket.ca .
What is your connection to the Junction community?
Why does local food matter to you?
Why are you the ideal person for this position?
Application deadline:
Saturday October 31, 2020
We thank all the applicants for their interest and advise that only those selected for an interview will be contacted.
The Junction Farmers Market is an equal opportunity employer and encourages resumes from people who are reflective of all diverse communities.
Please indicate you saw this posting at FoodWork.ca.