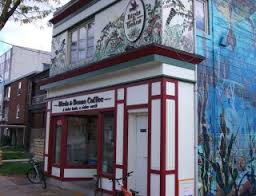 TORONTO JOBS
Position: Team Member - Sustainable Cafe
Company: birdsandbeans.ca
Location: South Etobicoke, Toronto, Ontario
About Us
The mission of Birds and Beans Café is to maintain a vibrant cafe serving the most sustainable coffee in the world, the best coffee in Canada, and offering customer service worthy of a small town. We endeavor to genuinely cultivate and enjoy all aspects of quality, sustainability, and happiness. In a world of cynicism and doubt, our mission is to do better.
We are seeking a full time addition to our excellent team. If you love coffee and are passionate about quality sustainable food, your values are aligned with ours. birdsandbeans.ca/our-values/ and birdsandbeans.ca/more-about-us/
Responsibilities and Duties
For this role we need a hard working, detail oriented, coffee lover who understands the value of using checklists and following protocols. You enjoy interacting with people and are proud to represent our products. Reporting to the manager, you will learn the details of our operations including Cash, Counter Service, Customer area housekeeping, Kitchen service, General Duties, Barista, restocking + specialties.
Over time, we will harness your interests and expand your role. Perhaps new menu items? Education and outreach? Administration? We will adapt to your interests and grow together.
Qualifications and Qualities
Must have or be willing to get foodhandler certification.
Must be able to lift 50lb.
Must be legally able to work in Canada
Please include your postal code or major intersection as only those with a reasonable commute to 2413 Lake Shore Blvd W in South Etobicoke are eligible. This is a permanent position that might suit a local student full time over the summers and part time during school term.
Benefits
For qualified applicants, barista training will be provided by the Espresso Institute of North America.
For committed staff who share our values and fulfill their responsibilities, we offer a once in a lifetime employee ownership opportunity . Together, let's build the future we want!
Please e-mail your resume and a brief covering letter to:
madeleine@birdsandbeans.ca
subject: Team Member
Please indicate you saw this posting at FoodWork.ca.