OFFRE D'EMPLOI / JOB POSTING
Offre d'emploi — Production maraîchère bio — Saison estivale 2019
Titre du poste : Assistant maraîcher
Ferme : Ferme Belle Roche
Lieu de travail : Brownsburg-Chatham, près de Lachute, Quebec
Logement : possibilité de loger sur place (conditions à déterminer)
Langue:   français/anglais (maîtrise du français un atout, voir ci-dessous)
Début du poste : fin avril 2019 (2 postes) OU juin 2019 (1 poste étudiant)
Nous sommes une jeune famille ayant démarré en 2012 une entreprise maraîchère biologique dans les Basses-Laurentides, tout près de Lachute (à 1 heure de Montréal). Nous écoulons notre production sous forme de paniers de légumes hebdomadaires (environ 160 paniers en 2019) et dans un marché public de la région. Nous produisons une quarantaine de légumes, à la fois en serre non-chauffée et au champ. Nous explorons également d'autres types de production afin de varier notre offre (porc de pâturage et produits transformés).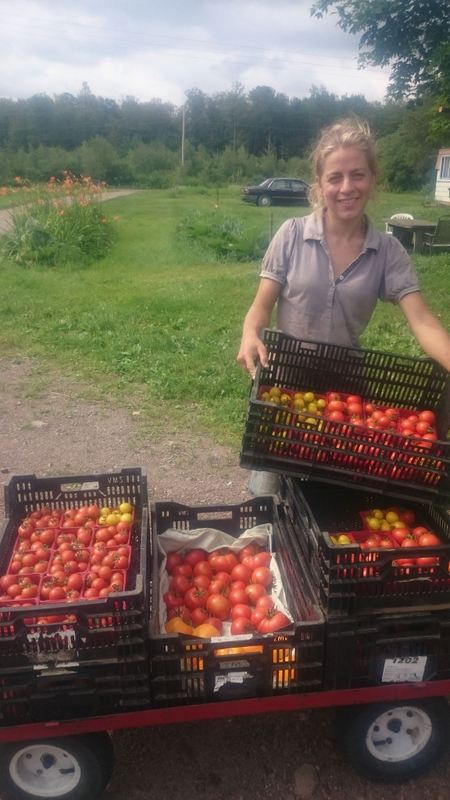 Nous sommes à la recherche de 3 employés pour la saison estivale 2019. Nous recherchons principalement des candidats étudiant dans le domaine agricole ou portant un intérêt marqué pour la production maraîchère biologique, idéalement avec expérience. Le candidat doit aimer travailler à l'extérieur, avoir une bonne forme physique et être capable de travailler efficacement, parfois seul, parfois en équipe. Nous veillerons à ce que les tâches ne soient pas trop répétitives, mais il faut détenir une excellente endurance aux travaux manuels. Nous veillerons également à ce que le candidat retenu puisse participer aux différentes étapes de production, de la semence à la mise en marché, afin de rendre l'expérience de travail enrichissante.
Description sommaire des tâches :
Participer à l'implantation des cultures (semis, transplantation, préparation du sol)
Participer à l'entretien des cultures en serre et au champ
Participer aux récoltes, au nettoyage et à l'emballage des légumes
Participer à la préparation des commandes en vue de leur livraison
Selon intérêt, possibilité de participer aux livraisons de légumes et/ou aux soins quotidiens des porcs et/ou à la transformation des légumes en cuisine
Conditions du poste :
Temps plein (40 heures)
Du lundi au vendredi

OU

du mardi au samedi
12$/heure
Début du poste : fin avril 2019 (2 postes) OU juin 2019 (1 poste étudiant)
Fin du poste à déterminer avec le candidat (vers septembre-octobre)
Accès gratuit aux surplus de légumes
Possibilité de loger sur place (conditions à déterminer)
Maîtrise du français un atout (we speak English but if you want to understand our farm world better... French speaking is the key!! A good place if you want to improve your French skills)
Veuillez nous faire parvenir un CV et une lettre de motivation à l'adresse courriel suivante :
fermebelleroche@gmail.com
Au plaisir de vous rencontrer!
Caroline Bélanger et Simon Rochon
When applying, please indicate that you saw this posting at FoodWork.ca.