TRURO / NOVA SCOTIA JOBS
Farm Worker Position on organic vegetable farm
Positions: Skilled Farm Workers
Farm: Four Seasons Certified Organic Farm
Location: Maitland, near Truro, Nova Scotia
Housing: Some on-farm housing available but off-site is preferred, other options could be explored.
Looking for help for the rest of the 2020 growing year and beyond! Come be part of a fun hardworking crew dedicated to growing great vegetables.
One full time position available to hardworking people with farm experience. On farm living available.
Four Seasons Farm is a medium-sized certified organic mixed vegetable farm on the Bay of Fundy in central Nova Scotia serving directly to Halifax restaurants, stores and farmers' market (in Halifax). Adjusting to the current situation we also started a CSA.
Job Description:
Farm worker will be working in fields and greenhouses doing day-to-day farm work, independently and in a team. Instructions will be given on a daily basis with potential for an independent work schedule and task list.
General farm maintenance (fixing, building, painting etc.)
Working with small machinery (small tractor, wiper sniper and tiller)
Field and bed preparation (fertilizing, raking, etc.)
Seeding crops (particularly salad greens)
Transplanting
Weed control (hoeing, wheel hoeing, hand weeding etc.)
Setting up irrigation
Watering duties 
Harvesting regularly (four part days a week)
Working the Saturday farmers market occasionally (setting up and selling)
Greenhouse management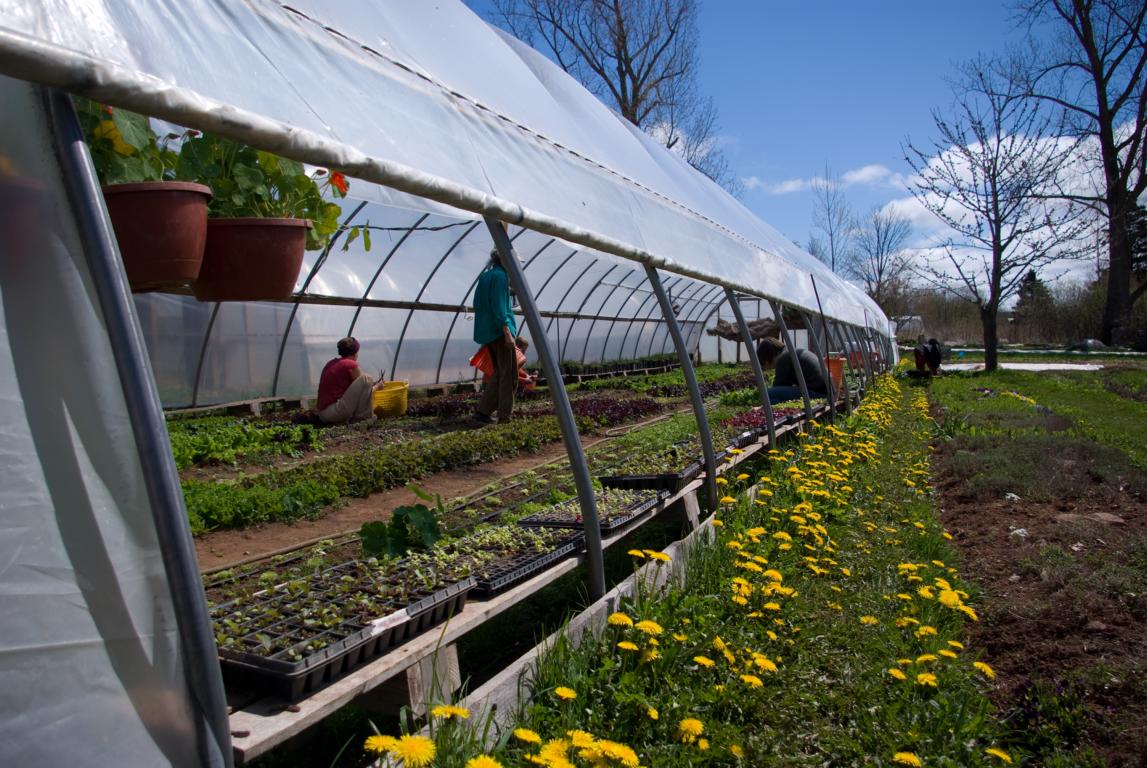 Qualifications:
Efficient
Hardworking
Good physical condition (must be able to lift up to 50 lbs)
Strong communication skills
Independent and self-directed
Motivated to get better at tasks and find the best way to do something
Passionate about sustainable agriculture and food
Aware of what's happening around and mindful of farm systems while carrying out tasks
Attention to detail
Compensation
$14/hr (with experience!); generally 35hr weeks
Housing:
On-farm housing available.
Time Commitments:
till Oct 31st
Monday-Friday and occasional weekends
Saturdays for markets as needed
Opportunities:
Land to grow your own crops for yourself or to sell to the farm.
We are looking to build relationships in order to involve more people in the operation and ownership of the farm. Open to ideas about how to do that and we have some of our own as well.
Seeking people who want to work here in the long term
For more on the farm, visit our website at http://www.fourseasonsfarm.ca
To apply or for questions about the position please email:
info@fourseasonsfarm.ca and please use the subject line title 'skilled farm worker on four seasons farm'
Include your resume, cover letter and references!
We only process applications of applicants that are eligible to work in Canada!
Please indicate you saw this posting at FoodWork.ca.