ORGANIC FARMING JOBS
Position: Farm Hands (3 positions)
Type: full-time seasonal positions
Housing: on-site rental housing available
Name of farm: Glorious Organics Co-operative Farm
Location: Aldergrove, B.C. (Greater Vancouver/Lower Mainland)
Farmer's Name: Mark Cormier
Name of Farm: Glorious Organics Co-op
Address: 1374 256th Street, Aldergrove, B.C. V4W 2J4 Canada
Email Address: info@gloriousorganics.com
Phone: 604-614-8760
Website: http://www.gloriousorganics.com
How many years have you been farming?: From 10 to 30 years
Nearest town or city: 7 km to Aldergrove, 70 km to Vancouver
Hours you can be reached by phone: 10am-5pm
Number of seasonal workers needed: 3
Position lasts from: 4/14/2019
To (inclusive): 10/30/2019
Describe the physical setting of your farm and the nature of the community you live in:
About 8 fields varying in size from just over an acre to under 1/4 acre are scattered around the farm with forest and seasonal streams separating them. As well, there are a couple acres in perennial tree fruits and berries. Farm residents and cabins are clustered in one section of the farm. We are 7 km from the town of Aldergrove and a 40 minute walk from a bus stop that can take you to Vancouver.
Describe your farm operation:
For the past 30 years Glorious Organics Co-op has been farming up to 7 of 20 acres owned by Fraser Common Farm Co-op. Jointly we consider ourselves a Community Farm - a place where residents live and work collaboratively, "village-style", each contributing to the well being of the whole, while also attending to our individual aspirations. Not all of us are actively engaged in the farming enterprise, but we all support the advancement and perpetuation of ecological farming.
Machinery used: Tractor, rototiller, weed eater, hand tools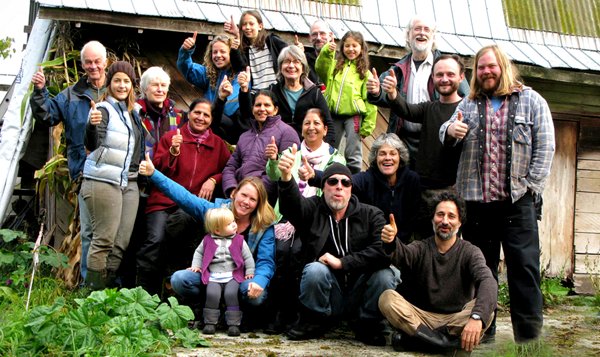 Products made: We sell at 3 farmers markets, run a 80 member CSA and supply restaurants in the Lower Mainland. We grow salad greens, edible flowers, herbs, fruit, all sorts of veggies, cut flowers. We grow much of our own seed and sell it through the B. C EcoSeed Co-operative. We have chickens for eggs and sheep for mowing, fertilizing, and meat.
Describe the work to be performed and the skills to be learned by seasonal workers:
Field preparation
Weeding by hand or with hand tools
Transplanting
Weed whacking/mowing
Harvesting
Cleaning, sorting and packing vegetables -Filling restaurant orders
Cleaning eggs/chicken coops
Cleaning seeds
What do you expect of a seasonal worker?: The work is physically demanding (bending and lifting), and repetitive, some say contemplative (weeding and transplanting). Being physically fit and mentally robust is a must. The work carries on in all kinds of weather, outside, as well as in poly houses.
We are looking for people who are willing to learn and are able to work efficiently, quickly by themselves and as a team, after being trained.
Explain how you intend to provide instruction and training: All learning here is by doing. You will have the opportunity to pick our brains while working alongside us, and then put what you learn into practice while working. We are open to discussing all aspects of the farming operation, from growing and planting to marketing and bookkeeping.
What resources exist in your community for additional learning: We are a diverse group of individuals with a wide variety of skill sets. We have also been living and farming co-operatively for many years. Seasonal workers have the opportunity to learn about community farms and how they function by taking part in one first hand.
Do you offer an allowance or a wage in addition to providing room and board?: Yes
If yes, please elaborate: Pay is minimum wage ($12.65 to start/ $13.85 in June) with about 30-40hrs a week available at the beginning and end of the season and up to 50 hrs a week in the heat of the season. On-farm housing with access to kitchen and bathroom facilities, and wifi is available for $500/month. Workers provide their own food unless arrangements are made to join the communal household. Workers have access to farm produce for their own consumption at no charge.
Are your farm production practices certified organic?: Yes
We have been certified organic by BC Association for Regenerative Agriculture (BCARA) since 1990.
Do you require applicants to visit your farm before you offer a spot? Please elaborate if necessary.: Yes.
Are you able to host a couple?: Yes
Are you a smoker?: Smoking indoors is not allowed on farm.
Would you take on a single parent or couple with one or more children? Under what circumstances?: It is a possibility, as long as a work schedule can be maintained and suitable housing arranged.
Please provide the contact details of someone who has worked with you on your farm; an employee, apprentice, wwoofer, or volunteer. This info will be provided to applicants.: Melissa Evanson: evansonm@gmail.com (2018 employee)
Briefly describe yourself, your family, your background, your farming experience, philosophy, and goals
We are a Community Farm co-operative with resident members ranging in age from 7 to 85 years. Some have farming backgrounds, others pursue other interests and careers. We all share a common love of our land and desire to tread lightly on the planet. We attempt to use triple bottom line accounting, balancing social, ecological, and economic aspects of our lives and businesses.
We need a short (100-200 words) description of your farm and the experience you offer for the website.:
Our twenty-acre community farm, located 53km east of Vancouver, has fruit and nut trees, wooded areas, streams, polyhouses, fields of annuals, and a clustered housing area. The group of diverse individuals who live and work here share a common goal of stewarding the land in a sustainable manner using organic methods guided by permaculture principles. Commercial crops include mixed salad greens, vegetables, herbs, cut flowers, chickens for eggs, and sheep for mowing. We sell at farmers markets, through a CSA program, and to restaurants. Seasonal workers will have an opportunity to learn about plant care and the economics of running a viable organic farming enterprise. Other areas of potential learning include: Permaculture, seed growing, farmers markets, Community Supported Agriculture, poultry (mostly for eggs), cooperative land ownership and making decision by participatory consent.
When applying, please indicate that you saw this posting at FoodWork.ca.