OTTAWA JOBS
Position: Program Manager and Garden Coach 
Organization: Senior Organic Gardeners
Location: Ottawa, Ontario
Senior Organic Gardeners Program, 
October 1, 2019-April 30, 2020
Canadian Organic Growers
Ottawa-St.Lawrence-Outaouais Chapter (COG OSO)
(Part-Time)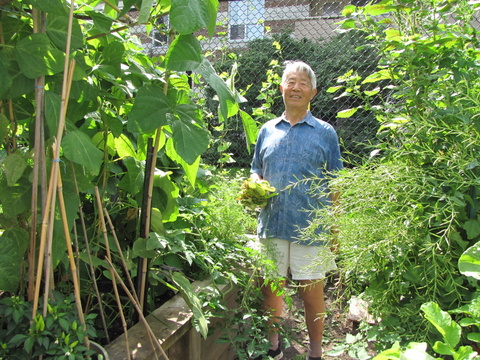 Senior Organic Gardeners (SOG) offers opportunities to seniors in the community to engage in organic gardening, bringing them the benefits of healthy food, learning experiences about organic food, physical activity (as able), and social interactions. The gardening seniors are encouraged and assisted by our Program Manager/Garden Coach and our volunteers. Please visit:http://www.cog.ca/ottawa/senior-organic-gardener/
The Program Manager/Garden Coach role is to:
Outreach to seniors' groups in the community;
Organize planning meetings with seniors in Gardening Committees in multiple locations;
Purchase and deliver garden materials, assist with distribution;
Host bi-monthly workshops for organic garden management
Deal with problems using organic gardening principles and methods (in season);
Organize garden cleanups and a harvest celebration;
Develop and deliver educational organic gardening workshops in winter;
Develop and deliver capacity building workshops to community partners (winter and spring);
Liaise with COG OSO & SOG Partners,
Represent the SOG project publicly;
Maintain financial records and submit invoices and expenses regularly
Assist volunteers in preparing grant applications.
The Program Manager/Garden Coach will need knowledge of and experience with:
Working with seniors;
Organic gardening /horticulture and/or horticultural therapy (degree or diploma in Horticulture, Horticultural Technician, Horticultural Therapy or Master Gardener);
Relationship-building and conflict resolution;
Program Management including budgeting,
Benefits of organic food;
Leadership & organization;
Communication skills including public speaking and writing in English and Meeting facilitation.
Highly desirable qualifications are:
Experience with NGOs, volunteer organizations or community gardens;
Community connections with seniors' groups, organic growers, horticultural therapists;
Excellent computer skills including Powerpoint, Word and Excel and Cloud storage.
Speaking and writing in French.
Other languages
The Program Manager/Garden Coach will work with the SOG Lead Volunteer & Leadership Team under the direction of the Canadian Organic Growers Ottawa-St.Lawrence-Outaouais Chapter (COG OSO) Steering Committee.
This is a part time position involving approximately 10 hours per week during the winter months. Position can be renewed as funding permits. Compensation is on a contractual basis and amounts to $25/hour. The candidate must be available to work October 15, 2019.
A vehicle and valid driver's license are essential. Mileage within the City of Ottawa will be reimbursed as well as approved expenses. Candidate must have work from home capability.
A police check is required.
Please send a covering letter and resume to sog@cog.ca by October 1, 2019. Applications without a covering letter will not be considered.
We wish to thank all applicants, however only candidates who will be invited to an interview will be contacted. Interviews will take place during the last week of September.
Please indicate you saw this posting at FoodWork.ca.