OTTAWA JOBS
FARM AND GARDEN STAFF REQUIRED AT STRATHMERE:
Position: Farm and Garden Assistant
Company: Strathmere
Location: North Gower, Rural Ottawa, Ontario (between Manotick, Kemptville)
Strathmere is looking for support staff for its fruit and vegetable farming operations and ornamental gardens. Strathmere is a country estate in Rural South Ottawa hosting weddings, conferences, events and a spa with restaurant.
Since 2004, Strathmere has been developing a fruit and vegetable farm to supply its banqueting kitchens - and now restaurant - with fresh, seasonal fruit, vegetables, herbs, edible flowers and honey. Currently, there are about 2 acres of fruits, vegetables, and flowers as well as a 1500 sq ft greenhouse and 4 beehives. In addition, we have several perennial flower gardens throughout the 30 acre property. The farm and gardens are not certified organic, but are managed primarily in accordance of organic standards with an emphasis on improving soil, diversity and managing the farm as an ecosystem.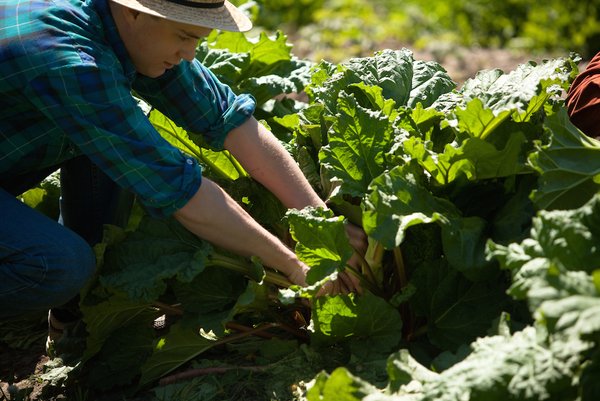 Strathmere is seeking full time staff to work in the farming/gardening operation under management of its lead growers, Colin Lundy and Eylie Mateer. There could also be opportunity to move back and forth from working in the gardens to prepping in the kitchen for those interested in participating in the full cycle from field to plate.
The work season is approximately from the middle of April to the end of October, with some flexibility depending on spring and fall weather.
Full time hours are Monday to Friday, predominantly 8am to 4pm with about 1 hour for lunch, though sometimes we start earlier and end later.
Candidates should be:
Already be residing in Canada (We do not have the capacity or resources to sponsor workers from outside Canada).
Dependable, yet flexible, and willing to commit for the whole growing season.
Able to work hard physically, outside, under a variety of climatic conditions:
Having proper footwear, sun and rain protection.
Focused and able to adapt to a variety of situations.
Enthusiastic about plants both beautiful and edible, and motivated/committed to strive and work efficiently.
Prior knowledge and experience with gardening using organic methods are preferred but not required.
Able to follow instructions and carry out tasks to completion while attaining a high standard of quality in an efficient amount of time.
Able to work well in a team as well as independently.
A good communicator:
Communicating when a task is completed and a new one needed.
Asking questions about the proper completion of tasks.
Working with Strathmere Chefs to ensure they have the produce needed each week
Welcoming Strathmere visitors into the garden and answering their many questions.
Having a valid drivers licence and own transportation is required (Strathmere does not have staff housing and is not accessible by public transit).
Tasks include: Seeding, bed preparation, garden building/renovating, transplanting, irrigating, weeding, mulching, pest management, harvesting, pruning, seed saving, composting, processing/packing, using and caring for tools/equipment, record keeping, among other tasks associated with fruit and vegetable farming and flower gardening. Other possible tasks include beehive management and operating a small tractor (based on interest and assessment).
In return, Strathmere's lead growers will provide:
All the tools needed to complete tasks given.
Training and guidance.
Mentorship and education about organic garden management.
The opportunity to offer your feedback and advice to improve management (we're always learning too!)
An amicable, understanding, and safe work environment.
In addition, Strathmere will provide:
A wage for employment commensurate of experience.
The starting wage is $14 up to $16 per hour.
Additional training required of Strathmere staff.
Perks such as surplus produce from gardens and lunches from Strathmere's catering kitchen.
To apply, please email a resume, cover letter, and contact info for two references, to:
Please put "Attn: Colin Lundy - application for gardens employment" in the subject line of your email.
Please indicate you saw this posting at FoodWork.ca.