SOCIAL ENTERPRISE JOBS
Position: Front of House Sales Animator
Organization: ChocoSol
Location: Toronto, Ontario (near Dufferin & St. Clair West)
We are seeking an enthusiastic and experienced individual to join the ChocoSol team as Front of House Sales Animator for our retail boutique & chocolate café. This is a part-time contract position until the end of December 31, 2019, with the potential for developing into a longer-term position.
ChocoSol is a Learning Community Social Enterprise that makes stone-ground dark chocolate, also known as the 'food of the gods', using cacao sourced directly from farmers in Mexico, Dominican Republic, Guatemala, and Ecuador. We process our delicious and nutritious bean-to-bar chocolate at our St Clair Avenue West facility and host many in-house culinary events, workshops, and tours. You can also find us peddling chocolate at 7+ weekly farmers markets and at a few dozen external community events & trade shows every year.
Our organization has been building and evolving for over 13 years in Toronto, and we are now looking to expand and strengthen our dynamic sales team with this hire.
The successful candidate is an individual who is passionate about ecology, sustainability, and supporting local food systems. The physical space of the storefront is a crucial connection point between the various areas of ChocoSol (production, wholesale, retail, markets, maintenance, etc.) so the individual must be able to work effectively in a team environment that requires communication and supporting each other. The right candidate loves engaging with people and takes pride in maintaining a clean, organized, and welcoming space for everyone that comes through the area.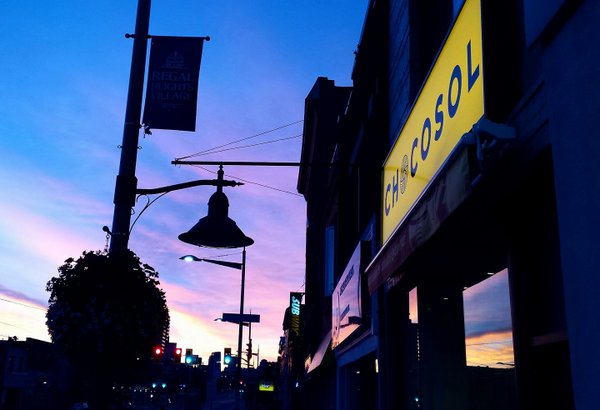 Responsibilities:
Sales

Promote retail sales using effective sales strategies.

Communicate your knowledge to customers about ChocoSol products, the business model, farmers markets, wholesale opportunities, etc.

Accurate cash handling, including cashing in and out.

Use of Shopify POS system to process all sales.

Support ChocoSol's growth by actively engaging in the opportunity to develop and improve our storefront space.

Hustle -- we are chocolate peddlers & pedalers (literally by bike sometimes). This means understanding & listening to customers' needs and making the right decisions to lead them to a positive Chocosol experience and purchase.

Hospitality

Provide hospitality to guests & customers entering the space and to people contacting ChocoSol by phone.

Make customers feel valued, listened to, and welcomed to our community.

Conviviality (respect, dignity & friendliness) amongst co-workers, volunteers, and community partners.

Barista

Brew and serve coffee to promote ChocoSol's low-emission coffee beans, using both the drip and espresso machines.

Learn to make extraordinary xocolatl (Mexican chocolate drinks) and Mayan mochas (chocolate & coffee blend).

Wrapping Chocolate

Support production by wrapping, stickering, and boxing chocolate bars.

Wrap all chocolate according to the protocol to ensure that packaging is clean, standardized, and aesthetically pleasing.

Cleanliness and General Cleaning

Ensure that the storefront space & equipment is routinely cleaned, organized, and sanitized.

Share in cleaning duties (sweep, mop, bathroom cleaning, laundry, etc.).

Maintain personal hygiene to a standard that is suitable for the food service/hospitality industry.

Administrative/Organizational Duties

Regularly check work e-mails. Respond & follow-up in a timely manner.

Actively engage with Google Drive (Google Sheets, Google Docs, etc.) to effectively communicate with Lead Animators regarding scheduling, sick/vacation time, submitting hours worked, etc.

Learning & diligence of the ChocoSol employee protocols, policies, & responsibilities.
Qualifications:
At least 2 years of sales experience

Effective organization skills and attention to detail

Outgoing nature & confidence

Must have an inherent desire to constantly improve systems

Ability to prioritize tasks in a busy retail environment to get the job done

A passion for ecology, sustainability, and supporting local food systems

Physically comfortable lifting up to 20kg boxes up and down the stairs on a regular basis

Adaptability: Must use a flexible approach to best match the environment, situation, or person. Can adapt quickly and to frequent changes, delays, or unexpected events.

Professionalism - Upholds organizational values and works with integrity and ethically in all situations, treats others with respect and consideration at all times. Accepts responsibility, reacts well under pressure, follows through on commitments.

Active Communication - Clearly expresses ideas, information, and concerns both verbally and in written format in both positive and negative situations. Actively listens, gives verbal and nonverbal cues of interest, asks questions for clarification, and paraphrases to ensure understanding.
Additional assets:
Fluency in Spanish and/or French

Food Handling certificate
Work days/hours:
We are looking to start candidates at 2-3 shifts per week (approximately 15-24 hours per week). Must have availability to work Saturday, Sundays, during peak retail hours and occasional evenings when ChocoSol hosts special events.
Compensation: $15/hour
ChocoSol's compensation structure will be disclosed & discussed during the interview process.
End date: December 31, 2019, with the potential for developing into a longer-term position.
How to apply:
Send cover letter and resume in PDF format to:
hiring@chocosoltraders.com
Thank you for your interest, however, only applicants selected for an interview will be contacted. We receive many applications and cannot respond to all in-person, telephone, and e-mail follow-ups.
Chocosol Traders is an equal opportunity employer and considers qualified applicants for employment without regard to race, colour, creed, religion, national origin, sex, sexual orientation, gender identity and expression, age, disability, or any other protected factor. Chocosol is committed to working with and providing accommodation to individuals with disabilities. If you need special assistance or an accommodation while seeking employment, please e-mail Byron@chocosoltraders.com We will make a determination on your request for accommodation on a case-by-case basis.
When applying, please indicate that you saw this posting at FoodWork.ca.