VANCOUVER JOBS
Job Title: Research Associate – Organic Agriculture
Organization: Institute for Sustainable Food Systems
Location: Richmond/Vancouver, BC
Term: 35 hours/week for one year, renew... (see below)
The Institute for Sustainable Food Systems (ISFS) is seeking applications for a Research Associate who will be responsible for leading the establishment and execution of field and protected structure based research and extension programming focused on organic market crop, forage crop, livestock production, and agroecosystem management.
About ISFS
The ISFS is an applied research and extension unit at Kwantlen Polytechnic University (KPU). We investigate and support regional food systems as key elements of sustainable communities, focusing predominantly on British Columbia but also extending our programming to other regions. Our applied research focuses on the potential of regional food systems and encompasses agriculture and food, economics, community development, community health, policy, and environmental stewardship. Our extension programming provides information and support for farmers, communities, business, policy makers, and others. Community collaboration is central to our approach.
ISFS employs a multidisciplinary team of researchers with expertise in food systems, agriculture, economics, farm business management, ecology, public health, planning and policy, extension education and other disciplines. Our office is on KPU's Richmond campus, located at 8771 Lansdowne Road, Richmond BC. The campus is served by rapid transit (Canada Line - Lansdowne Station), by which downtown Vancouver can be reached in about 30 minutes.
More about us and our work is at www.kpu.ca/isfs
Position Overview
Contract: 35 hours/week for one year, with opportunity to renew on an ongoing, annual basis dependent on funding and performance
Salary: $27-$34/hour (inclusive of benefits), depending on qualifications and experience,
Position start date: January, 2020
Reports to the Director.
Responsibilities and Tasks
The Research Associate – Organic Agriculture will be responsible for planning, day to day execution of, and reporting on field and protected environment based organic crop and stock production research projects. Field based research is conducted at sites away from campus. This position also will be responsible for leading the preparation of extension materials and programming associated with research project knowledge mobilization. The Research Associate- Organic Agriculture may also, from time to time, contribute to other ISFS sustainable food system research initiatives. The primary responsibilities of this position include:
Conceptualization and design of research projects, independently or with project leads/ collaborators.
Implement and execute experiments, including plot establishment, experimental crop and stock management, collection, analysis, and interpretation of data.
Procure goods and services for the execution of research/ extension.
Lead or contribute to preparation and submission of grant applications.
Monitor, assure and report on project budget adherence.
Assure adherence to grant requirements, stipulations.
Preparation of reports to granting agencies.
Supervision of support staff.
Prepare technical reports, manuscripts and presentation materials
Collaboration and coordination with other ISFS staff and research staff from collaborating institutions/ organizations.
Assure a safe, inclusive, amicable work environment.
Plan and execute extension programming associated with research projects/ organic agriculture focus.
Interact with various KPU administrative units (e.g. Finance, Human Resources, Office of Research Services etc.) as required.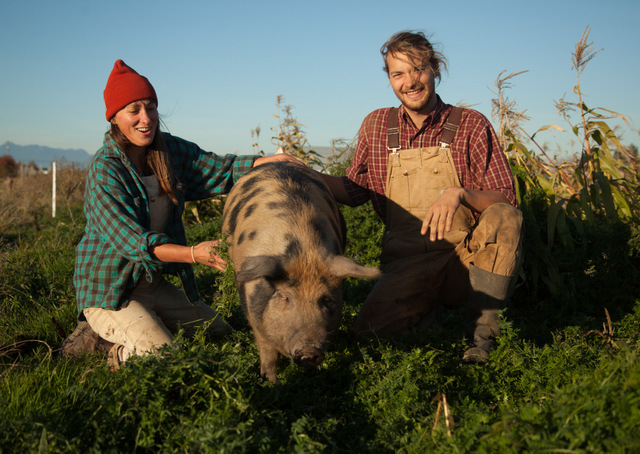 Qualifications, Skills and Experience
The successful applicant for this position will be a well-rounded and skilled production agriculturist and scientist. You must:
Hold a Master degree or Doctorate in agriculture/ animal science/ plant science.
Have expertise and experience in organic animal husbandry/ livestock production.
Have expertise and experience in organic market and forage crop production.
Have working knowledge of agroecology, soil management and conservation, ecologically based pest management, farm business management.
Have expertise in and experience in designing and executing crop and stock production, and agroecosystem research.
Be proficient in the use of statistical analysis packages.
Have strong writing skills demonstrated by your technical and/or academic publication record.
Have strong interpersonal relations and communication skills.
Have demonstrated ability to work with a high degree of autonomy and with a multi-disciplinary team.
Be a Canadian citizen, permanent resident or hold a valid work permit.
Must have a valid BC license and vehicle.
The following will be considered assets:
Knowledge of the agriculture and food system landscape of BC.
Experience with project development and management.
Demonstrated ability to conceptualize a complex project and effectively plan and execute steps to complete it.
Grant writing experience and/or training.
To Apply
Submit your letter of application, resume, and Names of three references with contact information to:
Kent Mullinix, Director- ISFS (kent.mullinix@kpu.ca), copied to Wallapak Polasub- Senior Research Associate- ISFS (wallapak.polasub@kpu.ca). Please use the subject line: Research Associate- Organic Agriculture.
Application deadline: October 20, 2019.
Download job description pdf: https://www.kpu.ca/isfs/job-opportunities
Please indicate you saw this posting at FoodWork.ca.