VOLUNTEER OPPORTUNITIES
Positions: Volunteers
Project: Pumki / instagram.com/pumkinforall/ (a project of Sociolution inc. not-for-profit in association with members of People-is-Possible Ottawa-Gatineau)
Location: Downtown Ottawa / Main Market
We are looking for you!
Pumki is a project of Sociolution inc. not-for-profit in association with members of People-is-Possible Ottawa.
This project donates 50% of profit to "Food for People" a program of the Prem Rawat Foundation. Our fundraising is throught of the selling of healthy snacks with pumpkin seeds.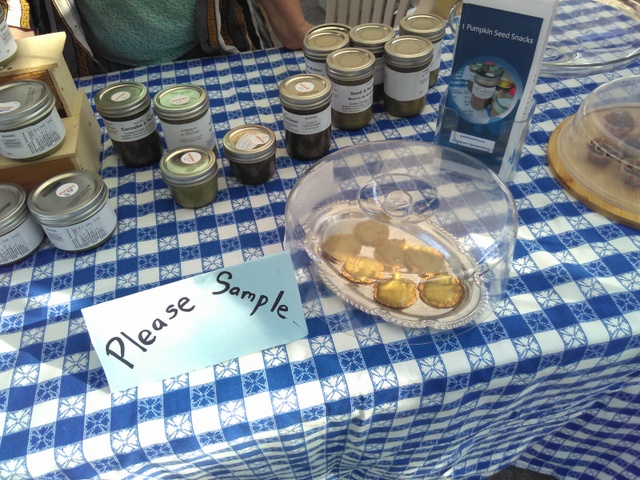 Where are our donations going? Food for People supports an innovative approach to helping people in poverty-stricken communities, a model program that provides hot nutritious meals in the local cuisine to children and ailing adults. Opened first in Bantoli, India, in 2006 and then in Tasarpu, Nepal (2009) and Otinibi, Ghana (2012), ones of the poorest states in the world, the program has been credited with improving community health, dramatically increasing school attendance, and inspiring a growing sense of hope in the communities served. For more information https://www.tprf.org/program/ffp/
How we work? Our project is mainly run by volunteers who support the charity donation and enjoy working together on a healthy food craft enterprise. We need support mainly to participate in Main Market Ottawa on September 7, 14, 21, 28 and October 5. But aside of those days we keep working and need more help. We have different kind of roles and activities in our team.
Are you interested in participating? We would love you to support us with your talents and your time, it isnt a half part job, we have activities that can fit in your agenda… Besides if you want to be part of this project more time and you are interested in certifications ask us, we are interested in our team and support the personal growth.
For more information, please mail us to both:
pumki@mail.com and
franco.lopez.tania@gmail.com
Please use this subject line: New fellow.
Pumki https://www.instagram.com/pumkinforall/
Please indicate you saw this posting at FoodWork.ca.