Service-Stay Position
Zen & A Food Forest: Farm & Food Forest Caretaker Position
Position: Farm and Food Forest Coordinator Position
Type: work-stay (with food & accom.) / volunteer (see below)
Organization: Clear Sky Meditation & Retreat Centre
Location: Clear Sky, Bull River, near Cranbrook, East Kootenays, British Columbia
Do you love learning and growing? Would you like to connect with nature, yourself, and others more deeply? If you answered "Yes!", and you have a particular interest in farming and food forests, we invite you to apply for our 2018 Food Forest Caretaker position.
The Clear Sky Meditation Centre is proudly home to one of Canada's largest cold climate food forests. Designed in 2012 and planted in 2013, our food forest is a one acre demonstration model of sustainable agro-forestry. For anyone wishing to grow their own Food Forest or start their own artisanal organic farm, this position will provide invaluable 'hands on' experience.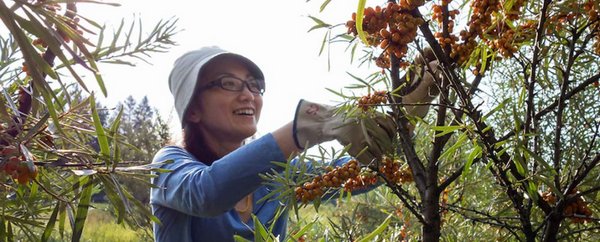 Ideally, you would have some experience with farming, gardening, permaculture and food forests. Caring for the food forest requires use of a tractor, weed whacker and other tools. This position includes tasks such as weeding, irrigation, plant care, harvesting and record keeping.
To learn more about this year-round, service-for-stay position and Clear Sky's unique Karma yoga program, visit our Farm website at: http://www.clearskyfarm.org/food-forest-farm-positions/ or our Centre website at: http://www.clearskycenter.org
When applying, please indicate that you saw this posting at FoodWork.ca.