ORGANIC FARM / FARMLAND 
Land: Farm Lease (or lease to own) Opportunity
Farm: Sweet Earth Farm | Instagram
Location: West Earltown, near Truro and Tatamagouche, Nova Scotia
Housing: 3-bedroom farmhouse for rent
If you have market garden experience and/or an interest in developing a permaculture orchard or similar, and are ready to start your own farming business, and are interested in building community in rural Nova Scotia, we have a land lease opportunity that may interest you. Read on!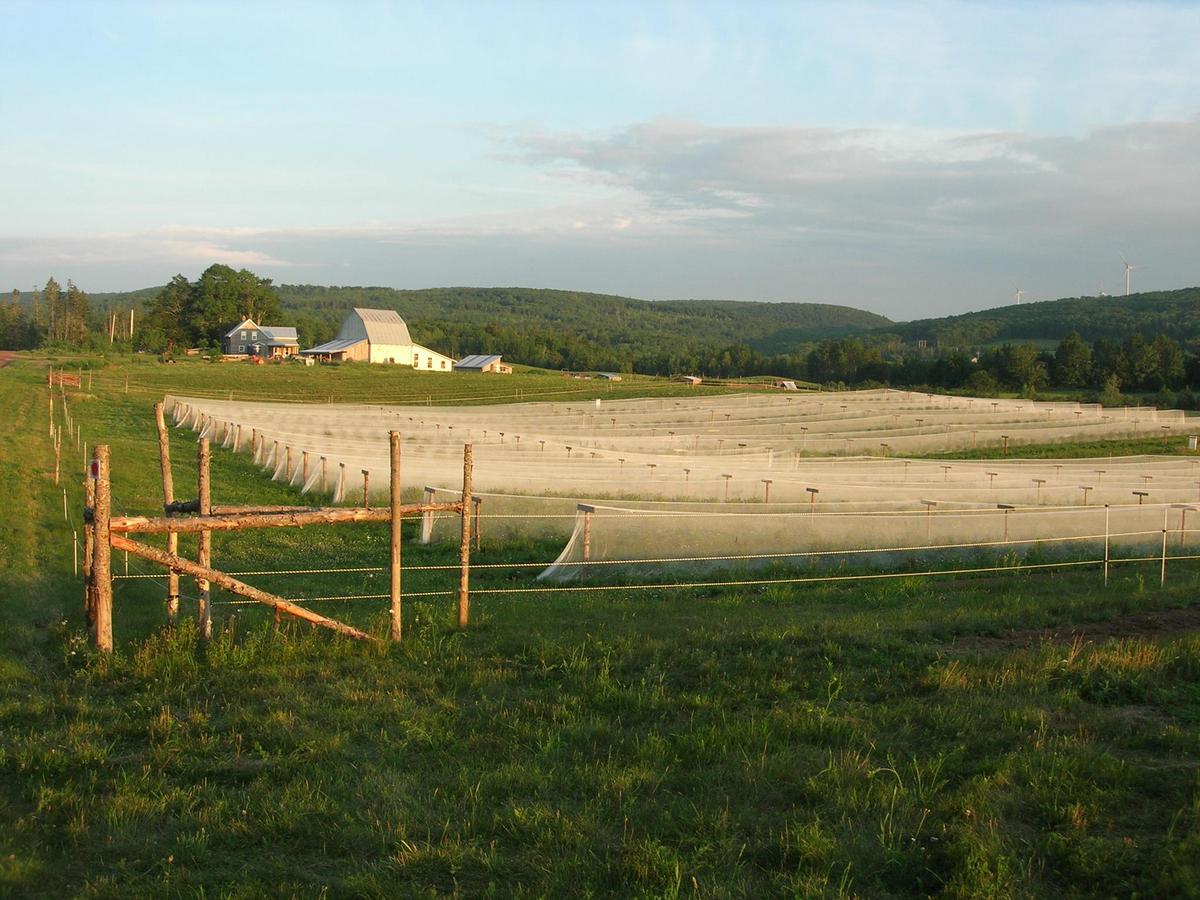 Sweet Earth Farm is a 200-acre mixed farm – with pastured livestock (chickens, pigs and cattle) and a 10-acre organic orchard (haskap berries and other fruit). We practice regenerative agriculture to grow nutritious and delicious food for our family and our community. Our property is comprised of pasture and a large woodlot, with several small streams and the Waugh River running through it. There is lots of wildlife, topography and beautiful scenery of the Cobequid Hills.
We are looking for a couple or family to move to our farm and start their own business growing fruit, vegetables, cut flowers and/or herbs. Additional opportunities also exist including bee keeping, maple syrup, sheep, goats, etc., depending on your interests, skills and ambition. This opportunity is available as of May 1, 2023 – but can also begin later in 2023.
This is not a job - this is an opportunity to farm with us. Depending on what you grow, we may be able to help you market your products to our existing customer base. You must be entrepreneurial, self-motivated, interested in farming as a livelihood and way of life and already possess many of the skills and knowledge needed to be successful. We can share our knowledge and experience with you and can provide business mentorship.
What we can offer:
At least 2 acres of fertile and relatively flat land. Some of it is already a productive vegetable garden, other areas are currently pasture and will need to be converted. The 2 acres of land is very close to the farmhouse. More land may be available after the first year, depending on the proposed use.
Rent of a 3-bedroom, 1.5 bathroom farmhouse (approximately 1,200 sf). The farmhouse has a drilled well, which has never run dry over the 10 years that we have lived on the property and has been used for irrigation in the past. The farmhouse was completely rebuilt and modernized in 2012 with all new appliances and mechanical systems. It is well insulated with a wood stove as the primary source of heat.
Shared use of some garden tools, such as tiller and hand tools.
Shared use of cold storage.
Occasional use of tractor, if needed.
Opportunity to become an owner.
What we ask:
That at least one member of your household plans to farm full-time during the growing season and are fully committed to making your business a success.
That you practice organic/ecological methods (you would be eligible to become certified organic after year 1, if you choose to take this path), without use of chemical fertilizers or herbicides/pesticides.
Access to the farmhouse basement, which we continue to use as our root cellar.
If you are interested in exploring this opportunity further, please email a cover letter to sweetearthfarm.ns@gmail.com , subject: "farm lease opportunity". Your cover letter should describe your farming experience and provide a brief outline of your proposed business (ie. what you plan to grow, how you plan to sell/market your products, other business ideas you have). We will contact you if we think you might be a good fit for our farm and set up a call to discuss our collective ideas. We have lots more information to share, and you likely have lots of questions!
Thank you for your interest!
Please indicate you saw this posting at FoodWork.ca.