VOLUNTEER OPPORTUNITIES
Festival Afloat seeks a volunteer caterer/food prep specialist
Food planning/preparation for a small crew aboard a tall sailing ship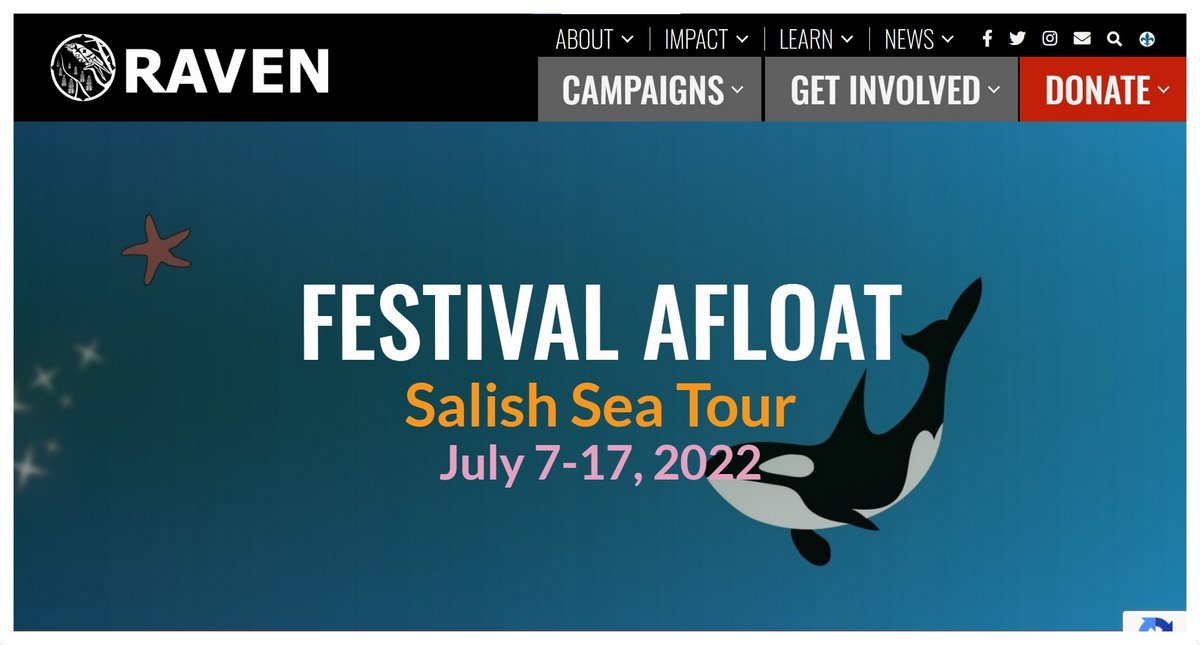 Position: Caterer/Food Prep
Event: Festival Afloat (a project of RAVEN - Respecting Aboriginal Values & Envrionmental Needs)
Location: if you live near Vancouver, east coast of Vancouver Island, Victoria or the Gulf Islands, please apply.
Sail on B.Cs oldest ship, a tall sailing ketch called Providence from July 7- 17. Using the finest farm and sea fresh ingredients, you'll prepare meals for crew and work together with celebrity chef Charlotte Langley to create elegant, sustainable charcuterie platters for groups of 24 people on eight different sailing cruises.
About you; You like: music, salt water, working for Indigenous justice and environmental protection, and sailing! Choose all or part of the tour to sail the islands, sleeping aboard in a bunk & enjoying most days on deck, with approx 4-6 hours per day of light food prep.
You must be in good health and have some cooking experience; comfortable with small spaces & improvisational kitchen set ups!
Bonus: you like to kayak/paddleboard - shows will happen nightly July 7, 11-16th - you can watch from the deck of the Providence or jump in a boat to join audiences on the water.
About the event:
This July, RAVEN (Respecting Aboriginal Values and Environmental Needs) is teaming up with sustainable seafood company SCOUT to launch a "Festival Afloat" concert series. Now that restrictions are lifting, performers including Juno-nominee Desirée Dawson, Renée Layla and Ms. Pan!k will be giving shows from the deck of the Providence — a gorgeous tall wooden sailing ship and the oldest boat in B.C.

The stage is mobile: and so is this year's Festival Afloat. The Providence will sail from port-to-port through the Salish Sea, kicking off with a concert at Jericho Beach in Vancouver on July 7th, then heading to Gabriola Island (July 11), Ladysmith (July 12), Sidney (July 13), Pender Island (July 14), Salt Spring Island (July 15) and Galiano Island (July 16).
While it's fun to paddle up to get a front row seat alongside the Providence, audiences can also catch shows from the beach in most locations. Tickets are by donation and available at https://raventrust.com/paddle.
There are several ways to play:
You can plan out meals, shop and prep food - think "Hello Fresh" style - and we will bring it aboard and heat up/cook meals based on what you prepare. All ingredients and costs are covered.

Come aboard and cook for everyone! Starting July 7, a small crew of audio techs, sailors, musicians and organizers will be aboard, joined by various crew members for evening concerts. We can fend for ourselves at breakfast but need help with lunch and crew dinner. You'll also help with prep and serving of 'chacuterie' platters during 3 hour sailing cruises open to small groups of 24 people.

Come aboard for part of the tour. You can join for one or two legs as follows:
July 7-9 Vancouver
July 10-13 East coast of Vancouver Island (Gabriola, Ladysmith, Sidney)
July 14-16 Gulf Islands: Pender, Salt Spring, Galiano
Sound like fun? Get in touch with Andrea (250 537 6322) or Caitlyn (caitlyn@raventrust.com) asap and we'll jump on a call.
Please indicate you saw this posting at FoodWork.