NONPROFIT BOARD MEMBERS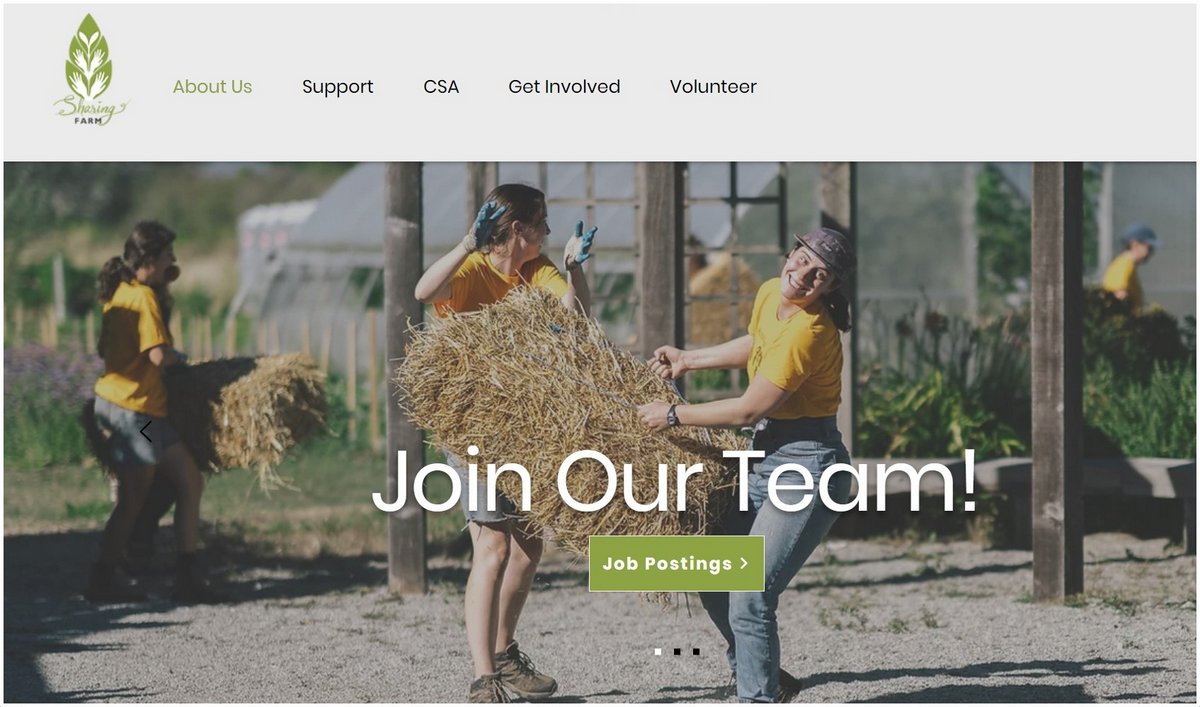 Needed: Board Members
Type: nonprofit board members, vol./unpaid
Organization: The Sharing Farm Society
Location: Richmond, BC
Summary
The Sharing Farm is seeking new board members with skills and experience in finance, fund development (including corporate and private sponsorships) and grant writing. We will be developing a new strategic plan this fall for The Farm and encourage you to apply if you feel you can contribute your skills to this work.
As a Board member you will:
Develop governance and leadership skills
Develop a new strategic plan for The Farm
Support the work of The Farm to address food insecurity in our community
Support the weekly harvest basket sales of locally grown vegetables
Support our education and volunteer programs which help to reduce social isolation, particularly for seniors in our community
About the Sharing Farm
We grow vegetables, using sustainable farming practices, for donation to the Richmond Food Bank and community meal programs. We also sell our produce in a weekly CSA (community supported agriculture) program, and via an online store, a farm stand and at farmers markets. Located in Terra Nova Rural Park, we cultivate 4 acres of land. The Sharing Farm strives to be an agricultural community centre where everyone is welcome and bonded by a common goal to address food insecurity in our community. 
Volunteers are the lifeblood of the farm, with hundreds of people helping each year in a variety of ways. We also hold the annual Richmond Garlic Festival, which draws upwards of several thousand attendees from across the Lower Mainland.
Mission
We grow food and community through farming, to advance food security, reconnect people to agriculture, and champion sustainable food systems.
You're our Dream Candidate if some of these apply to you:
You have experience on other governance-focused Boards of Directors
You have experience in fund development and grant writing for an organization
Are a Certified Professional Accountant or have strong bookkeeping skills
You bring a broad network of skills to further our mission and strategic plan
You are people focused, and have strong community connections
Have time and energy and are looking for a great way to contribute
Are excited to be part of a diverse team and engage in governance and strategic conversations
All Board Members are responsible to:
Personally commit to the vision, mission, and values of the organization
Help support and evaluate the Executive Director
Help ensure effective fiscal management
Actively engage in strategic planning, help the Board set the strategic direction
Help approve and monitor programs and services
Personally engage in resource development (asking for money) for the organization
Help oversee risk management
Assist in the development and monitoring of all policies and legal requirements
Prepare for and actively participate in monthly board meetings and Annual General Meetings
Join Board Committees as appropriate
Be an ambassador for the Sharing Farm in your network
Stay informed on the work of the organization, local food systems and food security issues, and board governance best practices
Assist in the recruitment of new board members
Time Commitment
Active participation in monthly board meetings. The Board meets once a month, usually on the third Monday of the month from 6.30-8.30pm
Board members also assist with the planning and implementation of our annual fundraiser, the Garlic Festival, which is held in August
Board terms are two years and can be renewed indefinitely
To Apply
Please send your resume and a short narrative of why you would like to join the Board to: info@sharingfarm.ca . A member of the Board will contact you to discuss the roles, responsibilities and expectations, and if felt to be a mutually agreeable fit, the candidate will be invited to apply.
Please indicate you saw this posting at FoodWork.
We encourage applicants from all diverse communities to apply.
The Sharing Farm is located on the traditional, ancestral and unceded territory of the x?m?