WORK-TRADE POSITION / POSSIBLE STIPEND
Wanted: Farm, house, land help needed
Type: volunteer position with accom., breakfast, lunch, potential for a stipend
Farm/homestead: Free Roots Farm
Location: Margaree Harbour, Cape Breton Island, Nova Scotia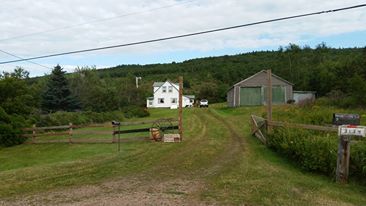 We are Tierra and Dave, founders of Free Roots Farm, a non-certified vegetable farm located in rural Cape Breton, NS. Our goal is to provide delicious and healthy produce to the surrounding area. We are looking for hard-working people that want to learn about small scale farming and how food is grown.
We ask our workers to invest about 5 to 6 hours a day, 5 days a week depending on the weather and work. Throughout the season we require help with prepping garden beds, seeding, transplanting, watering, weeding, mulching, harvesting, washing, packaging and labeling, preserving, wild foraging, help with our Air BnB, building, and other farm and homestead related tasks as they come up. We also run a small CSA. We offer breakfast and lunch on work days as well as free board. We also keep you kitchen stocked with grains, lentils, etc and produce from the farm is available for your own cooking. We are also willing to offer a weekly stipend to the right candidate/s. Our mornings usually start with breakfast while we discuss the day ahead. Lunch is around 12ish. We also expect everyone to contribute in meal clean-up. It is important to note that the days can sometimes be hot and the work can sometimes be tedious. It can be challenging at times and it is important that volunteers understand this. This is an opportunity best suited to those that are wanting to learn how to grow organically on a small farm.
We have a camper that sleeps 2 comfortably and has power and a kitchen. The space is perfect for a couple or 2 friends, however we do not expect you to share the space if you are solo. The shower is in the main house however we do hope to eventually install an outdoor solar shower.
We are centered between 2 towns, Inverness and Cheticamp. English and French are the main languages of the area. We are just a 5 minute walk from a lovely pebble beach and a 10 minute walk to the large sandy beach. The area offers a lot to do during the summer including hiking, swimming, SUP, kayaking, archery, restaurants, whale watching, floats down the river, fishing, micro breweries, live music, and more. We are also located literally at the foot of the world famous Cabot Trail.
You can visit our website at: freerootsfarm.ca (or on facebook)
Or contact us by:
Email: freerootsfarm@gmail.com
or Phone: 902-561-0876
Please indicate you saw this posting at FoodWork.ca.