PERMACULTURE INTERNSHIPS
Position: Permaculture interns
Organization: Eden in Season
Location: Meaford, near Owen Sound, Ontario
Housing: on-farm accommodation provided (see below)
We are seeking an intern to complement our permaculture-based farm based in Meaford Ontario in beautiful South Georgian Bay.
EDEN in SEASON was spawned by Ivan Chan in 2012, inspired after completing his permaculture design certificate. After first establishing on numerous properties nearby to consult on and establish a variety of edible perennial polycultures and mushroom logs, Ivan has now established the farm in Meaford initially focusing on a 2 acre forest garden. Now in its 7th year of growth, the forest garden comprises 90 perennial edible plant species, supplies produce for market, and is a source for learning and propagation. Outdoor log cultivation of shiitake and oyster mushrooms is another of our specialties. Our next major and on-going project since 2019 is the house build.
While we have the flexibility to accommodate everyone from WWOOF-style work trade to a waged construction hand to everything in between, this posting is catered to the prospective intern. As a starting point, our WWOOF guests contribute 25h/week on a wide range of farm tasks and learn about the many aspects of our farm in exchange for room and board. We anticipate most applicants wish to start the initial weeks this way to become familiar with the setting and finalize a plan. With additional time over a longer duration to focus on a project of their interest to the farm, we would be happy to provide you additional one-on-one support and permaculture integration. Below is a list, partly of some areas of our existing focus you can intensify your learning on, and partly of ideas to spawn a possible project of your interest:
Food: fermenting, cooking, preserving, medicinal and wild edibles
Woodlot: mushrooms, tree trimming, wood hauling, coppice, livestock, silvopasture
Construction: house, sunroom, natural building, passive design, rocket mass heater, aquaponics **interior house construction is a continued high priority this year**
Annuals: sunroom starts, transplants, sheet mulching, fertility (bokashi, compost tea, biochar)
Forest gardening: observation, herbs, tree maintenance, disease
For the purposes of this posting, we propose a stipend of $100 for 40h/week with emphasis on your interest in establishing a complementary project (such as silvopasture setup, or sunroom construction and indoor growing, or constructing a backwood bunkie).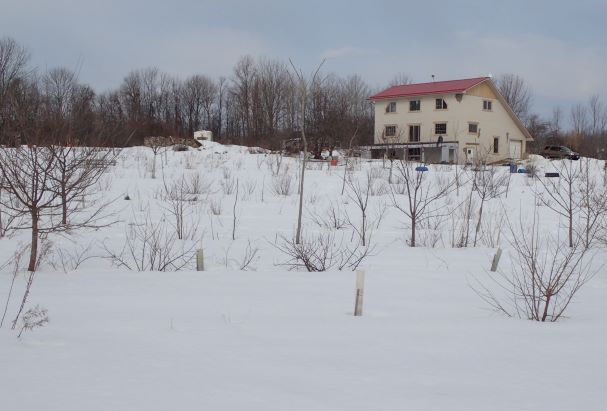 Our community is comprised of myself and partner Yan as residents, and any other rotating farm guests or visitors. We anticipate the year will average out as a community of 4 based on previous years including last year's exceptional year of the covid. Our farm has 2 large trailers available for guests; indoor accommodations is dependent on the progress of house construction. We often eat together and are predominately vegan. It goes without saying practicing basic covid protocols and building a healthy space is for the benefit of everyone in our farmily and for those we nourish.
To Apply:
Please email Ivan, ivan@edeninseason.ca a copy of your resumé and a few paragraphs to describe your potential fit:
What skills you want to learn or further develop
What project contribution you would like to make
Period of stay
Your commitment to rural communal living
Anything else you'd like to share
Please indicate you saw this posting at FoodWork.
Please browse our web site for a greater perspective of our farm.
– Ivan Chan