ORGANIC MARKET GARDENING
Position: Market Gardeners / Jardinier.ère maraîcher.ère
Farm: Les Jardins de la Marmotte / Groundhog Gardens
Location: Bromont, Eastern Townships, east of Montreal, Quebec
**Pour consulter cette offre d'emploi EN FRANÇAIS, veuillez visiter le site web de la ferme : lesjardinsdelamarmotte.com/emplois
Veuillez indiquer que vous avez vu cette offre sur FoodWork.
---
pdf of the job offer available here
Groundhog Gardens is hiring for the 2022 growing season !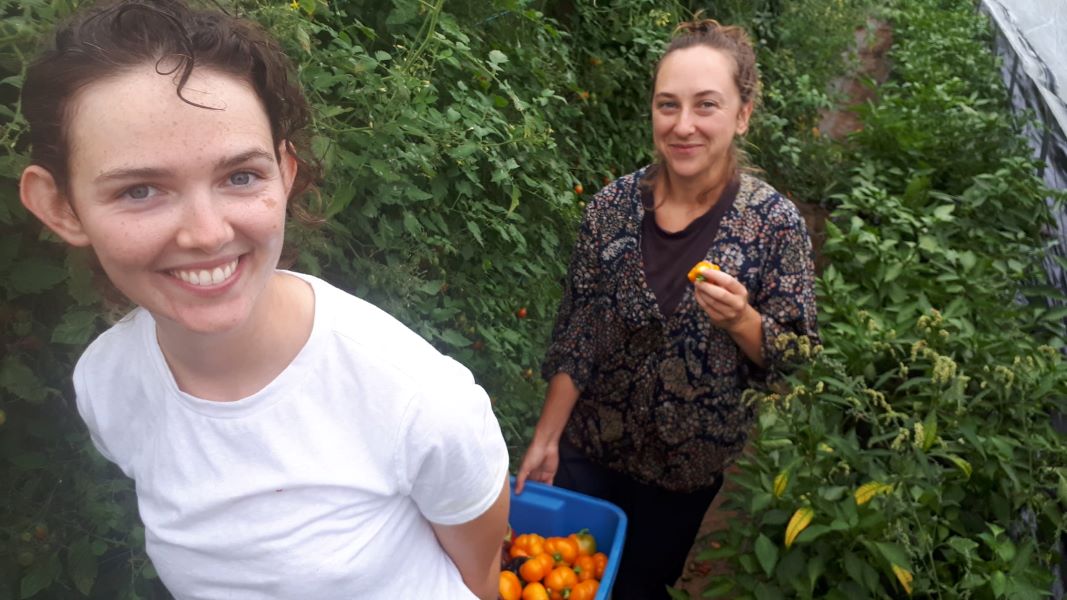 Are you passionate about growing healthy food for local communities, fostering a biodiverse and socially inclusive farm environment, and gaining some serious growing skills? If so we want to hear from you!
Farmer David is looking for 3 Market Gardeners for his 2022 team,in a workplace centred on overcoming challenges and empowering employees.
All team members will participate in all production tasks, from seeding to harvesting over 40 different vegetables and 12 different herbsas well as lots of flowers. We will be growing for 120 CSA shares, a farm stand, and sales to 3 restaurants. In addition, each team member will be the Coordinator of a specific area of production.
Read on to learn more.
---
ABOUT THE FARM
Groundhog Gardens is a certified organic, biointensive market garden located in Bromont in the beautiful Eastern Townships of Québec. Founded in 2020, the Gardens are the life project of David Whiteside, founder and owner.
Our mission is to bring flalour, color, and nutrition into our communities' lives. That's why we grow fresh, seasonal vegetables using ecological growing methods that respect the land and waters.
At Groundhog Gardens, we dream of a truly local and ecological food system that creates empowering employment opportunities and rebuilds relationships between urban and rural populations.
---
WORKING CONDITIONS
$15 / hour wage
One week of paid vacation (to be scheduled in advance)
One CSA share per week and access to surplus vegetables
One continuing education course of your choice with the CÉTAB+, paid for by the farm
Possibility of an end-of-season bonus
28 to 30 week contract, from mid-April/early May to mid/late November
32 to 40 hours of work per week, between 8am and 5pm, Monday to Friday
Weekend work ( Saturday OR Sunday ) every 4th weekend (i.e. once per month)
---
GENERAL TASKS
All team members will perform the following duties. The farmer and/or the relevant Coordinator will oversee these tasks.
Prepare growing beds (broadforking, applying amendments)
Plant out the crops
Install growing hardware: trelissing systems, anti-insect netting, floating rowcover, irrigation lines, silage tarps, etc.
Maintain crops: weeding, pruning, insect control, etc.
Harvest, wash, and condition vegetables
Load the delivery vehicle
Participate in sales activities when necessary
---
SPECIALIZED TASKS
As well as participating in all the above tasks, each team member will take on one of the following roles, depending on each member's skills and interest:
Mechanized Operations Coordinator (BCS)
Using the Production Calendar and Garden Maps, prepare the proper growing beds using the BCS (two wheel tractor) and relevant attachments
Ex: spread compost using the compost spreader, incorporate compost and amendments using the rotary harrow
Carry out other farm maintenance tasks using the BCS: mowing pathways, cutting brush, etc.
Carry out preventative maintenance of the BCS and other small motors on the farm (oil changes, greasing parts, filling out maintenance log, etc.)
Transplants and Irrigation Coordinator
Using the Production Calendar and Garden Map, coordinate your coworkers in transplanting all crops in the right place, at the right spacing, and at the right time.
Install the irrigation system at the beginning of the season
Ensure all transplanted crops are adequately watered in
In collaboration with the farmer, carry out the week irrigation plan for field, greenhouse, and tunnel crops
Direct Seeding Coordinator (Field and Greenhouse)
Using the Production Calendar, seed all the plant starts in the propagation house
Water all the starts in the propagation house as needed
Optimise the use of space in the propagation house and the hardening off zone
Using the Production Calendar and Garden Maps, carry out all direct seeding of crops using the Jang, Earthway, and Four-Row seeders
No prior experience in the above tasks is necessary! I will be more than happy to train and support you in carrying out all the tasks associated with your Coordinator role.
I have developed many easy-to-use tools and procedures to make sure every step of the growing process runs smoothly, including Production Plans, Garden Plans, Fertilisation Plans, Harvest Logs, and more.
The goal is to create a workplace environment centred on delegation, collaboration, and empowerment. I will give you the tools and training you need to succeed!
---
WHAT WE'RE LOOKING FOR
The ideal Market Gardener candidate is:
In good physical condition (able to do physical work for 8 hours a day, with breaks, and repeatedly lift 40 lb loads)
Bilingual (French/English) or trilingual (the more languages the merrier!)
Passionate about plants, food, and organic and/or biointensive production systems, or very curious to learn more about these areas
A creative problem solver with a good attitude and work ethic who can take initiative
Has experience working in a collaborative, team environment
Has a background in horticulture, food systems, or a related field, and/or is interested in pursuing a farming career
Open minded and interested in meeting and working with people from diverse backgrounds
---
HOW TO APPLY
Want to be part of the team and up your agricultural skills? Be in touch! Send us your CV with a cover letter or message outlining your interest for the position to
info@lesjardinsdelamarmotte.com
If you already know which Coordinator role you're most interested in (Mechanized Operations, Transplants and Irrigation, or Direct Seeding), please say so in your message.
Please indicate you saw this posting at FoodWork.
Feel free to call with any questions before applying: 514 213 8211
I'm excited to hear from you!
David