BILINGUAL COMMUNICATIONS
(en français plus bas)
Position: Bilingual Content and Social Media Manager
Organization: ALUS
Location: remote, anywhere in Canada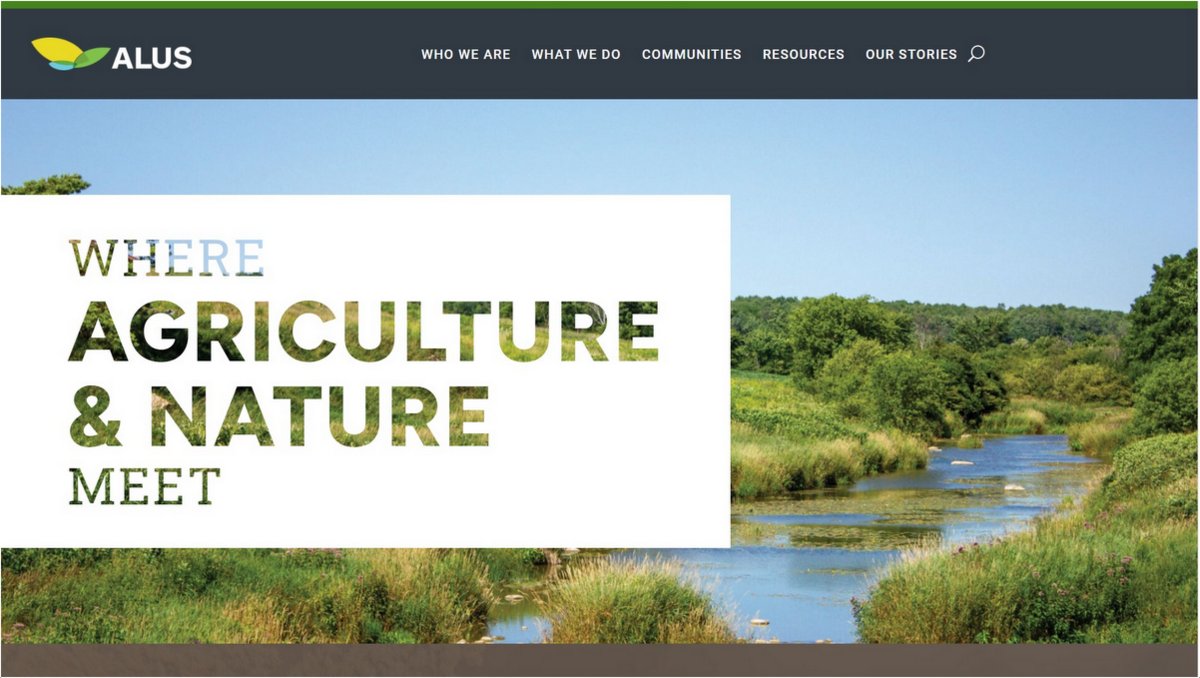 POSITION OVERVIEW
In this newly created role, you will collaborate in solidifying ALUS' tone and voice by telling compelling stories that speak to our various audiences on all our platforms in both official languages. You will be responsible for growing the online presence of ALUS and its corporate marketing branch, New Acre Project, and you will contribute on and execute the ALUS Communications & Marketing strategic plan, ensuring ALUS exceeds its ambitious reach and engagement goals, supporting the organization's overall vision.
Reporting to the Director of Communications and Digital Strategy, you will also work with various project teams across both ALUS and New Acre Project as needed. ALUS is a nimble organization that relies on our staff's ability to respond to multiple priorities on an ongoing basis.
This is a fantastic opportunity to join a growing national organization and contribute significantly to the fight against climate change.
KEY RESPONSIBILITIES
Develop a deep understanding of the organization's brand and diverse audiences to create content that resonates with their values and interests.
Participate in the overall content strategy, develops the social media strategy and editorial calendar and ensures execution.
Plan and track all aspects of content creation and delivery, and ensures that it is optimized for search engines (SEO).
Create content for social media and other platforms and occasionally oversee external resources that create visual, video, audio or written content.
Maintain and update websites, social media channels and internal and external newsletters. Participate in their development and constant improvement.
Monitor engagement and adjust tactics accordingly on the websites, social media and newsletters. Track results of various initiatives through analytics and produce reports for various internal and external stakeholders.
Participate in the development and evolution of digital internal communication tools, such as an intranet, a digital content management system (Digital Asset Management), etc.
As the social media expert, provide guidance and assistance to ALUS communities across the country, as well as to ALUS supporters and partners.
Collaborate on other ALUS projects and initiatives requiring content or digital expertise.
Stay abreast of current best practices in terms of digital and social media and stay informed on current environmental and agricultural issues and subjects of interest.
SKILLS, ATTRIBUTES AND EXPERIENCE
The basics: Experience in digital communications and a university degree in a related field.
Essential: Fluently bilingual, spoken and written, English and French.
Excellent communication skills and high-quality standards: You are committed to tell human stories and educate through quality content. Your quest for the right word is endless and you have a strong aversion to typos.
Content: Passionate about creating and editing written and visual content. Basic knowledge of video and audio editing is an asset.
Digital Expertise: Expertise in using social media platforms, various digital communications tools (WordPress, MailChimp, Canva, Photoshop) and comfortable using and analyzing web analytics (Google Analytics). Mastering latest SEO strategies. Basic knowledge of a video editing tool is an asset.
Mindset: You are self-motivated, responsible individual, with a high-level of personal integrity and enjoy working independently.
Cultural fit: You have a collaborative, creative, can-do attitude — you're at home working in a multi-faceted, deadline-driven workplace.
Also: Basic knowledge of the sustainable agriculture concept and previous experience working in the environmental non-profit sector are assets, but an innate curiosity and growth mindset are a must.
WORKING ENVIRONMENT AND COMPENSATION
Normal working hours are Monday to Friday; 35 hours per week, remote.
Infrequent evening or weekend work as well as occasional travel required to be on the field or for in-person team meetings.
ALUS Canada does not have a centralized office space; The person will work from a home office, which may be located anywhere in Canada with reliable access to high-speed internet.
Candidate will be required to work from a computer that can support Microsoft Office 365 for Business, including Teams for video conferences. This may be the candidate's own computer or a computer provided by ALUS.
Employees are provided with a benefits package including health, dental, vision, life insurance, and disability insurance.
Compensation is competitive and commensurate with experience, education and skill set.
WHY ALUS?
A Canadian success story - ALUS grew from a group of farmers in Blanshard, Manitoba, in 2006, to a national network of over with over 35 community partners in six provinces who have voluntarily adopted the program, enrolling over 1,400 farmers and ranchers nationwide.
We believe in sustaining agriculture, wildlife and natural spaces for communities and future generations. Together, we improve the world we live in one acre at a time. 
We provide outstanding career opportunities and a phenomenal collaborative culture where creativity, passion, integrity and transparence are key values. Our workforce is filled with genuinely good people who are doing humbly important work. We want to grow together and we have a clear vision of the future.
ALUS is a tightly knit team, but has always been and always will be a remote organization. You can work from your home and enjoy a flexible schedule, with some opportunities to travel within Canada.
COMMITMENT TO EQUAL OPPORTUNITY
ALUS believes that all people are entitled to equal employment opportunity. It is the policy of ALUS that all personnel actions including, but not limited to, recruiting, hiring, training, promotions, compensation, benefits, transfers, layoffs, and terminations will be taken without regard to race, age, religion, marital status, sex, national origin, disability, veteran status, ancestry, sexual orientation, or any other class protected by law. ALUS is committed to maintaining a work environment that is free of discrimination based upon any of these factors.
We invite applicants to request accommodation, as required, throughout the application and hiring process.


HOW TO APPLY
Please submit your resume in the language of your choice and a cover letter in both languages in PDF Format, as one document with your name in the title, to nmercure@alus.ca by August 19, 2022. Make sure the subject of your email is "Content and Social Media Manager".
Please indicate you saw this posting at FoodWork.
Due to the volume of applications, only those candidates selected for an interview will be contacted.
References will be requested and vetted at a later date.
---
OFFRE D'EMPLOI
DESCRIPTION DE L'ORGANISATION
ALUS est un OBNL national qui aide plus de 1400 producteurs·trices agricoles à mettre en place des solutions fondées sur la nature sur leurs terres afin de soutenir la résilience climatique et accroître la biodiversité. 
Projet New Acre est la solution d'investissement ESG pour les entreprises d'ALUS. Elle leur permet d'avoir un impact positif sur l'environnement et au sein des collectivités où elles opèrent.
ALUS s'appuie sur une culture de travail innovante, authentique, engagée, bienveillante et inclusive et offre un environnement de travail décentralisé, recrutant des spécialistes dans des domaines variés à travers le Canada.  
LE RÔLE DANS L'ORGANISATION
Dans ce rôle nouvellement créé, sous la responsabilité de la directrice, communications et stratégie numérique, vous serez responsable de la croissance de la présence en ligne d'ALUS et de sa solution d'investissement ESG pour les entreprises, Projet New Acre. Vous contribuerez au plan stratégique de communication et de marketing d'ALUS, et veillerez à ce qu'ALUS surpasse ses objectifs ambitieux en termes de portée et d'engagement tout en soutenant la vision globale de l'organisation. Vous collaborerez au rayonnement d'ALUS en trouvant toujours la bonne histoire et le bon ton pour s'adresser à nos différentes audiences sur toutes nos plateformes et dans les deux langues officielles.
Vous travaillerez également avec diverses équipes de projet au sein d'ALUS, selon les besoins. ALUS est une organisation agile qui s'appuie sur la capacité de chacun à répondre à de multiples priorités sur une base continue et qui souhaite offrir des occasions de développement professionnel à l'interne.
Il s'agit d'une opportunité unique de rejoindre une organisation nationale en pleine croissance et de contribuer de manière significative et concrète à la lutte contre le changement climatique.
LES RESPONSABILITÉS CLÉS
Développe une compréhension approfondie de la marque et des diverses audiences de l'organisation afin de créer un contenu qui résonne avec leurs valeurs et leurs préoccupations.
Participe à la stratégie globale de contenu, développe la stratégie des médias sociaux et le calendrier éditoral et en assure l'exécution.
Planifie et fait le suivi de tous les aspects de la création et de la diffusion du contenu, et s'assure qu'il soit optimisé pour les moteurs de recherche (SEO).
Crée du contenu pour les médias sociaux et les autres plateformes et supervise occasionnellement des ressources externes qui créent des contenus visuels, vidéo, audio ou écrits.
Assure la maintenance et la mise à jour des sites web, des médias sociaux et des infolettres internes et externes. Participe à leur développement et à leur amélioration continue.
Surveille l'engagement et ajuste les tactiques en conséquence sur les sites web, les médias sociaux et les infolettres. Suit les résultats des diverses initiatives par le biais d'outils analytiques et produit des rapports pour diverses parties prenantes internes et externes.
Participe au développement et à l'évolution d'outils de communications internes numériques, tels un intranet, un système de gestion de contenus numériques (Digital Asset Management), etc.
En tant que spécialiste des médias sociaux, fournit des conseils et du support aux collectivités ALUS à travers le pays, ainsi qu'aux commanditaires et aux partenaires d'ALUS.
Collabore à d'autres projets et initiatives d'ALUS nécessitant une expertise en communication ou en numérique.
Se tient au courant des meilleures pratiques actuelles en matière de médias sociaux et numériques et reste informé·e sur les questions environnementales et agricoles d'intérêt.
COMPÉTENCES, QUALITÉS ET EXPÉRIENCE
Les bases : Expérience en communication numérique et diplôme universitaire dans un domaine connexe.
Essentiel : Bilingue, à l'oral et à l'écrit, anglais et français.
Excellentes aptitudes à la communication et standards de haute qualité : Vous avez à cœur de raconter des histoires humaines et d'éduquer à travers du contenu de qualité. Votre quête du mot juste est sans fin et vous avez une forte aversion pour les fautes de frappe.
Contenu : Passionné·e par la création et l'édition de contenu écrit et visuel. Connaissances de base dans le montage vidéo et audio sont un atout.
Expertise numérique : Expertise dans l'utilisation des plateformes de médias sociaux et de divers outils de communication numérique (WordPress, MailChimp, Canva, Photoshop). À l'aise dans l'utilisation et l'analyse de données web (Google Analytics). Maîtrise des plus récentes stratégies SEO. Des connaissances de base sur un outil de création vidéo sont un atout.
État d'esprit et mode de travail : Vous êtes dotée d'un haut niveau d'intégrité personnelle et exceller à travailler de manière autonome. Vous avez une attitude collaborative et créative et vous aimez faire partie d'équipes multidisciplinaires.
Finalement : Une connaissance de base du concept d'agriculture durable et une expérience antérieure dans le secteur environnemental à but non lucratif sont des atouts, mais une curiosité sincère, un esprit ouvert et un désir d'apprendre et de se développer sont bien plus importants à nos yeux!
ENVIRONNEMENT DE TRAVAIL ET RÉMUNÉRATION
Les horaires de travail réguliers sont du lundi au vendredi, 35 heures par semaine, en télétravail.
Déplacements occasionnels pour aller à la rencontre d'agriculteurs·trices ou pour des rencontres d'équipe.
Travail le soir ou la fin de semaine en de très rares occasions.
ALUS Canada ne dispose pas d'un bureau centralisé ; la personne travaillera à partir d'un bureau à domicile, qui peut être situé n'importe où au Canada, avec un accès fiable à Internet haute vitesse.
Le·la candidat·e devra travailler à partir d'un ordinateur capable de prendre en charge Microsoft Office 365. Il peut s'agir de son ordinateur personnel ou d'un ordinateur fourni par ALUS. 
Les employés bénéficient d'un ensemble d'avantages sociaux comprenant une assurance maladie, une assurance dentaire, une assurance vision, une assurance vie et une assurance invalidité.
La rémunération est compétititve et proportionnelle à l'expérience et à la formation.

POURQUOI ALUS ?
Ensemble, nous améliorons le monde dans lequel nous vivons, un acre à la fois. Nous œuvrons à préserver l'agriculture, la faune et les espaces naturels pour les collectivités et les générations futures.
Notre croissance est phénoménale - ALUS est passé d'un petit groupe d'agriculteurs en 2006 à un réseau national de plus de 35 collectivités dans six provinces, regroupant 1400 agriculteurs à travers le pays. 
Nous offrons des possibilités de carrière stimulantes et une culture organisationnelle hors du commun. Nous prenons soin les uns des autres et croyons humblement que le travail de chacun est important. Nous voulons grandir ensemble et nous avons une vision claire du futur.
ALUS est une organisation tissées serrée, mais qui a toujours été en télétravail. Ça ne changera pas. Vous pouvez travailler à partir de votre domicile et bénéficier d'un horaire flexible, avec quelques occasions de voyager au Canada.
ENGAGEMENT EN FAVEUR DE L'ÉGALITÉ DES CHANCES
ALUS croit que toutes les personnes ont droit à l'égalité des chances en matière d'emploi. La politique d'ALUS est que toutes les mesures relatives au personnel, y compris, mais sans s'y limiter, le recrutement, l'embauche, la formation, les promotions, la rémunération, les avantages, les transferts, les licenciements et les cessations d'emploi, seront prises sans tenir compte de la race, de l'âge, de la religion, de l'état civil, du sexe, de l'origine nationale, du handicap, du statut de vétéran, de l'ascendance, de l'orientation sexuelle ou de toute autre classe protégée par la loi. ALUS s'engage à maintenir un environnement de travail exempt de toute discrimination fondée sur l'un de ces facteurs.
Nous invitons les candidats à demander des aménagements, si nécessaire, tout au long du processus de candidature et d'embauche.
COMMENT POSTULER
Veuillez soumettre votre CV dans la langue de votre choix et votre lettre de motivation dans les deux langues en format PDF, en un seul document avec votre nom dans le titre, à nmercure@alus.ca au plus tard le 19 août 2022. Assurez-vous que le sujet de votre courriel est « Gestionnaire de contenu et des médias sociaux ».
Veuillez indiquer que vous avez vu cette offre sur FoodWork.
En raison du volume de candidatures, seuls les candidats sélectionnés pour une entrevue seront contactés.
Des références seront demandées et vérifiées à une date ultérieure.