EMPLOYMENT OPPORTUNITY
Title: Communications & Project Manager 
Project: Depth of Field – Films about Farming
Organization: National Farmers Union
Location: remote, anywhere in Canada

Work for a national leader in climate action & advocacy!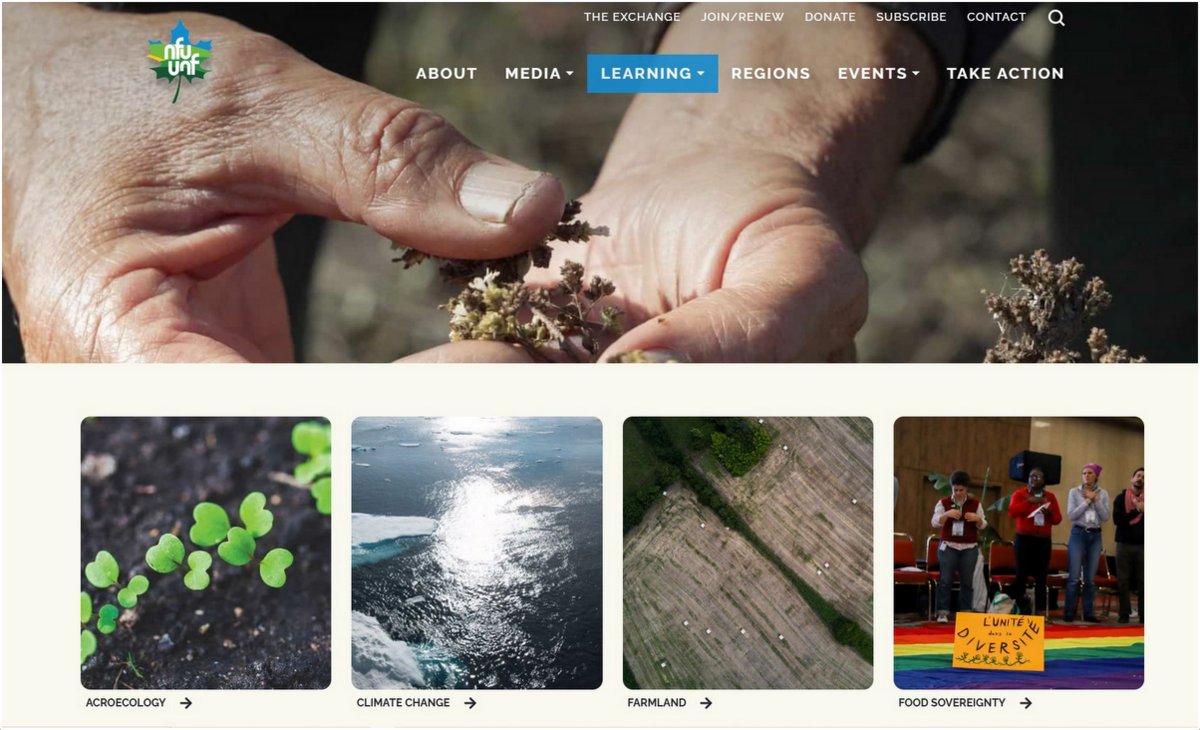 Do you want to work for a progressive environmental non-profit, leading the conversation on climate change & agriculture?
Do you have a desire to work collaboratively with farmers, eaters, and allies to advance the goals of food sovereignty?
Do you have 1-2 years of communications experience and a strong attention to detail?
The Communication and Project Manager role is the job you've been waiting for, seemlessly bridging your communications skills with your interest in pursuing a career with positive enivronmental & social impact!
Founded in 1969, the NFU advocates for policies that promote the dignity, prosperity and sustainable future of farmers, farm families and their communities. The National Farmers Union is unique among farm organizations in working for people's interests against corporate control of our food system.
This role is a unique opportunity to help amplify the voices of some of Canada's most progressive leaders in agriculture, to educate eater and manifest change. 
The NFU seeks a Communications and Project Manager for the project, Depth of Field – Films about Farming in which 40 films of agroecological farmers across Canada will be created, promoted, and screened. This will entail significant collaboration with farmers and farm-related organizations across Canada.
The Communications and Project Manager is a full-time salaried position through March 31, 2024 with an annual salary of $44,850 + benefits (including 3 weeks vacation). This project is made possible by funding from the Government of Canada's AgriCommunications program.
Overall Function of the Communications & Project Manager
The Communications and Project Manager will be responsible for communications, promotion, project coordination, and project management of the project Depth of Field - Films about Farming. This includes the collaborative engagement of NFU members and allied organizations to maximize the reach of the films to Canadian consumers. This role will also assist the filmmakers (March Forth Creative), as needed, with coordination of the farms, farmers, and filming dates across Canada. The Communications and Project Manager will provide on-going project management including evaluation, tracking, budgeting and reporting.
Knowledge and skills
The NFU seeks a person able to plan and implement a dynamic, multi-faceted communications campaign while managing the project. They will work collectively, inspiring farmers and others to lead and engage regionally. They will be outgoing and eager to build relationships directly with NFU members, media, and allied organizations to advance the project. They will employ their strong visual and communications capabilities with enthusiasm. They will work well independently, meeting the project goals and timelines while working closely with the filmmakers and rest of the project team. The candidate will take ownership for results and be meticulous in their tracking of project metrics, organizing of events and promotions, and recognition of the project funder and allied supporters. They must be committed to the NFU's mission of raising the collective voice of progressive farmers across Canada, including the NFU's agroecology and food sovereignty goals.
Duties and Responsibilities
The Communications & Project Manager will:
For Film-making
Support the film-makers as needed in coordination of their travels, editing, and promotion
Follow up with farmers regarding the films made, soliciting their participation in their promotion
For Promotion of films
Working with the Project Team, develop campaigns for the promotion of the films meeting quantitative goals for viewership
Create promotional materials including media releases, social media, postcards for in-person and mail distribution and other materials
Develop amplification packages and personal engagement with farmers, members, allies, and others for promotion
Develop media relations and engage media to secure national and regional print, radio, and podcast coverage, meeting quantitative goals for each medium
Develop and maintain relationships with appropriate regional coordinators and allied organizations for the regional and local promotion, distribution, and airing of the films and associated surveys
Work with regional leaders to develop and implement in-person distribution at a minimum of 16 events with a range of geographic distribution.
Upload trailers, films, media releases and other promotional materials on the NFU website, social media, YouTube channels, etc.
Ensure bilingual promotion nationally and encourage bilingual promotion regionally and locally (support available)
Ensure continual proper recognition of the project partners and funder
For In-person Screenings
Co-develop at least 5 in-person film screening events with Regional Coordinators, other members, and allies, ensuring that these events are well promoted and well attended. Distribute and collect surveys regarding views on Canadian agriculture; track attendance.
For Farmer Media Training
Organize farmer media training opportunities, providing 5 online opportunities for farmers to learn media skills from professionals. Track and report on feedback.
For Project Management
Coordinate and convene the Project Committee that will provide guidance and input regarding communications, film editing, promotion and results. Provide the committee and the NFU Board of Directors with regular project updates
Provide tracking of staff, members and others involved in the project, the hours they provide to the project, and their roles
Create, administer, and summarize surveys
Draft reports to funders; submit reports in conjunction with the Executive Director
Working with the Director of Finance and the Executive Director, as needed, maintain the project budget, meeting project goals within the budget allotted. Ensure budget reporting meets the structure required by the funder
Participate in NFU staff meetings and NFU Communications Committee meetings
Work with the other NFU communications staff to support other NFU communications as time allows
Other duties as assigned.
Skills
The Communications and Project Manager for Depth of Field - Films about Farming will have:
Education and/or sufficient experience in communications, promotion, and/or media relations that enables the candidate to meet the project demands
Creativity and passion for the promotion of Canadian farms and farmers
Eagerness to connect with farmers from across Canada via digital platforms and telephone
Project management skills including planning, tracking metrics, implementation, and reporting
Budget management skills
Proficiency in Google tools, Zoom, social media platforms, MailChimp, WordPress, YouTube, and analytical tools including Google Analytics, WPML, & social media analytics
Webinar hosting/logistics
Commitment to diversity, inclusivity, respect and social justice
Understanding of Canadian agriculture and the NFU's agroecology and food sovereignty goals
General
37.5 hours of work per week through March 31, 2024
Some evening meetings are required
The annual salary is $44,850 + benefits including 3 weeks vacation per year
Location: This position can work from anywhere in Canada
Travel: Significant travel is not anticipated in this role
Excellent written and spoken English; written and spoken French is a strong asset.
Working for the NFU
The NFU have staff located across the country. We operate a remote workspace as well as an in-person office in Saskatoon. We're excited to be experimenting with shared Zoom workspaces, to combat the often isolating conditions of working from home.
You'll be part of a small (but mighty) ten-person team. We're deeply committed to our work but we like to have fun doing it.
Application Process
Please email all inquiries and your application, including a cover letter, resume, and two or more references, to the Hiring Committee at hiring@nfu.ca using the subject heading "Depth of Field Communications and Project Manager" Applications will be accepted until Tuesday October 11th at 5:00 p.m. CST.
Please indicate you saw this posting at FoodWork.
The National Farmers Union is committed to employment equity and encourages applications from individuals in equity-deserving groups including Indigenous, Black, and People of Colour, 2SLBGQT+ people, and persons with disabilities. We encourage applicants to self-identify in their cover letter or application if you are a member of an equity-deserving group.
We thank all applicants for their time and interest, however, only short-listed applicants will be contacted.
Questions?
Reach out! Contact Ashlee Redmond at redmond@nfu.ca or call (343) 364-6627 during regular business hours.
---
OFFRE D'EMPLOI
L'Union nationale des fermiers (UNF) est un organisme agricole national non partisan à adhésion directe et volontaire composé de milliers de familles fermières, d'unités agricoles et d'individus à travers le Canada qui produisent une grande variété de produits alimentaires, y compris du grain, des animaux d'élevage, des fruits et des légumes. Fondée en 1969, l'UNF revendique des politiques visant à promouvoir la dignité, la prospérité et un avenir durable pour les fermiers, les ouvriers et travailleurs agricoles, ainsi que pour leurs communautés.
L'UNF est à la recherche d'un.e Gestionnaire de projet et des communications pour le projet Profondeur de champ – Films sur l'agriculture dans lequel 40 films de fermiers agroécologistes à travers le Canada seront créés, promus et projetés. Ceci va impliquer une collaboration importante avec les fermiers et les organisations connexes à travers le Canada. Le/la gestionnaire n'est pas impliqué.e dans la cinématographie : tous les films et les produits livrables créatifs connexes seront produits par March Forth Creative Inc.
Le poste de Gestionnaire des communications et de projet est un poste salarié à plein temps jusqu'au 31 mars 2024, avec un salaire annuel de 44 850 $ + avantages sociaux. Le travail peut être effectué de n'importe-où au Canada ; il n'y a pas beaucoup de déplacements prévus pour ce poste. La maitrise des deux langues officielles du Canada est nettement préférée. Ce projet est possible par le financement du programme AgriCommunications du gouvernement du Canada.
Fonction globale du/de la Gestionnaire des communications et de projet
Le/la Gestionnaire des communications et de projet sera responsable des communications, de la promotion, de la coordination du projet et de la gestion du projet Profondeur de champs – Films sur l'agriculture. Cela comprend l'engagement collaboratif des membres de l'UNF et des organisations alliées afin de maximiser la portée des films auprès des consommateurs canadiens. Ce rôle va également aider les cinéastes, selon le besoin, avec la coordination des fermes, des fermiers et des dates de tournage à travers le Canada. Le/la Gestionnaire des communications et de projet va assurer la gestion continue du projet, y compris l'évaluation, le suivi, la budgétisation et les rapports.
Savoir et compétences
L'UNF recherche une personne capable de planifier et de mettre en œuvre une campagne dynamique et polyvalente de communications, tout en gérant le projet. Cette personne va travailler collectivement, inspirant les fermiers et d'autres à mener et à s'engager au niveau régional. Il s'agit d'une personne extravertie et désireuse de bâtir des relations directement avec les membres de l'UNF, les médias et les personnes alliées pour l'avancement du projet. Cette personne va utiliser avec enthousiasme ses grandes capacités visuelles et de communications. Elle travaille bien indépendamment, respectant les objectifs et échéanciers du projet tout en s'assurant de travailler étroitement avec les cinéastes et le reste de l'équipe du projet. Le candidat / la candidate va assumer les résultats et assurer un suivi méticuleux des indicateurs clés du projet, l'organisation des événements et des promotions, ainsi que la reconnaissance des bailleurs de fonds et de leurs partisans alliés. Elle doit être engagée dans la mission de l'UNF de rehausser la voix collective des fermiers progressifs à travers le Canada, y compris les objectifs de l'UNF en matière d'agroécologie et de souveraineté alimentaire.
Tâches et responsabilités
Le/le Gestionnaire de projet et des communications va :
Pour la cinématographie
Soutenir les cinéastes, selon le besoin, dans la coordination de leurs déplacements, du montage et de la promotion.
Faire un suivi avec les fermiers concernant les films produits, solicitant leur participation dans leur promotion.
Pour la promotion des films
En travaillant avec l'équipe du projet, développer des campagnes pour la promotion des films respectant les objectifs quantitatifs en ce qui a trait aux téléspectateurs et à l'auditoire.
Créer du matériel promotionnel, y compris les communiqués de presse, les médias sociaux, des cartes postales pour distribution en personne et par la poste, ainsi que d'autre matériel.
Développer des trousses d'amplification pour l'engagement personnel avec les fermiers, les membres, les alliés et d'autres pour fins de promotion.
Développer les relations avec les médias et engager les médias afin d'obtenir une couverture médiatique dans la presse imprimée nationale, régionale, radiophonique et sur podcast, respectant les objectifs quantitatifs en ce qui a trait à chaque média.
Développer et soutenir les relations avec les coordinateurs régionaux appropriés et les organismes alliés pour la promotion locale et régionale, la distribution et la diffusion des films et des sondages associés.
Travailler avec les leaders régionaux pour développer et mettre en œuvre la distribution en personne à un minimum de 16 événements dans une certaine distribution géographique.
Télécharger les bandes-annonces, les films, les communiqués de presse et autre matériel promotionnel sur le site web de l'UNF, les médias sociaux, les canaux YouTube, etc.
Assurer la promotion bilingue à l'échelle nationale et encourager la promotion bilingue au niveau régional et local.
Assurer la reconnaissance continue et appropriée des partenaires et des bailleurs de fonds du projet.
Pour les projections en personne
Co-développer au moins 5 événements de projection en personne avec les coordinateurs régionaux, d'autres membres et alliés, s'assurant que ces événements soient bien promus et attirent une bonne participation. Distribuer et recueillir des sondages concernant les perspectives sur l'agriculture canadienne ; suivi de l'assistance.
Pour la formation médiatique des fermiers
Organiser des opportunités de formation médiatique pour les fermiers, fournir 5 opportunités en ligne aux fermiers pour acquérir des compétences médiatiques par des professionnels. Suivre et faire rapport sur le feedback (rétroaction).
Pour la gestion du projet
Coordonner et convoquer le Comité de projet qui va guider et commenter en matière de communications, le montage des films, la promotion et les résultats. Fournir au Comité et au Conseil d'administration de l'UNF des mises à jour régulières sur le projet.
Assurer un suivi du personnel, des membres et des autres engagés dans le projet, les heures qu'ils contribuent au projet, ainsi que leurs rôles.
Créer, administrer et résumer des sondages.
Rédiger des rapports aux bailleurs de fonds ; soumettre des rapports en liaison avec la Directrice exécutive.
Travailler avec le Directeur des finances et la Directrice exécutive, selon le besoin, maintenir le budget du projet, respecter les objectifs du projet selon le budget prévu. S'assurer que les rapports sur le budget respectent la structure exigée par le bailleur de fonds.
Participer aux rencontres du personnel de l'UNF et aux rencontres du Comité des communications de l'UNF.
Travailler avec les autres responsables des communications de l'UNF afin d'appuyer les autres communications de l'UNF lorsque le temps le permet.
Autres tâches assignées.
Compétences
Le/la Gestionnaire des communications et du projet pour Profondeur de champ – Films sur l'agriculture aura :
L'éducation et/ou une expérience suffisante en communications, en promotion et/ou en relations avec les médias qui permettent au/à la candidate de satisfaire les exigences du projet.
Créativité et passion pour la promotion des fermes et des fermiers canadiens.
De bonnes compétences en matière de communication et de promotion.
Le désir et la capacité de travailler en collaboration avec les fermiers, les membres et les organismes alliés.
Attention aux détails, à l'exactitude et la ponctualité.
Une approche proactive à la résolution de problèmes.
Empressement de connecter avec les fermiers à travers le Canada par l'entremise de plateformes numériques et par téléphone.
Compétence en gestion de projets, y compris planification, mesures de suivi, mise en œuvre et rapports.
Compétences en gestion budgétaire.
Compétences avec les outils Google, Zoom, plateformes de médias sociaux, MailChimp, WordPress, YouTube, ainsi que les outils analytiques, y compris Google Analytics, WPML & analyse des médias sociaux.
Organisation et logistiques de webinaires.
Engagement envers la diversité, l'inclusivité, le respect et la justice sociale.
Excellence en anglais écrit et parlé ; le français parlé et écrit est fortement préféré.
Compréhension de l'agriculture canadienne, ainsi que des objectifs de l'UNF en agroécologie et en souveraineté alimentaire.
Généralités
37,5 heures de travail par semaine jusqu'au 31 mars 2024.
Certaines rencontres sont nécessaires en soirée.
Le salaire annuel est de 44 850 $ + avantages sociaux, y compris 3 semaines de vacances par année.
Emplacement : Ce poste peut fonctionner de n'importe-où au Canada.
Déplacements : Beaucoup de déplacements ne sont pas anticipés dans ce rôle.
Le bilinguisme dans les deux langues officielles est un grand atout.
Processus de demande
Veuillez envoyer toutes vos requêtes et votre demande par courriel, y compris une lettre de présentation, un curriculum et deux références ou plus, au Comité de recrutement à l'adresse courriel hiring@nfu.ca en utilisant la ligne sujet « Depth of Field – Communications and Project Manager ». Les demandes seront acceptées jusqu'aux mardi, le 11 octobre, à 17h00 CST.
Veuillez indiquer que vous avez vu cette offre sur FoodWork.
L'Union nationale des fermiers s'est engagée à l'équité en matière d'emploi et elle encourage les demandes des individus dans les groupes qui aspirent à l'égalité, y compris les autochtones, les noirs et les personnes de couleur, les gens 2SLGBTQ+ et les personnes handicapées. Nous encourageons les candidats à s'auto-identifier dans leur lettre de présentation ou leur demande, si vous êtes membre d'un groupe méritant l'équité.
Nous remercions tous les candidats pour leur temps et leur intérêt ; cependant, seulement les candidats présélectionnés seront contactés.