COMMUNITY LEARNING GARDENS
Position: Jewish Community Garden Coordinator
Organization: JFS
Location: Greater Vancouver / Lower Mainland, BC
Hours: 28 hours per week; with the possibility of increased hours as the program grows
Position Summary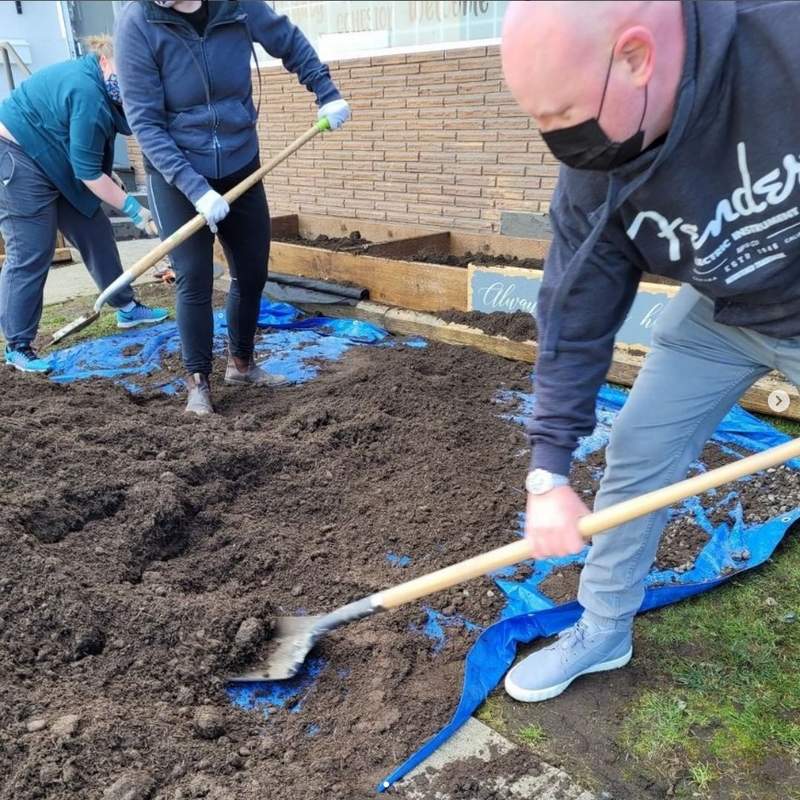 JFS is hiring, on behalf of a community partnership, a Community Garden Coordinator for our new Jewish community garden. The garden is the result of an innovative community partnership between Vancouver Talmud Torah, Congregation Beth Israel and Jewish Family Services. It is approximately 6000 sq. ft., with approximately 1800 sq. ft. of growing areas. Growing areas include a blend of native perennials and trees, edible perennials, annual vegetables, annual ornamentals, and fruit trees. This is a new role, as the garden will be built summer 2022. The Community Garden Coordinator will be involved in stewardship and maintenance of all planted areas, gathering spaces, garden infrastructure, and oversee all associated programs throughout the year. This is an exciting opportunity for an experienced grower who is passionate about facilitating community engagement through learning gardens.
Jewish Community Garden Partners
Jewish Family Services — JFS has been enhancing the quality of life for individuals and families in the Lower Mainland for 85 years. The agency delivers a continuum of social service programs to the Jewish and broader community, throughout the Lower Mainland. JFS has a long-standing reputation for creative and professional response to community needs.
Congregation Beth Israel — Beth Israel is western Canada's largest Conservative congregation and boasts over 640 member families. BI is committed to Jewish values and practices and is dedicated to the strengthening of all aspects of Jewish life, including worship and Torah study, religious, educational and social activities for all ages, and the observance of life cycle events.
Vancouver Talmud Torah — Vancouver Talmud Torah is an inclusive Jewish community day school committed to academic excellence and nurturing lifelong learners who engage the world through Jewish traditions and values. At Vancouver Talmud Torah, we provide a stimulating and challenging educational environment infused with meaningful learning experiences. VTT serves families from a diverse range of Jewish backgrounds and religious practices.
Benefits & Compensation
JFS offers a competitive benefits package including generous paid time off, paid sick days, paid health and dental benefits and RRSP matching. This is a part-time position; 28 hours per week; with the possibility of increased hours as the program grows. Annual salary is $36,400; with three weeks of vacation in the first year. JFS is an equal opportunity employer. All applicants will be considered for employment without attention to race, color, religion, sex, sexual orientation, gender identity, national origin, or disability status.

Duties and Responsibilities
Reporting to the JFS Director of Food Security, the Community Garden Coordinator is responsible for:
Garden planning and management; creating and coordinating planting and maintenance work
Maintaining all garden equipment, tools, and irrigation system
Program planning and management; coordinating volunteers, partner agency staff and associated programs
Operating within and managing a budget
Collaboration with partner agencies to coordinate student and community-based learning activities
Working with partners to ensure all garden grown food is utilized through programmatic activities or donated
Oversight of shared use of garden areas (and associated systems) by partner agencies
Offering occasional workshops and/or classes to partner agency communities
Communicating effectively in writing and verbally with community members and partner agencies
Tracking all garden-related data; reporting results via presentations and reports when called upon 
Ensuring ongoing communication and collaboration with JLG steering committee and partners
Ongoing communication and collaboration with Congregation Beth Israel facilities manager
Requirements and Qualifications
Excitement about gardening, local food systems, and helping the community engage with learning gardens
1-3 years' experience with applied production garden skills; including oversight and maintenance of:

Native pollinators and trees
Edible perennials
Annual vegetable production
Fruit tree production and maintenance
Annual and perennial flowers
Irrigation systems 

Able to carry out a variety of physical tasks; including bending, squatting, lifting up to 50lb, repetitive motion
Equipped, willing and able to work outdoors in all weather conditions  
Excitement about a Jewish community garden and integrating a Jewish lens into all things gardening
Knowledge of the Jewish calendar year and Jewish agricultural laws and/or a desire to deepen one's knowledge in these subjects
Demonstrated experience recruiting, training, mentoring and supervising volunteers
Experience coordinating multi-agency projects and/or programs
Experience teaching, training, and/or facilitating learning for adults
Experience working in a community learning garden
Core Competencies
Able to organize, multi-task, prioritize duties, delegate, problem-solve and remain flexible within a fast-paced and changing environment
Excellent oral and written communication skills across various mediums
Excited to form relationships with community members and stakeholders
Patience and a sense of humour 
Able to give and receive feedback  
Enjoy working independently as well as in collaboration with a team
Vaccination Policy — JFS requires that all employees and volunteers are fully vaccinated against COVID-19.  Anyone hired after January 1, 2022 will be required to show evidence that they have received at least one dose of the vaccine prior to employment, and we will require that they be fully vaccinated within 30 days of their start date. 
Start Date: June 2022
To Apply
If you are qualified and interested in this opportunity, please forward a cover letter and resume quoting "Community Garden Coordinator" to Rachel Shanken, Director of Operations at jobs@jfsvancouver.ca by May 31, 2022. Applications will be considered on a rolling basis. Please note that only qualified candidates considered for an interview will be contacted.
Please indicate you saw this posting at FoodWork.ca.