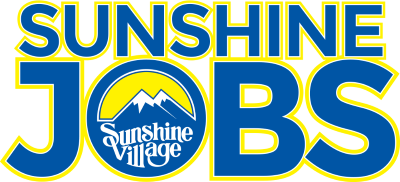 BANFF JOBS
Position: Cook
Organization: Sunshine Village Ski and Snowboard Resort
Location: Banff, Alberta
Why Join Us?
We work and play in Canada's most beautiful playground, Banff National Park, and you can too. Sunshine Village is the premier ski resort in Western Canada. If you want to be part of making our guests' ski experience unforgettable and think a winter season skiing and riding on the best powder in the Rockies would be great too, then read on...

What's in it for you?
A ridiculously cool life experience
Free ski pass for Sunshine Village and super deals at other resorts
A plethora of lively staff events all season long
Marvelous discounts on ski gear, food & drinks and transportation.
Cook
Position Details
Wage: $18.00 hr
Hours: Full-time averaging around 40hrs/ week
Location: 1 Sunshine Village Access Road, Banff AB, T1L1J5
Description
This is a pivotal role within our team and the candidate will be looking for growth opportunities while being passionate about food. Cooks provide an outstanding experience for our guests by ensuring food is portioned, tasty, and presented in a visually appealing way that meets the needs and expectations of our guests. This is a physically demanding position that requires manual labour and standing for long periods of time in a fast-paced environment.
Essential Functions
Provide excellent guest service
Ability to read and interpret cooking reference materials including recipes
Working on the line in a fast-paced kitchen environment
Working shifts to execute our Breakfast, Lunch and Dinner menus depending on location
Prepping, cooking, and serving of meals, daily specials, and catered events
Clean and prepare all types of food, using proper equipment, techniques, and portion size
Identify, label, date, and store meats, poultry, seafood, pasta, starches, dairy products
Able to work on both line style as well as some guest facing buffet service
Maintain food safety/HACCP logs (i.e. fridge & freezer Temps) and record food wastage
Maintain general cleanliness of kitchen, equipment, and dishes
Leading a team when necessary
Other duties as assigned
Experience/Requirements
Basic cooking knowledge is an asset
Experience working with fresh ingredients and creating meals from scratch in a fast-paced environment
Ability to lift (10kg.), pull & push heavy loads & be exposed to extreme temperatures
Energetic and self-motivated
Excellent communication, time management and teamwork skills
Able to use specialized kitchen equipment and interpret recipes
Safety and WHMIS training is an asset
Their Food Safety Handlers Certificate considered and asset
Culinary: 1 year (preferred)
This position includes a multi-area ski pass to Sunshine Village & other resorts, a staff event calendar for experiencing the Rockies, and free transportation from Banff and Canmore to Sunshine.
To Apply:
Can't wait to get started? Great, because we can't wait to hear from you! Apply online HERE and tell us why you're the next awesome member of our team. Remember, we're looking for people who will wow our guests, so start now and wow us.
Please indicate you saw this posting at FoodWork.
Sunshine Village is an Equal Opportunity Employer and we value diversity within our workplace.