EMPLOIS MONTREAL JOBS
*Français et anglais ci-dessous* French and english below*
Titre du poste : Apiculteur(trice) Urbain(e) - Urban Beekeeper
Employeur : Alveole Montréal inc.
Lieu de travail : Montréal, Quebec
Langue : bilingue (anglais/français)
Introduction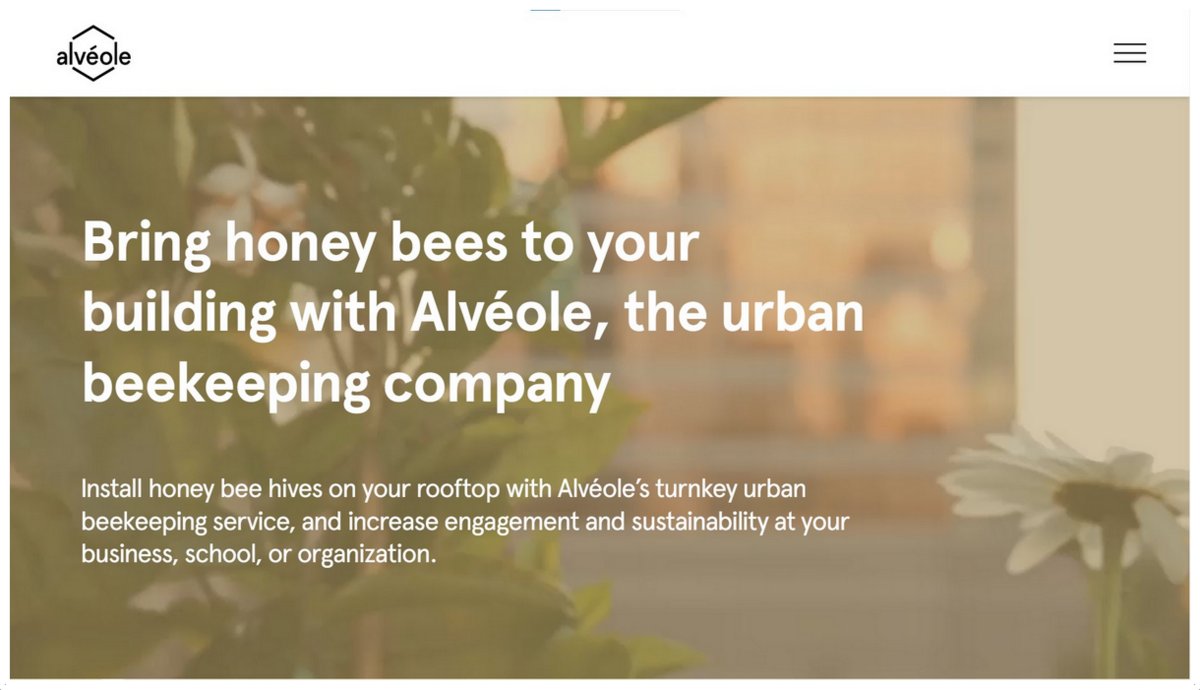 Chez Alvéole, nous installons des ruches en milieu urbain, sensibilisant au passage des centaines d'entreprises et d'écoles quant aux abeilles et à l'apiculture. Nous voulons faire en sorte que les gens se prennent d'affection pour les abeilles, ce qui les conduira à s'éprendre de la nature et à prendre conscience de l'impact que chaque personne peut avoir dans la préservation de l'environnement. Nous sommes une B Corp fondée en 2013, active aujourd'hui au Canada, aux États-Unis et en Europe, fière de faire partie du mouvement 1% pour la planète.
Compagnie
Ce qui vous attend?
Plan d'assurance collective après trois mois de travail
6% de vacances payées par année dès l'embauche
Café et thé offerts gratuitement et un bel espace de travail nouvellement rénové
Un environnement de travail axé sur l'équipe et qui encourage l'initiative et le leadership
Happy hour tous les vendredis et différents événements sociaux pendant l'année
Des activités d'équipe amusantes avec tes collègues - car Alvéole, c'est d'abord une grande famille!
Travailler et côtoyer des collègues aussi passionnés que toi
Équité, diversité et inclusion
À l'instar d'une colonie d'abeilles, nous croyons que la personnalité, les compétences, le parcours et l'origine uniques de chaque membre de l'équipe Alvéole sont des éléments clés à l'atteinte de notre objectif: que les gens tombent sous le charme des abeilles. Nous avons le privilège de desservir des villes uniques et visons à développer une équipe à l'image de ces espaces de vie et de travail. Ainsi, nous encourageons les personnes de tous horizons à postuler et sommes engagés dans la création d'un endroit où tout le monde se sent inclus, en reconnaissant qu'il s'agit d'un processus en constante évolution.
Aperçu de l'emploi
Relevant de la gestionnaire de l'équipe apicole (Montréal), le titulaire du poste gère un ensemble de comptes clients et prend soin de leurs ruches.
Il s'agit d'un poste permanent à temps plein, régi selon les politiques en vigueur chez Alvéole.
L'entrée en poste aura lieu le 2 août 2021.
Rôle et responsabilités
Gérer une sélection de comptes clients et agir comme leur point de contact principal tout au long de la saison pour l'intégration, la communication, la coordination et le renouvellement de contrats.
Gérer toutes les ruches d'abeilles hôtes, y compris l'installation de nouvelles ruches sur le toit, la prévention des essaims, les programmes d'entretien au quotidien, la lutte contre les parasites et les vermines, et les ateliers éducatifs.
Suivre les procédures opérationnelles normalisées pour garantir la qualité du service, des pratiques et de l'expérience client.
Responsable de l'atteinte des objectifs fixés par le responsable de l'équipe apicole et de le tenir informé de ses progrès tout au long de la saison.
Établir des relations avec les entreprises, les écoles et d'autres organisations grâce à des outils de communication en personne et en ligne.
Représenter Alvéole, notre mission et nos valeurs, et promouvoir nos services auprès des clients, des médias et des membres du grand public.
Soutenir votre gestionnaire dans l'entretien des ruches de la cour.
Vendre et promouvoir les produits et services d'Alvéole dans différents marchés et événements publics.
Organiser, nettoyer et entretenir l'équipement, les fournitures et l'entrepôt tout au longde la saison
Toutes autres tâches connexes aux opérations de la ville.
Compétences requises
Permis de conduire valide et un bon dossier de conducteur
Participation à un camp d'entraînement de 10 jours au Manitoba / en Californie
Engagement à apprendre les principes de l'apiculture à travers la formation en entreprise et l'initiative personnelle
Expérience de prise de parole en public
Être à l'aise avec la réalité des dangers de l'apiculture (piqûres, charges lourdes)
Être à l'aise avec le travail en hauteur
Comfortable avec les communications en ligne et l'utilisation des outils Google (G-suite).
Veuillez postuler ici : https://alveole.humi.ca/job-board/beekeeping%20team/6378
Veuillez indiquer que vous avez vu cette offre sur FoodWork.
---
EMPLOIS MONTREAL JOBS
Position: Urban Beekeeper - Apiculteur(trice) Urbain(e)
Organization: Alveole Montréal inc.
Location: Montréal, Quebec
Language: bilingual (English/French)
Introduction
At Alvéole, we install urban beehives while educating thousands of businesses, organizations, schools, and families about bees and beekeeping along the way. Ultimately, we want to make people fond of bees, which in turn will lead to them falling in love with nature and building awareness about the impact that each and every one of us can have in preserving our environment. We're a B Corp founded in 2013, active today in Canada, the United States and Europe, and officially joined the 1% for the planet movement in January 2021.
Company
What's in It for You?
Great health benefits after three months of employment
6% of paid vacation per year
Free coffee and tea and a beautifully renovated office space
A team environment that encourages initiatives and leadership
Happy hour on Fridays and social events throughout the year
Fun activities with your teammates - be part of the Alvéole family
Work with highly talented people who are as passionate about their work as you are
Equity, diversity and inclusion
Much like the way a beehive comes together to achieve its goals, we believe that the diverse skills, personalities, backgrounds and past experiences of every Alvéole team member are key components to our growth, wellbeing, and shared goal of making people fall in love with bees.
We have the privilege to serve unique cities and are dedicated to developing a workforce that reflects the spaces in which we live and work. As such, we encourage applications from persons of diverse backgrounds. We are committed to creating a place where all feel included, and recognize that this is a work in progress.
Position Overview
Reporting to the Beekeeping Team Manager (Montreal), the Urban Beekeeper manages a selection of client accounts and cares for their hives.
This is a full-time, permanent position in accordance with Alvéole's current policies.
The position begins August 2nd 2021.
Role and responsibilities
Manage a selection of client accounts and act as their main point of contact throughout the season for onboarding, communications, coordination, and contract renewals.
Manage all of your clients' beehives, including rooftop installation of new hives, swarm prevention, routine maintenance, pest and parasite control, and educational workshops.
Follow standard operating procedures to provide quality service, practices, and client experience.
Responsible for meeting the objectives set by the Beekeeping Team Manager and keeping them informed of their progress throughout the season.
Build relationships with businesses, schools, and other organizations through in-person and online communication tools.
Represent Alvéole and our mission to clients, media, and members of the public.
Promote our services in articles, media interviews, and PR sessions.
Assist the Beekeeping Team Manager with the maintenance of yard hives.
Sell and promote Alvéole's products and services at markets and events.
Organize, clean, and maintain equipment, supplies, and warehouse space throughout the season.
All other tasks related to running operations for the city.
Requirements
Valid driver's license and good driving record
Participation in a 10-day training camp in Manitoba/California
Commitment to learning the principles of beekeeping through company training and personal initiative
Public speaking experience an asset
Comfortable with the reality of beekeeping hazards (stings, heavy lifting)
Comfortable working at heights
Comfortable with online communications and using G Suite tools
Please apply here: https://alveole.humi.ca/job-board/beekeeping%20team/6378
Please indicate you saw this posting at FoodWork.ca.