LOCAL FOOD, MARKET GARDENING
Position: Market Farm Production Associate
Employer: Jones Family Greens
Location: Eden Mills, Guelph/Milton Region, Ontario
Accommodations: on-farm accom. may be available
Eligibility: age 30 or younger 
About the Farm
Jones Family Greens is a market-garden farming operation that has finally found its permanent home! The impetus for starting Jones Family Greens was to actively address two increasing crises of our time: decreasing health and climate change; focusing on soil health can be part of the solution to both by sequestering carbon and growing more flavourful and more nutritious food.
We feel very fortunate to have taken possession of a 12.3 acre portion of the former Camp Edgewood in Eden Mills at the end of 2020. Join Jones Family Greens in growing diverse greens and produce in an ecological and sustainable manner to produce the most nutritious and flavourful food possible.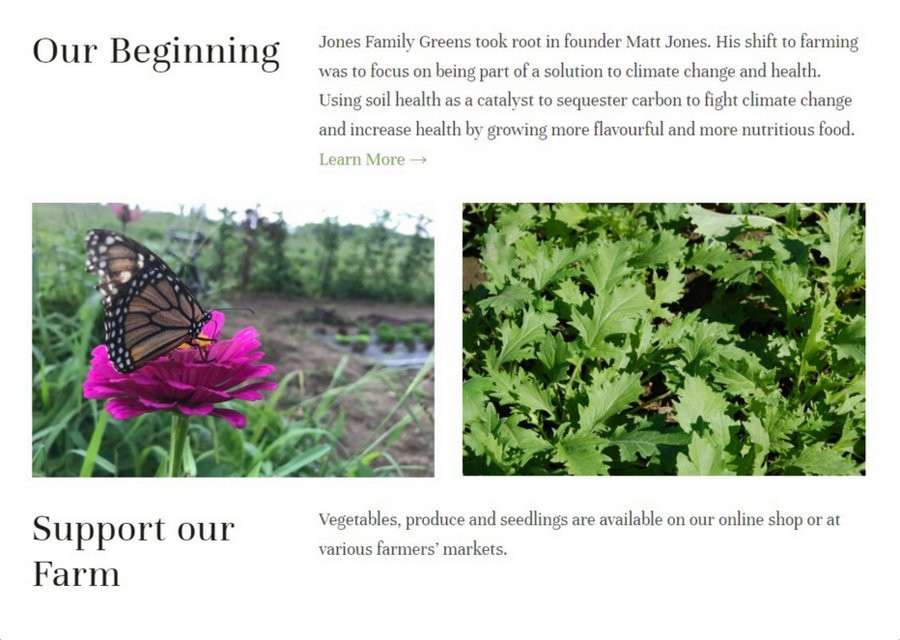 The 2022 season will be an exciting time to gain experience as we continue to establish the infrastructure needed on organic farms, as well as, depending on interest, with the establishment of an on-farm store, a commercial kitchen and more. We are looking for hardworking individuals who are interested in sustainable agriculture, not afraid to get their hands dirty, and are ready to learn
What we offer –
Wage: $15-17 / hour depending on experience
Training/Education: Opportunities to learn will be endless as we work together throughout the season.
Accommodations: Accommodation on the farm may be available if needed, please let us know if this is something you are interested in.
Produce: Produce that does not meet our high-quality standards for market sales will be available for staff to take home
Tasks and Responsibilities
Harvesting, washing, and packing of crops
Seeding in the greenhouse

Seeding trays
Tracking germination success
Watering
Succession seeding

Creating new beds and maintaining existing beds

Weeding beds
Pest/weed/disease identification
Spreading compost, manure, woodchips
Removing/Placing landscape fabric

Direct seeding and transplanting seedling in field
Pruning/Trimming and general landscape maintenance
Data collection for ongoing research trials
The typical working hours are 8:00am – 4:30pm including a half hour unpaid lunch; market days differ
Opportunities will also exist to be involved in selling at Farmers' Markets and to pursue personal areas of interest within the framework of regenerative agriculture and the regular work needs at Jones Family Greens.
Requirements
These positions will be partially funded by government sources. Please ensure eligibility of either being a current post-secondary student and a Canadian citizen, permanent resident, or Canadian refugee status or being between 15 and 30 years of age at the beginning of the employment period and Canadian citizen, permanent resident, or person who has been granted refugee status in Canada. The candidate should be:
Ready to work hard while always being safe
Willing to learn, take direction and share their own knowledge
Able to work alone or in groups
Willing to ask question and ask for clarification
Able to work in adverse weather conditions – if weather conditions are unsafe indoor work will be available
Physically able to use hand tools and able to life up to 50lbs on occasion
Assets but Not Requirements
Experience farming or gardening
Experience doing physical labour and/or working outdoors
Knowledge of pest/weeds/diseases in crop production
Background in science and or data collection for research trials
Interest in running their own market garden or agricultural venture
Duration / Term
This position will be run from asap until September 2022. The exact duration of the position may be changed based on funding and the candidate's success.
To Apply:
Please send us an email with Subject "2022 Season" addressed to Matt Jones at jonesfamilygreens@gmail.com and include your resume and a brief description about yourself and why you want to work together.
Please indicate you saw this posting at FoodWork.