KITCHEN MANAGER & CHEF
Position: Farm-To-Table Kitchen Manager/Chef
Company/Farm: The Conscious Kitchen
Location: Grey Highlands, near Thornbury/Meaford, Ontario
Type: Full Time Position – 4 or 5 Day-Week (35-40 hrs per week)
Initial pay: $28 per hour
Start: Summer/Fall 2022
About The Conscious Kitchen:
We are a farm-to-table prepared meal and grocery delivery service that helps people eat in alignment with their values delivering to the Collingwood/Thornbury, Guelph, and Kitchener-Waterloo areas. That means local & seasonal ingredients, plant-based, and zero-waste packaging, and creating bold & exciting weekly menus & dishes! We are a small business, with weekly dedicated customers, and have many relationships with local farms & food businesses. We operate on our farm, 45 minutes south of Thornbury. The Conscious Kitchen is a proud womxn owned business, run by a couple o' queers in their twenties. If this sounds weird & wonderful, continue reading!
The Opportunity: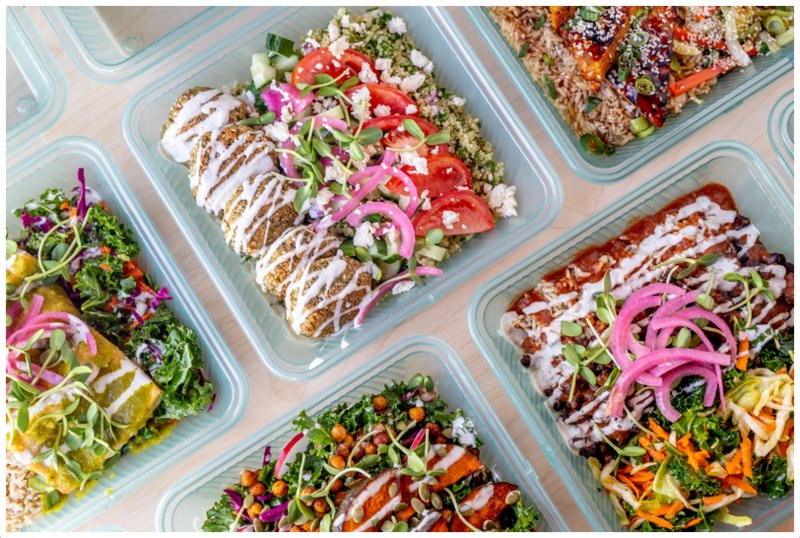 We are looking for someone who wants to step away from the grind of high-stress kitchens, and find a more sustainable & passionate career in the food industry to cook up fresh & creative food. We have historically been a small team of young womxn, and strive to run this business from a perspective of work-life balance – no early mornings, no working past 5 pm, and flexible schedules for time off. The kitchen atmosphere is a mix of calm, laid-back prep days, and fast-paced & podcast fueled cook and delivery days. It is super important to us that you feel comfortable & fit in with our work environment & atmosphere! You will mainly be working with me, Celeste (founder & head chef!). I like to consider myself to be pretty upbeat and positive, fun and creative, fast working & efficient, and extremely focused on cleanliness & detail (cleanliness is key, but messiness is inevitable!). Profanities, dark humor, and lots of sarcasm can sometimes make an appearance when we're working – so if your worst nightmare is a Reductress meme, this might not be the job for you. I do typically tend to take charge when I'm in a team environment (while trying hard to avoid being a jerk!), so I'm looking for someone who shares the same work values, can handle a *little bit* of bossiness, and who can step up to that role when I am not there.
We want to find someone who is prepared to be handed a lot of responsibility, and in turn receive room for creativity, flexibility, respect, and feel valued with yearly raises & benefits.
This role is multifaceted – mainly focusing on managing our kitchen, prep and cook days – but will also include admin work related to our website & menu updating, delivering orders one day per week, and some social media/photography work.
This is a full-time position, with a changing and flexible schedule. It is possible to create a 4-day work week. The main working days are Sundays, Mondays, Tuesdays, and Thursdays with Saturdays always off and an alternating second weekend day of Friday or Sunday.
Key Duties & Responsibilities:
Kitchen Work (20-28 hrs per week):
Prepping/chopping significant amounts of fresh vegetables
Preparing base ingredients such as rice, legumes, sauces, and marinades
Cooking dishes using our recipes - very large batches of up to 75 servings per dish, per shift
Plating & packing finished dishes in our reusable containers - up to 250 servings per shift
Some recipe creation
Washing & sanitizing tools, equipment, and reusable containers
Unloading shipments of ingredients (lifting up to 50 lbs frequently)
General cleaning & upkeep of kitchen
Admin Work (5-10 hrs per week):
Updating the menu weekly on the website
Managing inventory on our website
Some customer emails
Social media posts (Instagram)
Taking photographs of food/business tasks
Delivery Driving (6-8 hrs per week):
Driving orders to customers in either Kitchener-Waterloo or Collingwood using our refrigerated cargo van one day per week (delivery route can span up to 8 hours in one shift)
Driving in all weather conditions, such as snow & rain (not in extreme conditions)
Keeping the van extremely organized & ensuring customers get their correct orders
Picking up supplies & ingredients from local suppliers
Critical Skills:
At least 1 year working as a either a kitchen manager/lead cook or chef (diploma or chef school not required)
Extremely detail oriented & independent
A natural inclination to want to be meticulously clean!! (not extreme-but cleaner than average!)
A decent knowledge of seasonal & plant-based cooking-preferably from a professional setting
Experience working with a large variety of unique produce
Experience with batch cooking
Strong work ethic, attention to efficiency and ability to handle responsibility
Confidence & experience driving in rural winters & various road conditions
At least 3 years driving experience & a fairly clean driving record
A love of podcasts
Ideally the candidate will already be living in the Grey-Highlands/Blue Mountain Area. We are close to Markdale, Owen Sound, Thornbury, Meaford, Collingwood, etc. If you plan on relocating, you must have experience living/working in a rural location. Women and/or Trans/Non-Binary folks will be given prority - especially is you are Queer or BIPOC!
The initial pay is $28 an hour. The position will involve yearly raises, and ideally become a salaried position after a year, if you would prefer that. We also hope to offer a health spending account after 6 months — we want to support costs like therapy, massage therapy, and other costs related to self care! There is an opportunity to take over aspects of the business in the future, and develop products of your own.
Please email us at info@theconsciousfarmkitchen.com telling us about yourself and answering the questions below (we aren't judging based on your experience alone!).
Tell us about yourself!

What makes you excited about this opportunity? (What about the posting stood out to you? How does it fit with your career goals?)

In what area do you currently live? What is your experience in rural areas? Are you ok driving to/ working in a rural location?

What is your past commercial kitchen experience? Explain the types of dishes you created, and the quantity of food cooked per day. What did you like & dislike about it?

In your opinion, what are some of the most important factors in running/ maintaining a commercial kitchen?

What are your 3 favourite dishes to cook?

If someone were to describe working with you, what would they say?

What are your strongest values and strengths in the kitchen?

If it was the right fit, would you see this as a long term position & company for you?

Is there anything else you would find exciting sharing with us?
Please indicate you saw this posting at FoodWork.