PLANT-BASED FOODS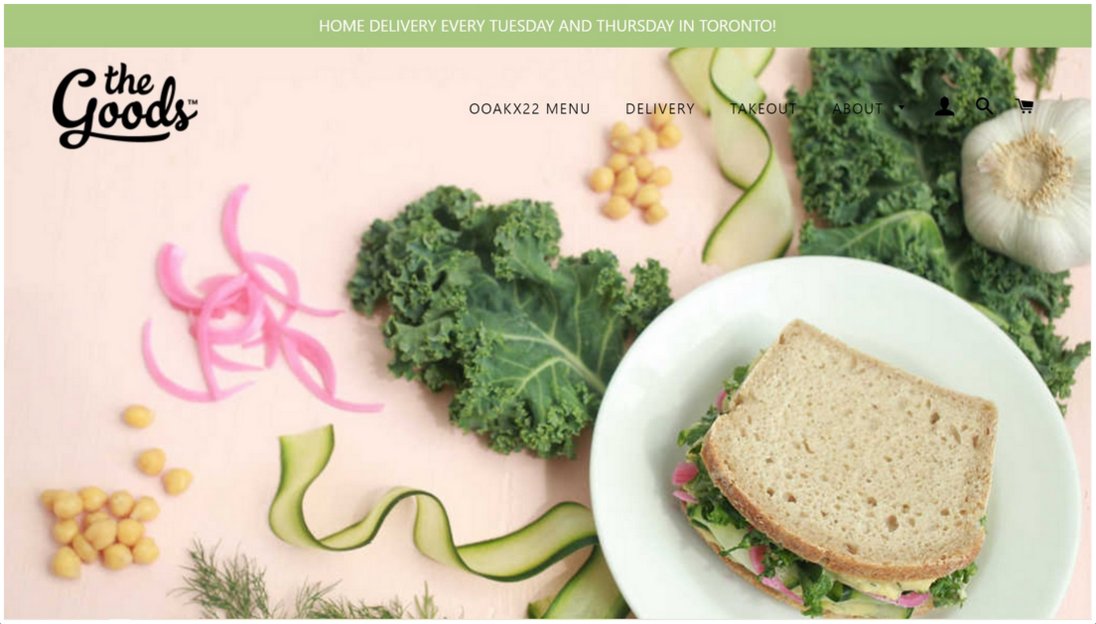 Hiring: Senior Team Leader
Company : the Goods
Location: Roncesvalles, Toronto, Ontario
*Please Read Entire Posting – Mandatory application questions required, in place of cover letter*
*Please only apply if holding a valid Canadian Work Permit*
We're hiring a Senior Team Leader at the Goods!
The Goods is a place where we care deeply about food, our community and the people who work for us. We are currently seeking experienced full-time kitchen staff to join our amazing team of 10 people.
About Us
The Goods focuses on functional healing foods and plant based eating. We believe that what we eat has the ability to heal us and our community. As a result our kitchen focuses on using quality ingredients and crafting everything from scratch. We're committed to making our food and our work environment inclusive; we have yet to find someone we cannot feed. We focus on supporting the community that supports us, and ensuring that any customer who experiences our food feels welcomed. We are currently looking to hire a full time senior team leader.
The Job
What you will do:
Manage the Kitchen Team; you will be responsible for hiring and scheduling our team (roughly 10 people) in partnership with the business manager. We have a great process for attracting and selecting talent; all new hires are approved by you after a trial shift. Your role is to ensure the proper training of our new hires. This includes onboarding and orientation of new team members. As the people manager you will be responsible for maintaining strong relationships with employees and ensuring they are engaged. This includes updating the current team on in-store changes, and other people management tasks like 1:1 check-ins. Success measures include low-turnover, great food quality and no errors resulting in food waste or refunds.
Make Food and Ensure Quality Control; this role requires shifts in the kitchen, which is essential for keeping tabs on quality control. You will work 35-40 hours a week in the kitchen which is critical to keep a pulse on the people, food, customers, inventory and processes. You will also be responsible for ensuring quality control for all our recipes/food products. Currently, this process is re-active in the sense that we wait for a complaint, but you can also implement processes to ensure it's more proactive.
Maintain the physical space and inventory; you're accountable for making sure the store is spotlessly clean and meets all dine-safe and government food handling requirements. You will ensure all FOH and BOH tasks are completed and will implement new processes when required by regulation or need of the business. You'll work with the business manager to maintain inventory and keep her updated on product quality and supplier details. Inventory and storage must be kept tidy and organized.
Maintain Customer Relationships; you'll maintain in-store customer relationships, particularly when there is a complaint or feedback about their experience. Issues will be escalated to you when you are there. You are also responsible for ensuring all staff know how to handle customer complaints.
Who you are:
Exceptional people person; you have been told your whole career that you have great people skills, you recognize what it takes to be a great people manager and have a history of successfully managing others in a kitchen environment.
You have prior commercial kitchen management experience and love working with food. You know how rewarding working to feed people healing and nutritious food can be, and you've committed your career to this industry. You believe in or are curious about eating well and the healing nature of the food we're making.
Highly organized and responsible; you feel comfortable working in public in a post-pandemic world. You recognize that to be a lead, as well as a team player in the kitchen you'll need to be available to work weekends and pitch in during busy and seasonal high periods. You take ownership over any role you've had and lots of great insights to share.
Committed to building a safe and inclusive workplace; we pride ourselves on being one of the most accessible restaurants in the city. We also ensure that our kitchen is free from racism, homophobia, xenophobia, sexism and other forms of intolerance. You've likely seen some not so great kitchen cultures and are committed to ensuring the Goods is an incredible place to work.
The Perks
Day-time hours; unlike most kitchen jobs you'll almost never work before 8am or past 8pm.
In kitchen and store hours 30 to 35, office hours 5+.
Wages starting at $20-$22 per hour, plus tips and regular pay increases, premium staff meals and smoothies and some added perks.
Amazing dedicated team; we're female-owned and operated and care about maintaining a positive working environment. Everything we do is with a ton of heart and passion.
You'll have a ton of impact and control over the work environment, and unlike in larger organizations your ideas can be actioned right away.
Tons of access to healthy food; we'll load you up with salads, smoothies and ginger shots.
Community connection; because of our involvement in the community our staff often receive perks and discounts from other amazing local businesses.
Important To Apply - Please Read
1. Submit your resume* + answer the following questions (no cover letter needed) to: careers (at) thegoodsisgood (dot) com
Tell us: what does being a great people manager mean to you?
What are you looking for in a team?
What is your perspective on functional healing food?
Please indicate you saw this posting at FoodWork.
2. Once your resume is reviewed we will set up a time for a pre-screen phone call with our hiring manager
3. Followed by a brief in-person interview with the hiring manager and owner
4. At that point if all parties involved feel this is a good fit we will schedule a 3 hour (paid) test shift.
Job Types: Full-time, Permanent
Salary: $20.00-$22.00 per hour
Schedule: 8 hour shift
Supplemental pay types: Tips