SUSTAINABLE FOOD APPRENTICESHIP
Position: Earth Roots Apprentices: Farm & Forest to Table!
Employer: Ixim Cafe + Bistro/ Les Arterres
Location: Wakefield, Quebec, near Ottawa/ Gatineau
Housing: accommodation provided (see below)
We are a family-run business operating in beautiful Wakefield, QC. We are passionate about connecting people to nature through experiences in the wild. We run nature camps for kids, foraging adventures & dinners, and a small café with a line of ethically wildcrafted products.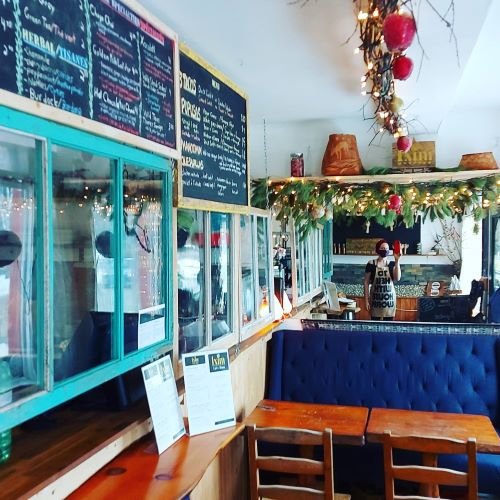 This year, our goal is to produce as much of our own food as possible for use in our café, expand our wildcrafted product line, and share our love for earth-based cultures, foods and traditions with others respectfully and safely.
We are looking for 3 individuals who want to deepen their connection to nature, experience growing, harvesting, transforming and serving food and drinks to our amazing community in our small café across from the Tenagadino River (Gatineau River).
Apprentices make a commitment of 30 hours per week.
April, May, June, 25 hours primarily in the gardens and forest, 5 hours in the café kitchen; with July and August 25 hours in the kitchen of our café, and 5 hours in the gardens.
Roles & Responsibilities:
On the land:
Implementing and maintaining perennial and annual edible and medicinal gardens. (weeding, watering etc.)
Compost duties: our restaurant operates with No Food Waste
Collaboratively planting, maintaining, shrubs, herbs and other plants.
Foraging, storing, dehydrating, processing and transforming into products
In the kitchen:
Preparing, cooking, serving, food and drink
Cleaning and resetting kitchen and tables
There is a weekly stipend for each apprentice of $100
START DATE: MAY 1-2 Positions
Accommodations are provided in our 12x24 tiny house on our property, with outdoor shower with hot water, & internet access.
(This is ideal for 1 couple, or 2 people who wish to tent out and share the tiny house)
1 APPRENTICE: JULY 1
The other position beginning July 1, accommodation in our basement apt, (unless tenting is desirable, you could start sooner.)
Must have Valid Vulnerable Sector's Check;
Practice COVID safety measures;
Have your own vehicle and/or valid driver's license.
Learning and Other Opportunities
One on one mentorship is available for those who wish to learn more on foraging, edible or medicinal plants, and wish to enroll in a more formal naturalist training program called Kamana 1 and 2 Training Program (certifiable through Wilderness Awareness School.)
We may also need substitute teachers/mentors for our summer camps and are hiring for the position of assistant Forest Preschool Teacher that commences September 2021, which are all paid positions.
If you wish to develop your own products, we can assist in this process and/or offer shelf space for you.
Paid part time work may also be available at neighboring organic farm, just inquire as to this possibility, as well as additional paid hours at our café, as server, sous-chef, bartender.
Side note: Wakefield is mostly an anglophone village in Quebec, 30 min north of Ottawa, but we speak French and Spanish.
To apply:
Please submit resume and references: attention Isabel Diaz to: iximcafebistro@gmail.com
Please indicate you saw this posting at FoodWork.
For more info see: