LOCAL FOOD & FARMS
Hiring: Farmers Market manager/Local food animator
Organization: Shuswap Food Action Society
Location: Salmon Arm BC (Must attend Farmer's market in-person on Saturdays, but many duties can be done from home on a flexible schedule) (near Vernon & Kamloops BC)
What is a SHU-food Animator?
We are looking for someone who 'cultivates' and 'grows' working relationships between different sectors of our local food system — Shuswap farmers and food producers, food processors, distributors, consumers and waste recovery systems. This helps increase the commercial viability of food, reduces food waste and builds regional resilience to upcoming challenges in food security including supply chain disruptions, transportation challenges and climate change. At an organizational level, the Shu-food Animator seeks to "build community around local food." At a systems level, they will work to understand and address the gaps, barriers, assets and action steps for supporting distribution, aggregation and vertical integration of the supply chain in the region.
Goals
Improve the economic health and viability of our local food & ag sector by increasing consumer awareness of the importance of supporting local food.
Increase the productivity, health and recognition of our agricultural and food lands and the people, families and businesses that maintain them.
Engage food and ag sector community in local and regional decision-making processes
Recognize and improve the significant economic, social and environmental benefits that the food & ag sector provides to the region
Increase the consumption of local agriculture's food products and services.
Key Duties and Responsibilities
Management of Salmon Arm's Downtown Farmer's Market (on Saturdays), including social media and marketing to increase attendance and economic impact.
Building relationships with local food producers, food businesses, restaurants and public institutions and connect with resources and suppliers with the aim of increasing access and demand of local food.
Increasing local understanding and appreciation of agriculture through educational activities, events, and celebrations. This includes events such as AppleFest, Shuswap Farm Tours and the Fall Fair.
Fostering relationships with local organizations like Shuswap Tourism, Salmon Arm Economic Development, Downtown Salmon Arm, to promote local food
Fostering relationships and collaborations with local Secwepemc Nations and the Salmon Arm Metis Association
Collaborate with governing bodies at the local, provincial and federal level, such as the City of Salmon Arm, the Columbia Shuswap Regional District, School District #83 to implement local policies that support growth of the local food economy.
Collaborate with Second Harvest and Lighthouse Market to promote gleaning and food rescue to sort, process and redistribute food within the community to people in need.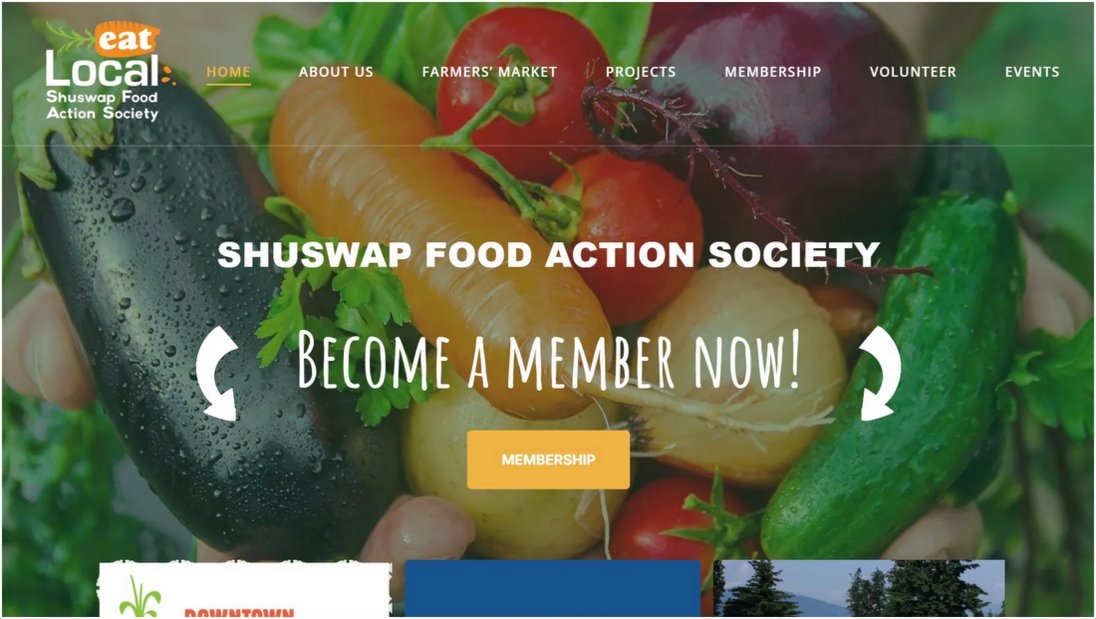 Work Environment:
This is a renewable annual contract (Starting July 2023), with an extension subject to an annual performance review of the candidate;
Annual contract amount will be determined by the share of responsibilities assumed by the candidate – ranging from $15,000 to $45,000 annually; for comparison purposes, the annual contract rate would be calculated at an equivalent of $25 hourly.
May work from home – vehicle travel throughout the Shuswap region will be necessary;
Will work within a collaborative team environment, with a distributed leadership model
Skills and Qualifications:
Project management skills and experience;
Strong communications skills including social media
Demonstrated leadership and teamwork skills;
Organized, self-directed and resourceful, good at problem solving; and
Passionate about building a community food system where everyone has access to healthy food.
Apply
Please e-mail your resume and a brief covering letter to:
info@shuswapfood.ca
subject: Farmers Market manager
Please indicate you saw this posting at FoodWork.ca.