ECOLOGICAL FARMING & GARDENING
Positions: Ecological Farm & Market Garden Team
Farm: Merkaba Acres
Location: Bobcaygeon, Kawartha Lakes, Ontario
Housing: There may be a room available for rent on the farm. Please let us know if you require accommodation.
Dates: flexible, ideally late-May – October
Eligibility: age 30 & under (see below)
Do you want to spend this summer working outdoors in nature?
Do you enjoy working with your hands and moving your body?
Do you want to learn and grow with us?
Join our 2022 farm team and reap the benefits of growing delicous, nutritious food on our beautiful property in Bobcaygeon, ON!
Merkaba Acres is an ecological farm located on 167 acres of farmland, forest and wetland. We use regenerative practices to raise grass-fed cattle and pastured eggs, and grow veggies and cut flowers in our 1-acre market garden. Our mission is to grow nourishing food, enrich the land, and foster a conscious, inclusive community.
Our team members will receive training and mentorship on regenerative farming practices and no-till gardening, and receive an abundance of food to enjoy throughout the season. Together we'll enjoy team meals, breaks at our swim spot, laughter and the fulfillment of doing good work. 
We are looking for team members to help in a wide range of tasks across the farm. Team members can expect to spend ~60% of their time in the market garden, and the rest of their time helping with various other jobs around the farm - maintenance, building, running the farm store, collecting and washing eggs, etc.
We are ideally looking for someone to commit for the full 5 months (mid-May until mid-October), however will consider applicants for shorter periods. Hours and workdays will vary throughout the season depending on the workload and weather. Full-time (35 hrs/week) is preferred, but part-time applicants will also be considered. Our priority is finding someone who is the right fit! Compensation is $17/hour, plus veggies and eggs to take home!
We are committed to creating a welcoming work environment and community. We encourage applicants of any race, ethnicity, religion, sex, sexual orientation, gender identity, national origin, age, disability, or level of education to apply.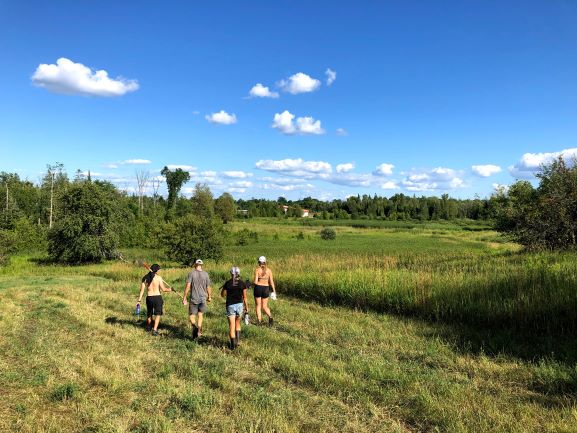 The ideal candidate is:
Patient, flexible and has a positive attitude. 
Fit for physical and repetitive labour
Enjoys working outdoors in all weather
A team player and good communicator
Self-motivated and trustworthy
Comfortable with a bit of organized chaos, and able to laugh at themselves
Has good self-care practices. Is able to ask for help and look after their physical, emotional and mental health throughout the rigorous farming season
Interested in regenerative and ecological farming, passionate about the environment, and committed to the practices associated with ecological farming
Qualifications & Experience:
Experience working outdoors
Farming, gardening, construction and/or manual labour experience is an asset, but not required. Training is provided and there will be lots of learning together on the go!
A driver's license is ideal but not required
Tasks may include (but are not limited to!):
Market Garden Tasks: Bed prep, BCS work, starting seedlings, transplanting and direct seeding, weeding and cultivating, irrigation, pest and disease management, harvesting, washing and packing produce, monitoring, tracking and reporting on produce quality and issues in the field
General Farm Tasks: Repair & maintenance of tools, equipment and workspaces, building hoophouses, mowing grass and other grounds maintenance, preparing the farm store for customers, sales & customer service in the farm store, helping with CSA pickup, collecting, washing and packing eggs, occasional farmers' markets
Due to funding requirements, candidates must:
Be a Canadian citizen, permanent resident or person to whom refugee protection has been conferred under the IRP act
Have a valid Social Insurance Number
Be legally entitled to work in Canada
Be 30 years old or younger at the start of employment.
To apply:
Please email Tessa at info@merkabaacres.com with a resume, cover letter and references. In your cover letter, please include:
Your availability this season — ideal start and end dates, and any restrictions in hours or days that you're available

Whether you are able to commute to the farm or require on-farm accommodation

Why you're excited about this position!
For more about us, please check out our website merkabaacres.com. For questions, call or email Tessa at 778-866-8377 or info@merkabaacres.com 
Please indicate you saw this posting at FoodWork.ca.