WE'RE HIRING!
Hiring: Organic vegetable farming, Various positions
Farm: Les jardins Carya
Location: Senneville, West Island Montréal, Quebec
Who we are:
We're a small farm that thinks big! We have a goal to create meaningful connections with our partner farms, our community and our clients, all while helping to grow the next generation of organic vegetable farmers.
What we do:
Les jardins Carya is a certified organic vegetable farm established in 2010. Located in Senneville, Quebec, on the western tip of the Island of Montreal, Les jardins Carya specialises in salad greens, microgreens and tomatoes. We sell direct to our customers at our weekly farmers market, as well as wholesale to over 50 Montreal establishments.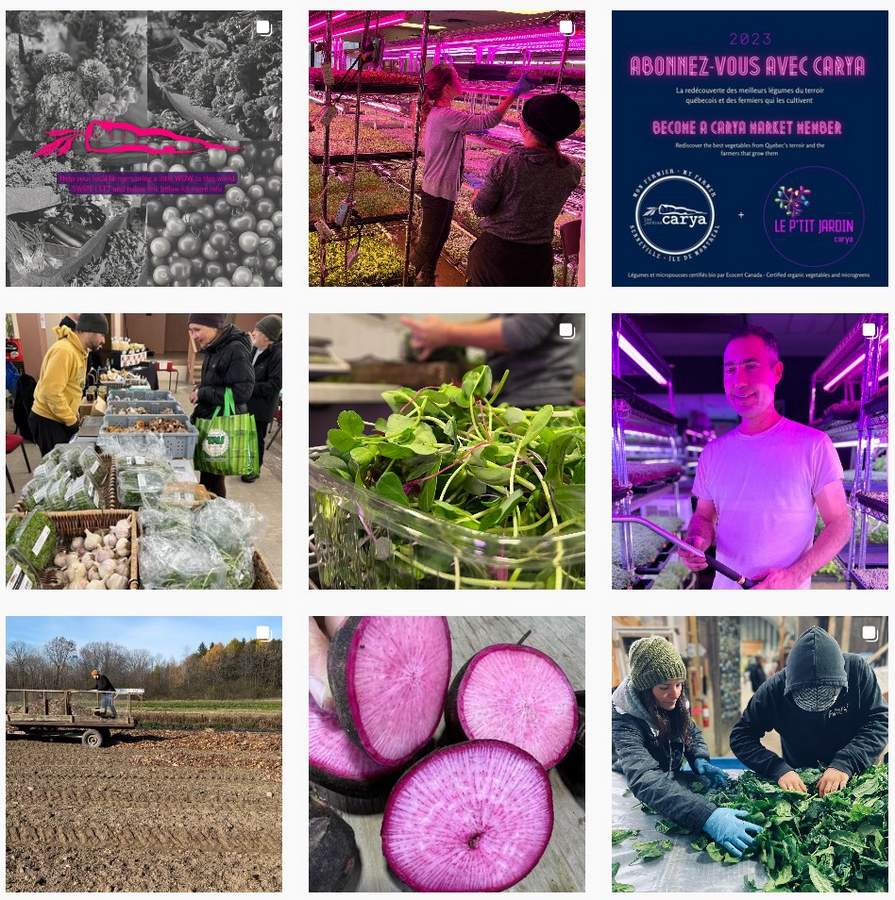 What we are looking for:
We are seeking out new team members to join our highly motivated & passionate crew!
The following positions are OPEN and begin late spring/summer until end of summer/beginning of fall 2023.
JOB POSITIONS include:
Farmers' Market leader & Co-leader
Details of employment:
Must be available every Saturday starting MAY 6th until OCTOBER 28th
Why Les jardins Carya:
We are a close-knit team that values kindness, respect, inclusivity, and personal growth. We work hard everyday while having amazing meaningful conversations which lead to lasting friendships.
How to apply:
In order to start the application process, please send us your CV and a cover letter detailing why you would be a great fit for Les jardins Carya.
Please include the following information in your application:
Your phone number and current address
Your farming or physical labour experience with two references. Include their phone number, email, and the dates you worked for them
Your availability (dates and time) for an interview. Weekdays only
The date you could to start working and intended length of stay
Do you have a current driver's licence?
Are you able to work weekends and do you have any prior commitments that would prevent you from working any days during the season?
Which position are you applying for?
Please send questions and applications to apply@jardinscarya.com with the subject: Employment 2023 . Please indicate you saw this posting at FoodWork.
We will reach out to the eligible applicants with the next steps to get to know each other.
Thank you so much for considering Les jardins Carya and we look forward to hearing from you.
NB: There are no buses to the farm, so you will need transportation. Accommodations are not currently available. The Montreal commuter train EXO has a limited schedule and the station at the college town of Ste-Anne-de-Bellevue is a 15 minute bike ride from the farm.
All employees must be eligible for wage subsidies.
---
NOUS EMBAUCHONS
Maraîchers bio 2023
Divers postes
Les jardins Carya est une ferme maraîchère certifiée biologique établie en 2010. Situés à
Senneville, au Québec, à l'extrémité ouest de l'île de Montréal, Les jardins Carya se spécialisent dans les salades et les laitues, les micropousses et les tomates, que nous vendons directement aux consommateurs lors de nos marchés fermiers hebdomadaires, ainsi qu'en gros à plus de 50 établissements montréalais.
Notre petite ferme a de grandes ambitions! Notre objectif est de créer des liens significatifs avec nos fermes partenaires, notre communauté et nos clients, tout en contribuant à la formation de la prochaine génération de maraîchers.
Nous sommes à la recherche de candidats exceptionnels pour rejoindre notre équipe très motivée et passionnée ! Les postes suivants sont OUVERTS et commencent au printemps/été 2023:
LES POSTES DE TRAVAIL:
Assistant.e et Chef aux marchés fermiers
Si vous souhaitez faire partie d'une équipe soudée qui valorise la gentillesse, le respect, l'inclusion, le travail acharné et la croissance personnelle, vous êtes peut-être exactement la personne que Carya recherche !
Afin de commencer le processus de candidature, veuillez nous envoyer votre CV et une lettre de motivation expliquant pourquoi vous seriez un bon candidat pour Les jardins Carya.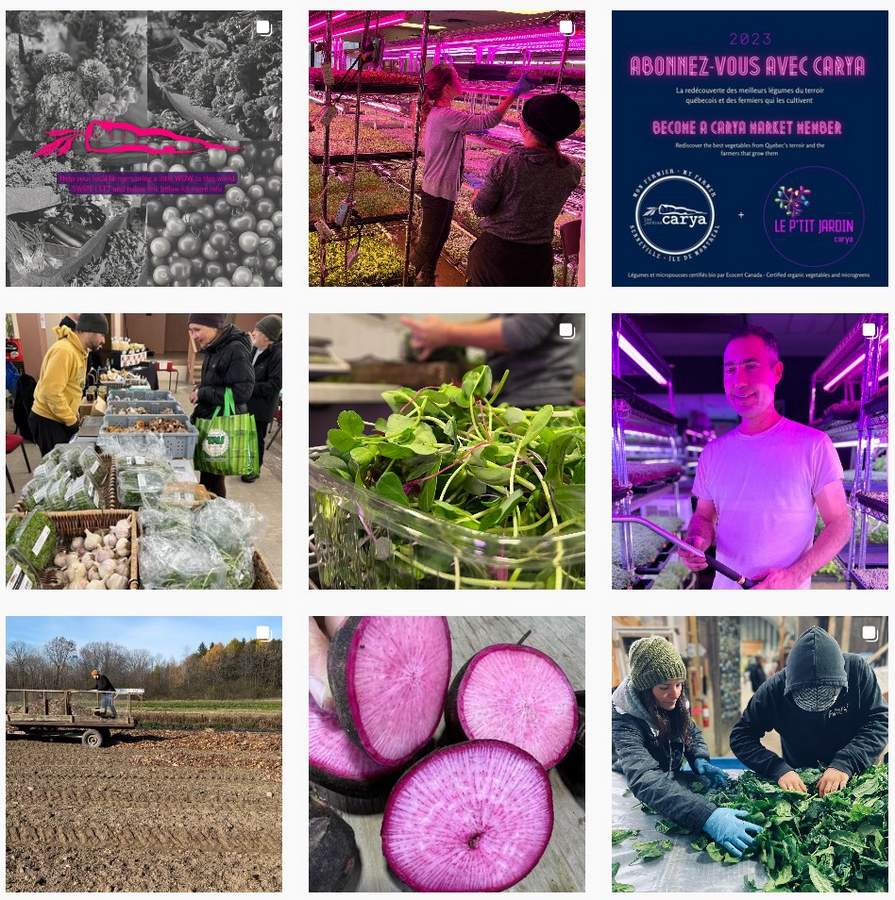 Veuillez inclure les informations suivantes dans votre demande :
Votre numéro de téléphone
Votre adresse actuelle
Votre expérience en agriculture ou en travail physique avec deux références. Indiquer leur numéro de téléphone, leur courrier et les dates auxquelles vous avez travaillé pour eux.
Votre disponibilité (dates et heures) pour venir à la ferme pour une entrevue. Les jours de la semaine uniquement.
La date à laquelle vous souhaitez commencer à travailler et la durée d'emploi prévu
Possédez-vous un permis de conduire en cours de validité ?
Êtes-vous en mesure de travailler le week-end et avez-vous des engagements préalables qui vous empêcheraient de travailler certains jours pendant la saison ?
Pour quel poste postulez-vous ?
Envoyer vos questions et candidatures à apply@jardinscarya.com avec le sujet "Emploi 2023". Veuillez indiquer que vous avez vu cette offre sur FoodWork.
Nous contacterons les candidats choisis avec les prochaines étapes pour apprendre à se Connaître.
Merci beaucoup d'avoir considéré Les jardins Carya et nous sommes impatients d'avoir de vos Nouvelles.
NB : Il n'existe pas de transport en commun pour se rendre à la ferme, vous aurez donc besoin de trouver une façon de vous y rendre. L'hébergement n'est pas disponible actuellement. Le train de banlieue EXO de Montréal a un horaire limité et la gare de la ville universitaire de Ste-Anne-de-Bellevue est à 15 minutes en vélo de la ferme.
Tous les employés doivent participer à des subventions salariales