ORGANIC FARMING JOBS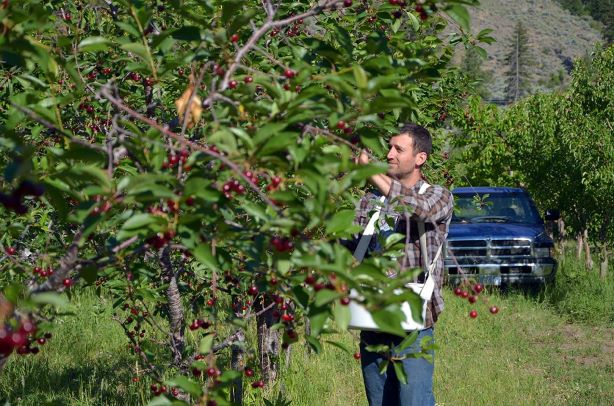 Position: Orchard Manager
Farm: Snowy Mountain Farm
Location: Cawston, BC (on-farm accommodation available)
Snowy Mountain Farm is a 25 acre certified organic farm located 10 minutes south of Cawston, BC. The setting is picturesque and quiet, sitting at the foot of Snowy Mountain and within walking distance of the Similkameen River, great for cooling down on hot summer days. We have 12 acres of orchard, growing a diverse collection of new and heritage varieties of apples, quince, pears, plums, peaches, apricots, and nectarines and plan on planting an additional small vineyard this year. We sell our fruit at Vancouver farmer's markets and through CSA programs.
The farm has been grown organically for 35 years. We believe in land stewardship, diversity, promoting soil health, and building a balanced ecosystem, in order to grow delicious and nutritious food. We strive to care for our environment, as well as create a respectful, inclusive and joyful workplace.
We are looking for the right person to help manage the orchard. The right applicant must have extensive experience working in orchards and be capable in pruning, thinning and picking various kinds of orchard fruit. Preference will be given to applicants that have previously managed orchards and orchard crews. The applicant must have a keen interest in permaculture, know how to drive a tractor, communicate clearly with the crew, be organized, efficient, physically fit and work well without supervision.
Tasks will include:
Manage orchard crew (between 1-4 people, depending on the time of season)
Pruning (various kinds of tree fruit)
Blossom thinning
Fruit Thinning
Picking
Running/checking Irrigation
Mulch spreading
Weeding/Weed whacking
Sorting
Lifting heavy boxes
Packing and loading truck for market
Start date, hours, pay, etc:
This position is permanent and will begin at the beginning of March
40 hours/week avg
$22/hr with potential pay increases after annual review
On farm accommodation is available
Access to farm fruit for personal use as well as space to grow your own garden
To Apply:
Please send a resume with a brief cover letter and 2-3 references to: snowymountainfarm@gmail.com
Please indicate you saw this posting at FoodWork.ca.