ORGANIC FARMING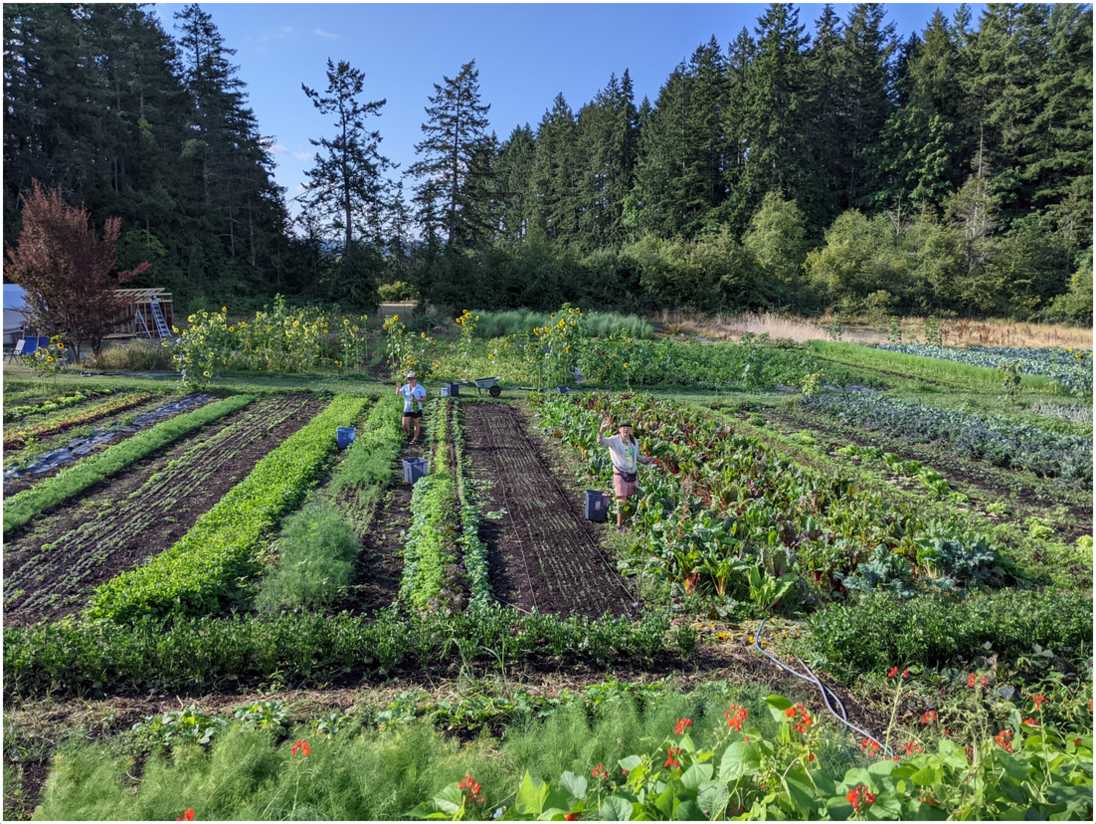 Position: Farm manager
Farm: Three Oaks Farm
Location: Mt Newton Valley, Victoria, BC
Seeking farm manager to bring their experience and energy to one of the 3 Saanich Organics farms just outside of Victoria, BC. We have 2 certified organic acres in mixed veggie production in the beautiful Mt Newton Valley. Our systems are moving from mechanized to no-till and we welcome innovation from a person who has used no-till methods.
The owner wants to take a back seat and will work with new manager from March or April till June, then will just help in the background (do errands etc). It's essential the applicant has enough farm experience to be able to run things from an early date, and also enough communication and cooperation skills for working smoothly with other employees and the owner. Our 2 returning employees are fantastic:)
All of our produce is marketed through a farmer-driven distribution business, Saanich Organics. We have a 150 member CSA, attend 3 Farmers Markets, and do restaurant sales. We have a seed business located at our partner farm called Seeds of the Revolution! which supplies our farms with seed as well as packet sales on our website, for markets, shops, and Seedy Saturdays.
Three Oaks Farm has been running at this location since 2006. We have 4 greenhouses and the rest of the 1.5 acres is in field crops with another ½ acre available, and the whole property is 5 acres. We grow 30-40 different crops and emphasize succession planting, lots of emergent weed hoeing, broadforking, use of landscape fabric and silage tarp, fertigating through driplines, and are always looking to make our methods more efficient. Salad greens, veggie starts, tomatoes, strawberries, leeks, peppers, and carrots are some of our bigger crops.
Veggie seedling sales have exploded in recent years and we attend plant sales as well as stock our farm stand in Spring and Fall. Irrigation is through a mix of drip lines and overhead watering. If you don't believe in irrigation, this sandy-soil farm is not the place for you!
Our team at Three Oaks Farm and Saanich Organics is a hard-working, communicative, fun loving, and community oriented group and we welcome more of the same:) We are usually a core group of three or four plus 2 part timers. Owner is awake and has been committed to empowering others to grow their own food and to keep farmland in food production.
Saanich Organics has a great reputation among our CSA subscribers, market customers and chefs for reliability and excellent quality. We are grateful to all the individuals, chefs, and small grocers in Victoria who have made purchasing local and organic a priority. We are committed to what we do and enjoy it very much and hope you do too.
Pay is negotiable depending on experience and includes 4% vacation pay, Worksafe coverage, and unlimited access to produce.
Tiny house available starting March 1, 2024 for $700/mo
Hours are Mon-Thurs or Mon-Fri 9-5, with some flexibility.
Position starts part time in March until the land dries out, then full time (usually early-mid April). Around mid October, hrs drop to part time again till December. Mid December till end of January off:)
Applicant must:
have a few years experience in diversified organic vegetable production
have had experience supervising others in a farm setting
have good mental wellness
be a fast, organized, efficient, and tidy worker
be an excellent communicator
be able to cope with the physically demanding nature of the work
ideally have experience with no-till methods and also be keen to operate farm machinery when needed (tractor, mower, rototiller)
be proficient in irrigation methods
be committed to certified organic principles
be able to work under pressure while maintaining supportive and communicative atmosphere with co-workers
be able to see the whole picture while being extremely detail oriented
Responsibilities:
Management of day to day operations of seeding, potting up, transplanting, weeding, irrigation, prepping beds, harvesting, washing and packing produce for sale
Close communication with owner
Packing orders and market produce with high degree of detail-excellent produce quality a must!
Management of employees and occasional volunteers
Oversee irrigation schedule and repairs
Using fertigation system
Estimate harvest amounts 2 days ahead of harvest
Record keeping re seeding info, dates, fertilizer application, manure management
Tracking and ordering/picking up supplies as needed
Cooperative attitude with other 2 farmers of Saanich Organics when it comes to marketing. Packing CSA and restaurant orders with them twice a week or delegate this
Maintaining long term farm fertility and attentiveness to the big picture for the farm
Integrating new methods with tried and true old ones
Interested parties please send cover letter and CV to rachel@saanichorganics.com
Please indicate you saw this posting at FoodWork.