THUNDER BAY JOBS
Positions: Organic Farmer (2 positions)
Farm: Sleepy G Farm
Location: Pass Lake, Thunder Bay District, Ontario
Housing: Option for on-farm accommodations
Are you seeking...
Market farming experience on a successful Certified Organic Farm?
To advance to a farm supervisory role within the next year?
To work on a farm while enjoying work/life balance?
To join an experienced farm team and a community of local food supporters?
To work in beautiful Northern Ontario location near Lake Superior and the Sleeping Giant?
If you answered YES (!) to one or more of the above, this may be the opportunity for you.....
About the Farm
Sleepy G Farm is a successful mixed organic vegetable and livestock farm in Pass Lake, Ontario. The farm is located 40 minutes east of Thunder Bay in the Robinson-Superior Treaty area on the traditional lands of the Anishinaabe people, and just a few kilometers from Sleeping Giant Provincial Park and Lake Superior.
Owners and founders Marcelle and Brendan have been growing vegetables and raising livestock in Pass Lake since 2006 and are heading into their 13th season growing for a summer, fall and winter CSA program that services over 250 families. Farm products are also marketed through an on-farm store and independent local retailers in the city of Thunder Bay. Sleepy G Farm is a leader in local food production and the only Certified Organic farm in the Thunder Bay district.

As a compliment to 8 acres of intensive vegetable production the farm also produces eggs, and beef from a herd of shorthorn cattle for year-round sales. High production and work efficiency on the farm is made possible with scale-appropriate machinery and a purpose-built vegetable packhouse and winter storage facility. Sleepy G typically has 3 to 8 individuals working each day and in addition, members are invited to participate in farm work two days per week througout the growing season.

About You
You are reliable and always try your best. You are physically and mentally fit and can work in all weather conditions. You can lift up to 50 lbs, have stamina, dexterity, an eye for detail and are able to recognize the economics of production-based work. You can follow both written and verbal instruction and are always looking to hone your skills and abilities. You work equally well in a team environment or independently. Prior experience working for a small business, in farming, landscaping, food service, retail, construction, or operating machinery could be an asset for the position.

The Details
Organic Farmer: Permanent Full-time (Summer & Fall) & Part-time (Winter)
Hours: 16 to 40 hours per week 8 am to 5 pm - 1 hour unpaid lunch
Start: May 2022
Wage: $16 to $25 per hour depending on experience + skills, 4% vacation pay
Extras: farm vegetables & eggs for personal use. Option for on-farm accommodations.

The Work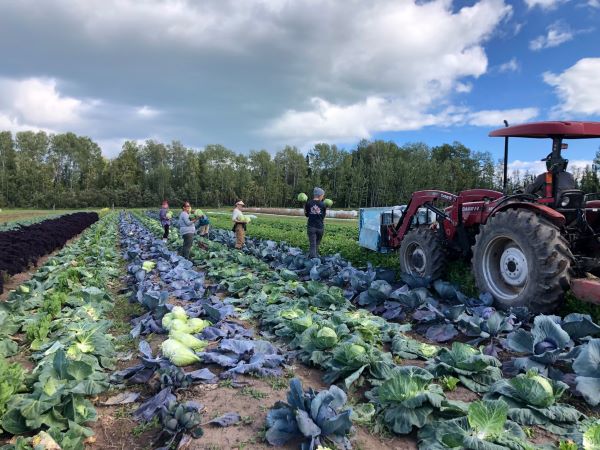 An Organic Farmer at Sleepy G will participate in many aspects of crop production and distribution. Organic Farm Workers will be expected to perform general farm labour and will be responsible for managing tasks, areas and other workers. Organic Farm Workers will be assigned duties that are specific to their skills, experience and professional goals related to farming.
How To Apply
Applicants will send a cover letter and PDF resume to info@sleepygfarm.ca with the subject line "Organic Farmer". In your cover letter please state what farming in Northern Ontario means to you and why you are an ideal candidate for the Sleepy G team.
Please indicate you saw this posting at FoodWork.
*Individuals not vaccinated for covid19 need not apply