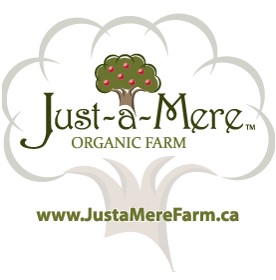 ORGANIC FARMING
Position: Lead Farm Hand
Farm: Just A Mere Organic Farm
Location: Creston, Kootenay Region BC
Housing: on-farm accommodations during harvest season (see below)
Type: Full-time, Permanent
---
Just A Mere Organic Farm
Just A Mere Organic Farm is a small, family owned, and certified organic farm located just outside of the beautiful town of Creston, BC. 14 acres of mixed tree fruit and berries make up our production. We are in the middle of a renewal program having replanted over 1,800 trees last season with more replants to come this year. We are looking for a trained horticulturalist to join our team and assist the owners and field manager in shepherding our crop through the entire growing season from bloom to harvest to dormant.
Our farm values hard work, individual initiative, a commitment to organics, and a relentless focus on quality products. We work hard to grow and deliver market leading organic food to our wholesale customers in the BC Interior, Lower Mainland and Asian markets and have a reputation for providing award-winning organic fruits to our markets. Our products are highly sought after by grocers and wholesalers in our region.
We encourage anyone interested in joining our team to apply. We are an equal opportunity employer and have a diverse range of individuals who bring their own unique attributes to our team and make our farm what it is from the start to the end of each season.
Lead Farm Hand – full-time permanent
You are responsible for assisting in the day-to-day management of our certified organic orchard and gardens. Working with the farm owners and field manager, you will work daily to monitor, record, implement, and optimize the horticultural management of the fruit trees, fruit bushes and commercial garden using a science and standards-based approach.
Responsibilities:
Aid in managing the day-to-day running of the orchards and gardens.
Plan, plant and manage commercial gardens through to harvest.
Coordinate orchard seasonal activities with the Field Manager.
Perform seasonal horticultural management such as weeding, summer pruning, fruit thinning, irrigation repair, grass cutting.
Operate farm equipment and machinery including tractors, harvesters, mowers, and farm trucks.
Handle and apply agricultural chemicals and fertilizers as directed by the farm owners.
Supervise seasonal orchard workers and contractors as needed.
Supervise the packing house during cherry harvest including fruit picking, sorting, and packing.
Meet grower and industry compliance requirements.
Act as designated First Aid attendant to meet WorksafeBC requirements.
Maintain and enforce CanadaGAP food safety regime as needed.
Ensure compliance to Canadian Organic Regime standard and Safe Food for Canadians Regulation.
Act as the farm COVID-19 Co-ordinator and implement regulations as engaged by the BC Public Health Officer
Essential Qualifications:
On-farm horticultural experience in entire crop cycles from spring prep to fall cleanup
Experience operating farm machinery such as tractors, mowers, and harvest equipment
Demonstrated ability to train, supervise and lead seasonal staff
Excellent communication skills in English
Strong organisational skills
Ability to be self-motivated and self-directed
Good understanding of and a commitment to health and safety in the workplace
Clean Class-5 driver's license
Satisfactory verification of criminal record check
Bonus Requirements:
Recent food safety and traceability experience
Demonstrated team player
French and/or Spanish language skills
Dependable and highly organized
Maturity, discretion, enthusiasm, and a positive attitude
Certifications: (training will be provided as needed)
Current WHMIS 2015 Certificate
Current Forklift Operator Certificate
Current Level 1 First Aid Certificate
Work Conditions:
You will primarily work outside in all weather conditions. Working hours vary depending on season and can require full weeks with long shifts during cherry harvest. This position is classified as a 'Agricultural' and is subject to the Farm Worker exemptions to working hours and overtime as outlined by the BC Employment Standards Act.
On-farm accommodations are not provided except during harvest season when the pickers tenting camp is open for seasonal on-farm workers. Securing off-farm accommodation would be preferred to allow for meaningful rest periods during the busy season.
Compensation:
We offer a competitive hourly rate plus holiday pay depending on experience. This is a seasonal full-time position that starts on April 5 and finishes October 31. Off-season remote work may be available depending on winter projects as required.
To apply: 
Please email our team at jobs@justamerefarm.ca with your resume and cover letter.
Expected start date: as soon as possible
Please indicate you saw this posting at FoodWork.ca.