ECOLOGICAL & ORGANIC FARMING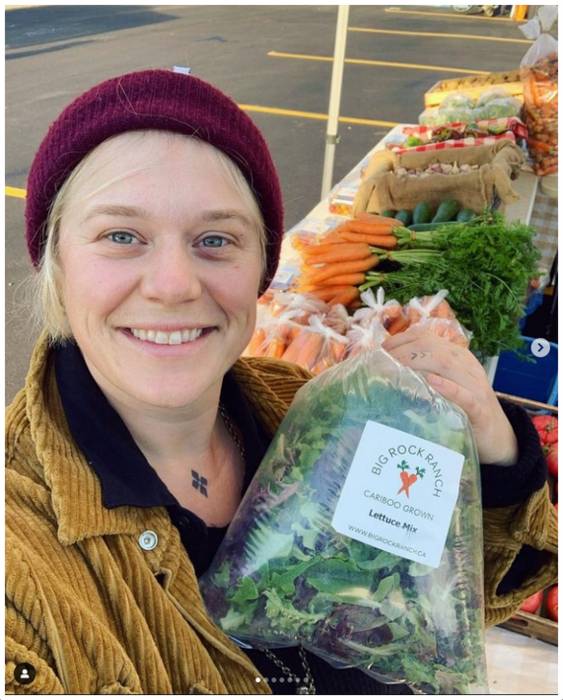 Hiring: Farm Hands/Field Crew
Farm: Big Rock Ranch
Location: 100 Mile House, BC
Housing: on-farm accom. (see below)
Big Rock Ranch is a 148-acre farm, a short 15 minute drive from the historic town of 100 Mile House, in Buffalo Creek BC. The farm is surrounded by picturesque rolling hills, lakes and cattle. Here we grow many varieties of fruits and vegetables on 5 acres, care for honey bees, have 2 lovely horses, and 3 wonderful farm dogs. We sell our produce at the South Cariboo Farmers Market, in a CSA box program and to local restaurants/grocery stores from Spring to Fall every year.
Big Rock Ranch is a certified organic farm where sustainability and ecological practices are at its core. We believe strongly in keeping our food as close to its source as nature intended, with a large focus on animal welfare and soil health. We feel strongly about building community, our local economy and supporting it by investing locally. We focus on raising heritage chickens free range rotationally on pasture, invest in the health of our soils with low till practices and lots of compost, and are focused on environmentally aware farming practices.
DESIRED QUALITIES
Strong work ethic, communication and interpersonal skills
A positive attitude and motivated to learn and improve
Some experience with/knowledge of plants (farm or garden) and/or fast-paced labor (kitchen, landscaping) strongly preferred
Physical and mental endurance (able to work standing, kneeling, bending, lifting repeatedly, some heavy lifting up to 20kg/45lbs)
Love for the outdoors, experience and/or willingness to work in variable weather conditions (sun, rain, mud, heat, and cold)
Ability to work both independently and as part of a team, with various levels of supervision
Proficiency in basic veggie math (addition, subtraction, multiplication, division)
Efficient, reliable, consistent, and punctual
Ability to absorb, integrate and execute detailed instructions and feedback
Strong observation skills
Must be able to commit to completing the farm season
Must be legally able to work in Canada
JOB TASKS
Field Crew:
Bed preparation and composting
Seeding and transplanting
Weeding (by hand, using hand tools and walk behind cultivator)
Pruning and trellising greenhouse crops
Harvesting and carting produce
Cleaning, sorting, and packing produce with an eye for quality and consistency
Ongoing maintenance and attention to the cleanliness and function of the work environment
Arriving on time in preparation to work in appropriate attire
Potential additional tasks (if needed): CSA and restaurant deliveries, working at farmers market
The field crew will be expected to provide their own farm attire including boots, rain gear, sunhats, water bottle, gloves, and clothes. All farm tools will be provided.
The Assistant to Farm Manager will also have the following responsibilities and tasks:
Basic irrigation set up and maintenance
Regular weeding schedule w cultivator tractor
Field record keeping
Supervise farm crew and make decisions in the field
Willingness to follow directions and receive training from the Farm Manager and support farm operations
Report to Farm Manager
Ability to work independently and provide coverage for Farm Manager as needed (e.g. Farmers Market, Vacation days)
JOB DETAILS
Term: We have two positions open this season, one field crew and one field crew assistant manager starting early May until October 2023.
Hours per week: 40hrs/week. We have some flexibility around specific start and end dates, as well as weekly hours (e.g. if you really only want 4 days/ week we could discuss that).
Wage: Starting wage for field crew is $16.00/hour, Field assistant manager is $17.00/hr and negotiable based on experience and responsibilities.
Perks include free organic fruit and veg, coffee or tea at lunch, occasional baked treats
Housing: Two caravans available, with access to outdoor space and wild areas, shared outdoor kitchen, sauna, showers, hydro and WIFI on a community farm available to rent for full season position, please ask for more details if interested. Rent is $400 per month, everything included. We are located approximately 15 minutes away from 100 Mile House.
On-site perks: Access to free fruit and vegetables for your own consumption, wood fired sauna, acres and acres of onsite wild spaces to explore, our very own disc golf course, potential to go for horseback rides, access to canoes and shared community living. We are a community of foodie-oriented people always looking to learn and share techniques, recipes, and food together!
Considering the distance from town, access to a reliable car will make your life much more enjoyable on the farm.
TO APPLY
Please send a cover letter, resume and where you found the job posting to info@bigrockranch.ca
Please indicate you saw this posting at FoodWork.
Deadline to apply: April.15.2023