REGENERATIVE ORGANIC FARMING
Hiring: Farm Manager
Farm: The New Farm
Location: Creemore, Ontario
Housing: Not on-farm. Nearby: Creemore, Stayner, Collingwood, Alliston, Barrie, Shelburne, Orangeville (map)
The New Farm seeks a motivated, dynamic individual to serve as manager of a busy and profitable organic farm. We produce premium-quality salad mixes and cucumbers for the restaurant and retail market in southern Ontario on approximately 20 acres of garden near the village of Creemore. We are the first vegetable farm in Canada to be certified to the Regenerative Organic (ROC) standard. Our team includes six full-time seasonal employees from Mexico who have all worked on our farm for seven to eleven seasons. We custom-graze approximately 25 cattle to manage cover crops and build healthy pastures on the farm. Several restaurants maintain gardens on the farm, and we host events and farm visits in our on-farm event space and commercial kitchen. The New Farm works with Farmers for Climate Solutions, the Ecological Farmers Association of Ontario, Canadian Organic Growers and other progressive farm organizations to advocate for a more just and regenerative food system. We hold on-farm fundraisers and seek corporate donations to make our food more accessible: in 2022, 65% of our production went to food banks and good food organizations in low-income communities.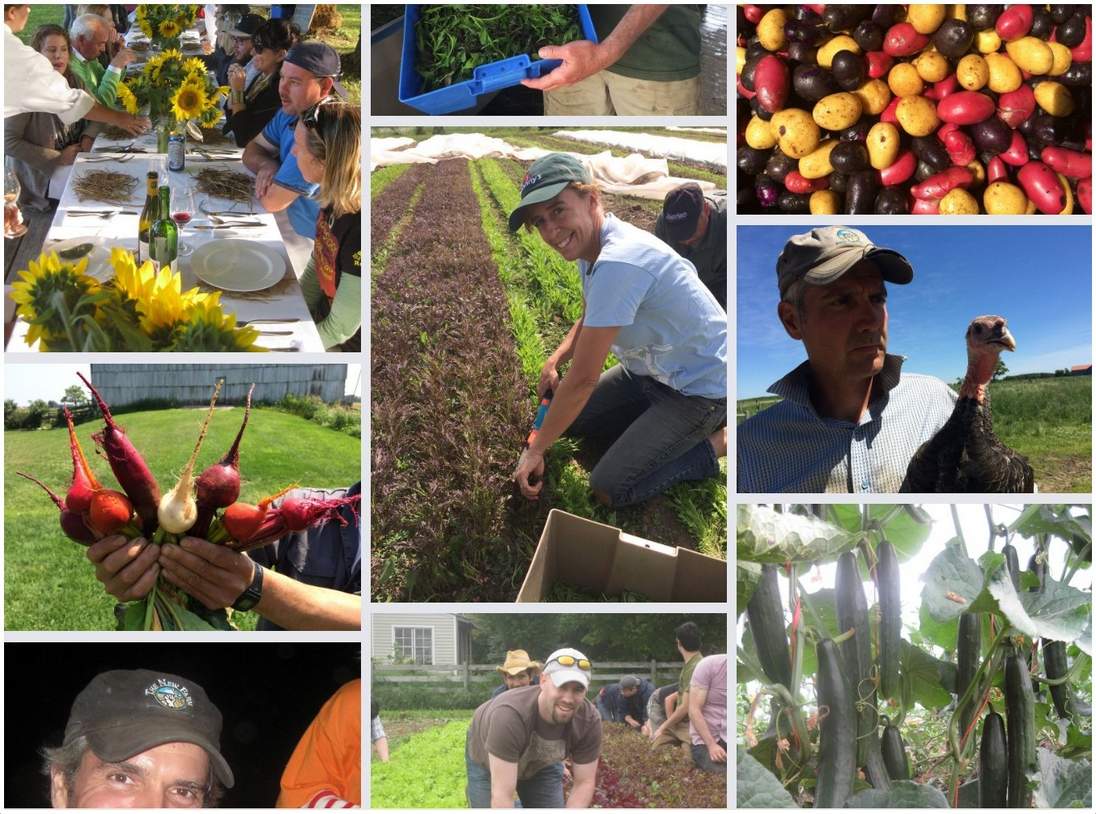 If you are an experienced farmer who is ready for a challenging, long-term and secure position on an innovative farm, please send a cover letter and resume to info@thenewfarm.ca . Please indicate you saw this posting at FoodWork. Applications will be assessed as they are received, so please apply as soon as possible. You will be notified if you are selected for an interview.
Responsibilities
Supervising employees and managing day-to-day operation of the farm during the growing season (April to October).
Developing and executing planting and harvesting plans.
Cover crop planting and management.
Developing grazing plans and managing livestock.
Communicating with customers, receiving orders, creating daily harvest plans, creating invoices. managing inventory and managing deliveries.
Conducting routine maintenance and repair of equipment and machinery.
Overseeing maintenance and upkeep of facilities (commercial kitchen, staff housing, barn, chicken coops, hoop houses).
Ordering supplies and equipment.
Managing regenerative organic certification and regulatory compliance.
Providing advice and mentoring for restaurant garden staff.
Conducting on-farm tours and speaking on behalf of The New Farm as required.
Reporting directly to the farm owners. 
Terms of Employment
Regular work week is Sunday to Friday during the growing season, with an average of approximately 60 hours of work per week.
Hours in excess of 40 hours/week can be taken as time off in lieu in the winter months.
Qualifications
Candidates must demonstrate the following:
Minimum five years experience working on diversified organic farms.
Minimum three years in a management position.
Experience operating and maintaining farm machinery and basic construction skills.
Experience working with accounting software (eg. quickbooks) and managing customer accounts.
Excellent verbal communication and customer relations skills.
Comfortable with public speaking, leading farm tours and advocating for regenerative agriculture.
Physically fit and able to meet the physical demands of farming.
Valid drivers licence.
Legally able to work in Canada.
Spanish language skills are an asset, but not required.
Compensation
Full-time, year-round, permanent position with an eight month probationary period.
Starting salary of $75,000/year.
Full benefits (pension, extended health) after the first year.
Four weeks of paid vacation/year.
Housing is NOT provided.
The New Farm has started the process of transitioning to a non-profit model focused on demonstrating and advocating for regenerative agriculture, with plans for an on-farm conference centre, farm store and increased policy advocacy activities. The successful candidate will have long-term opportunities for professional growth and advancement as this new model is implemented in the coming years.
The New Farm is an equal opportunity employer. We encourage applications from equity-deserving farmers.