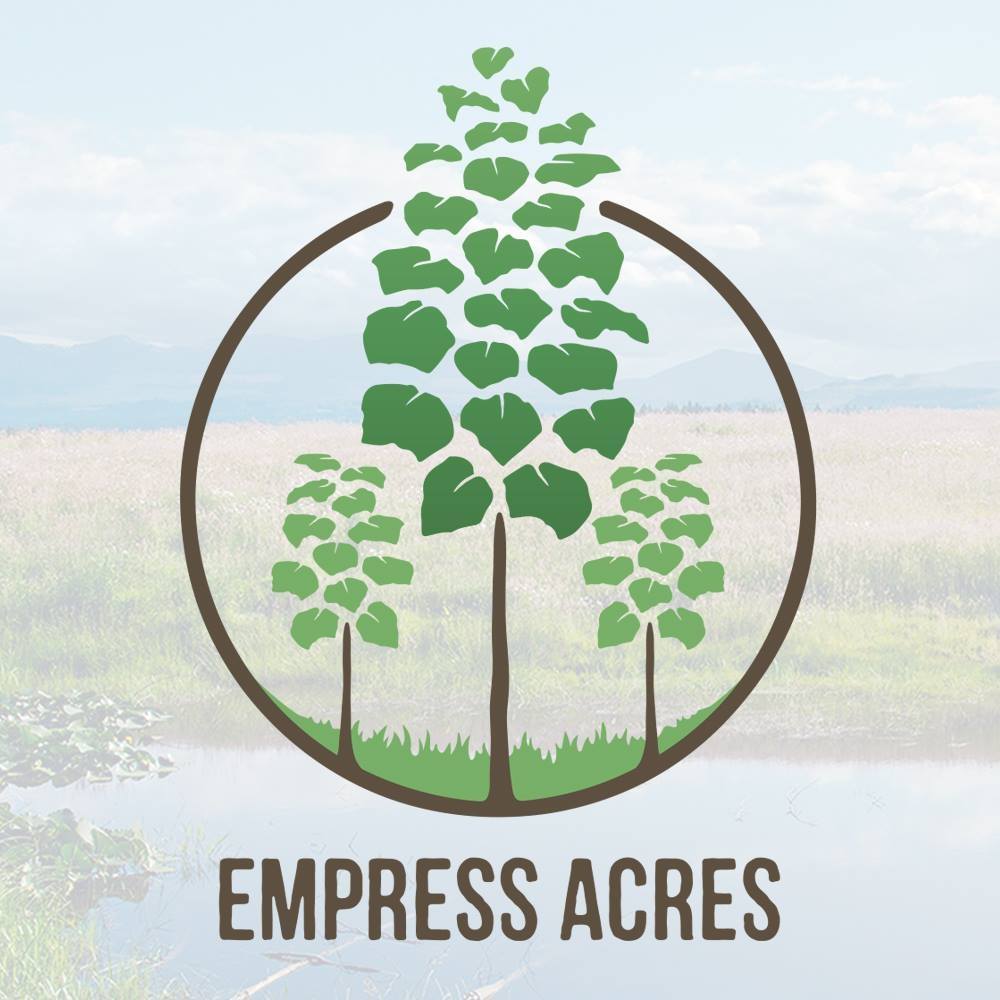 ORGANIC & REGENERATIVE AGRICULTURE
Position: Head Grower and Poultry Farmer
Employer: Empress Acres / EmpressAcres.ca
Location: 2974 Haslam Road, Nanaimo, BC V9X 1T1 info@empressacres.ca Tel 250-889-1343
Housing: housing on the farm is open for discussion.
ABOUT EMPRESS ACRES: 69 acres of joy, beauty and abundance
Empress Acres is a beautiful 69-acre farm located in the Cedar area on Vancouver Island, overlooking neighbouring farmlands and mountains.
Peter and Marlene Lewis purchased the farm in 2017 to grow a unique tree (Empress Splendor) in partnership with World Tree (http://www.worldtree.eco), combat climate change, grow a source of sustainable lumber, help preserve forests, enrich marginalized soil, draw down carbon and grow food for local consumption. 14 acres of the farm have been planted with this 'wonder tree'.
50 acres of land on the farm is marginally used. We want to change this by growing local, healthy, organic food on 7 acres of the land as a start and developing poultry farming of organic birds.
We have focused initially on growing crops for pickling e.g. cucumbers, dill and garlic, are expanding to other crops for pickling, leased 2 acres to another farmer who grows flowers, squash and tomatoes and planted Noble Firs for Christmas trees. We sold the pickling products directly to customers through orders and have a roadside farm-stand on site for selling flowers, squash and a few other vegetables.
WEBSITE: http://www.empressacres.ca
A recent testimonial:
"French traveling woman, I work, volunteer, help out in different locations to travel slower across Canada. Empress Acres and the Lewis have been wonderful. It's been my longest and most heart fulfilling stay so far. Everyone visiting the Lewis House and farm will agree on its peaceful, serene, grounding energy.
69 Acres of beauty and potential make me leave the place with a heavy heart.
Respect, communication and trust are undeniably their strength. Every new idea can be shared here. Marlene, Peter and Roy will listen and consider anything.
If you want to be part of a small community/family in a gorgeous welcoming home, want to apply theoretical knowledge and write another chapter in the Empress Acres book, I can only recommend this heavenly new born farm"
JOB DESCRIPTION
The successful candidate will further develop an existing 5-Year Farming Plan, will develop an annual, seasonal and weekly plan, and will carry out the plan directly as well as with the assistance of others on the farming team. This person will work under the supervision and guidance of the owners and will provide leadership and direction to others on the farming team at various times which can include, farming consultants, co-op students, and other helpers on the farm team as needed.
The successful candidate will demonstrate the competencies as described below and will be responsible for carrying out the duties consistent with these competencies.
COMPETENCIES: The successful candidate demonstrates competencies in the following areas
Context
Has a context of doing complete work, carrying out jobs to the highest state of completion, being tidy with everything farm related, getting along with everyone, having a sense of respect and community for everyone involved on the property.
Farming Method
understands and can apply regenerative, organic farming methods to all of the following agricultural areas
Poultry
can develop organic poultry farming with various meat and egg-laying birds
can develop facilities for organic poultry farming
can care for organic meat and egg-laying birds; this includes, feeding, hydration and protection from predators and disease
can research and follow government issued food safety requirements related to processing and handling of poultry
knows how and when to arrange for processing of poultry
Tree Plantation
can assess, improve and maintain tree health of trees being grown as a crop
can assess the viability of planting more trees and expanding the tree plantation
Soil Health:
can assess, maintain and build soil health as needed using organic methods
can build compost material for application on growing fields
Irrigation
can advise on suitable irrigation sources and ways for the plants to access the irrigation
can lay down suitable irrigation systems suitable for the various plants and plant areas
can determine when and how to deliver irrigation at appropriate times for optimal growth
can maintain and do some repairs of irrigation equipment when needed
Planting and growth
can determine where to plant various plants and when
can determine which plants to start as seedlings and which to direct-sow and when
can determine when to transplant seedlings
knows how to physically support various plants for optimal growth
can research and follow government issued food safety requirements related to produce
Plant Health: Pests and Diseases
knows how to prevent soil and plant diseases and crop destruction by pests
knows how to treat soil and plant diseases and crop destruction by pest infestations
can determine appropriate companion planting for optimal plant health
Weed Control
knows how to prevent and control weeds that will interfere with the growth and health of crops
Harvesting
knows when and how to harvest the various crops for sale
can harvest crops as they are ready for harvesting
Financials and Marketing
knows how to research viability of potential markets for sale of poultry and plant crops
knows how to assess the short and long term cost and benefit of various plant crops and poultry
Equipment and Tools
knows how to operate farm equipment and machinery such as a generator, tractor and attachments eg. plough, tiller, disker, seed spreader, etc. or, if candidate doesn't have this direct experience with farm equipment, demonstrates ability to drive a vehicle and ability to learn how to use such equipment.
Knows how to care for farm equipment and tools and keep all equipment and tools organized and in good working condition
Physical Health and Stamina
has the physical health, strength and stamina to do the various jobs required of the Head Grower and Poultry Farmer
Record Keeping
knows how to develop a record keeping system for tracking various matters important to the health, growth and sale of the various plant crops and poultry;
can keep records important to the health and growth of the various plants and poultry;
can use Google Docs and Google Sheets to share this information in an ongoing way with the farm managers and farming team.
Communication
communicates with the owners clearly and on a regular and timely basis provides updates on progress, problems as they arise, possible solutions, recommendations for next steps
communicates clearly and on a regular and timely basis with other farm team members which could include at various times, farming consultants, co-op students, and other helpers on the farm team as needed.
Teamwork
works co-operatively and respectfully with all members of the farm team, which includes the owners and, at various times, farming consultants, co-op students, and other helpers on the farm team as needed.
FORMAL TRAINING AND EXPERIENCE:
A graduate in Agriculture or a related program or 3 or more years of related farm work experience.
JOB DETAILS
Term: This is a full time job, 30 hours per week. The working days and hours are variable and flexible depending on the needs of the season. This position starts mid January 2022.
Wages: Pay is $23.08/hr; bonuses for meeting targets will be added after the 1st year.
Benefits: 3 weeks vacation to start; increasing to 4 weeks vacation after 3 years; housing on the farm is open for discussion.
TO APPLY: Please send a cover letter and resume describing your personal suitability for this job, education and/or experience and evidence of competencies to marlene@empressacres.ca
Please indicate you saw this posting at FoodWork.ca.