BYWARD MARKET JOBS
Hiring: Market Assistant (Casual)
Company: Marchés d'Ottawa Markets
Location: Byward Market, Ottawa, Ontario
Ottawa Markets is seeking up to two candidates to support our market operations. The Market Assistants will be responsible for engaging with the public at the reception and information desk inside the heritage building at 55 Byward Market Square.
In collaboration with the Markets Management Team, the assistants will support market, event, and festival operations at the Byward and Parkdale public markets. We are looking for part-time casual support ranging from one weekend shift per week to more shifts depending on events, the season, and your availability.
Key Responsibilities & Duties:
Provides Customer Service and Tourism information
Assists with vendors placement, attendance & support throughout market day
Contributes to market cleanliness
Clerical support, records keeping
Other duties as assigned by Markets Management
Summary of Qualifications:
Experience / interest working in a customer-oriented environment
Able to take initiative and to demonstrate good judgment in stressful situations and work independently
Willingness to learn market policies and procedures and assist in enforcing them
Looking for diverse candidates that can communicate in English, French or both, other languages considered a strong asset
Punctuality and flexibility to work evenings and weekends are of particular need at this time.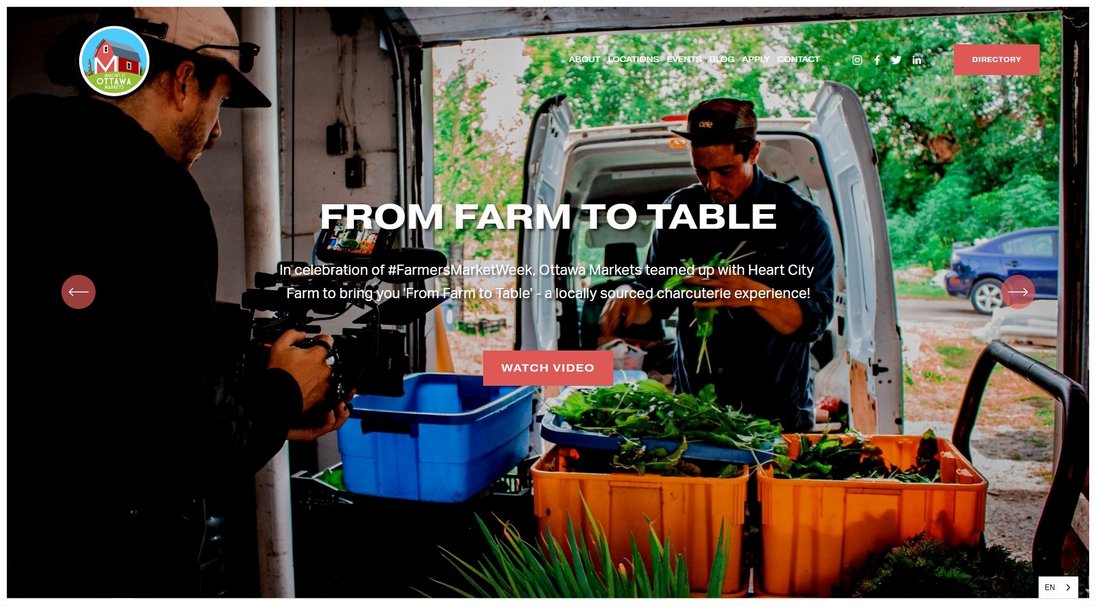 Experience:
Experience with customer service, tourism, retail and or markets are an asset. Strong motivation and a positive attitude are essential.
Salary: $18.60, 5-20 hours per week, casual position
Start Date: ASAP
Ottawa Markets is an equal opportunity employer and values diversity. All candidates are encouraged to apply and please do not hesitate to reach out to discuss the position with us.
E-Mail: Melanie@ottawamarkets.ca with a copy of your resume and your availabilty. Deadline Nov 31st. 
---
Marchés d'Ottawa Markets
Assistant de marché (occasionnel)
Les Marchés d'Ottawa sont à la recherche d'un maximum de deux candidats pour soutenir les opérations du marché. En collaboration avec l'équipe de gestion des marchés, les assistants de marché s'occuperont de la réception et du comptoir d'information dans l'édifice historique du marché By. Nous recherchons un soutien occasionnel à temps partiel qui pourrait consister en un quart de travail de fin de semaine ou plus, selon les événements, la saison et votre disponibilité.

Principales responsabilités et tâches :
- Service à la clientèle et information touristique
- Aide à la mise en place des vendeurs, présence et soutien tout au long de la journée du marché. - Propreté du marché
- Soutien administratif, tenue de dossiers
- Autres tâches assignées par la direction du marché
Résumé des qualifications :
- Expérience / intérêt à travailler dans un environnement orienté vers la clientèle.
- Capacité à prendre des initiatives, à faire preuve d'un bon jugement dans des situations stressantes et à travailler de manière autonome.
- Volonté d'apprendre les politiques et procédures du marché et d'aider à les faire respecter
- Nous recherchons des candidats diversifiés qui peuvent communiquer en anglais, en français ou dans les deux langues, autres langues étant considérées comme un atout.
- La ponctualité et la flexibilité pour travailler les soirs et les week-ends sont particulièrement nécessaires en ce moment.
Expérience :
- Une expérience du service à la clientèle, du tourisme, du commerce de détail ou des marchés est un atout. Une forte motivation et une attitude positive sont essentielles.

Salaire : 18,60 $, 5 à 20 heures par semaine, poste occasionnel.
Date d'entrée en fonction : LE PLUS TÔT POSSIBLE
Les Marchés d'Ottawa souscrivent au principe de l'égalité d'accès à l'emploi et valorisent la diversité. Nous encourageons tous les candidats à postuler et n'hésitez pas à nous contacter pour discuter le poste avec nous.
Courriel : Melanie@ottawamarkets.ca avec une copie de votre CV et vos disponibilités. Date limite le 31 novembre. 
Please indicate you saw this posting at FoodWork.ca.