ORGANIC VEGETABLE FARMING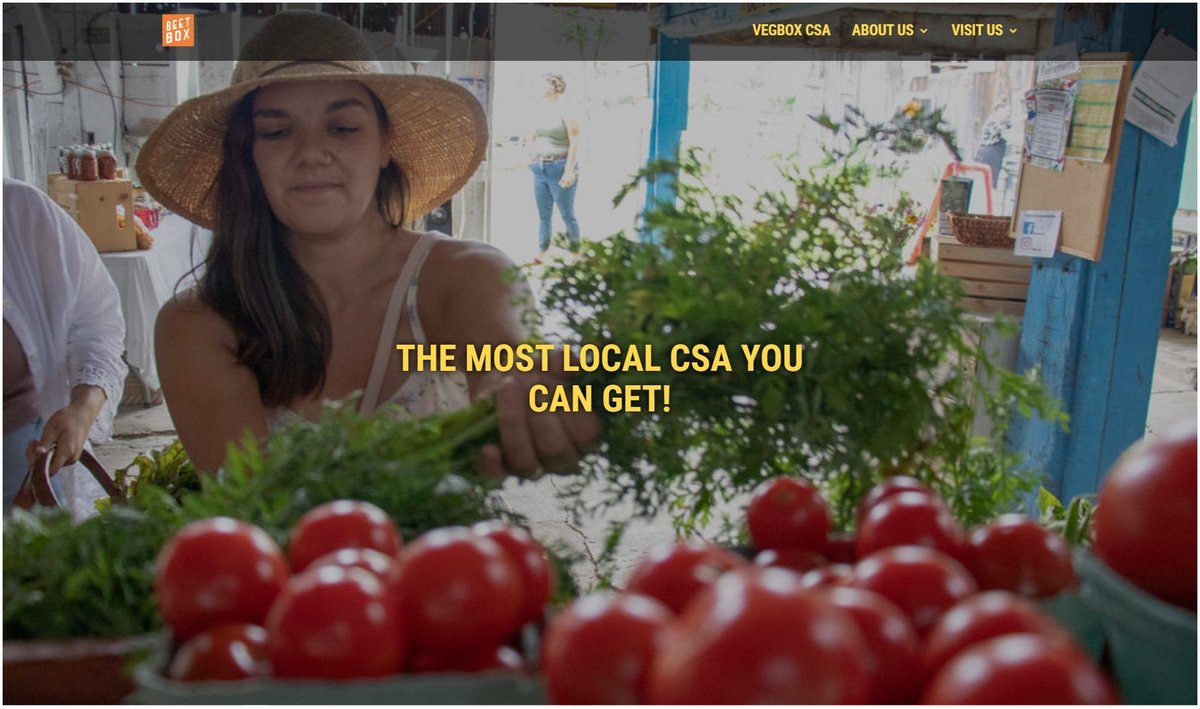 Hiring: Organic Vegetable Farmers
Farm: BeetBox Co-operative Farm
Location: Ottawa, Ontario

Eligibility: 30 years or younger
Position 1: Start of April to end of November, 40 hrs/week 
Position 2: Start of May to end of October, 32 hrs/week
About Us:
BeetBox is looking for committed workers and potential future co-op members to join our small horticulture team of young, enthusiastic organic vegetable farmers this 2023 growing season! Come work hard doing something good in a beautiful setting close to home — we're only 25 minutes from downtown Ottawa! Started in 2017, Beetbox Co-operative Farm is located on a 120-acre property bordering the Ottawa River in the North Kanata area. We grow a diversity of vegetables on a 4.5-acre rotation using organic growing methods. The farm sells its produce to local customers in the Ottawa region via our on-line and on-site farm stores and Community Supported Agriculture (CSA) program. We consider ourselves to be part of the local community and we regularly host a large team of volunteers as part of our work force!
PURPOSE OF BEETBOX:
The purpose of BeetBox is to contribute to driving a cultural shift towards sustainable food production, consumption, and democratic ownership.
MISSION OF BEETBOX:
Produce agricultural and food products organically
Sell products locally
Provide fair employment and liveable wages in farming
Provide co-op ownership and housing opportunities to workers, and
Provide opportunities for our community to engage with our activities and the land we steward.
VISION OF BEETBOX::
A world where humans participate harmoniously in our local ecosystems by enjoying the process of feeding ourselves sustainably.
CULTURE OF BEETBOX:
BeetBox looks to create a culture where workers and customers alike find themselves smiling more than frowning. We aim to support each other for mutual achievements. We strive for open, transparent communication among the team. We deeply respect each other, ourselves, and the land. We build community, we smash racist colonial patriarchy, and we have fun!
---
About the Job:
Tasks
All of the steps of organic vegetable production including but not limited to:
Harvesting, washing, and packing vegetables.
Transplanting, seeding, weeding, pruning, trellising and irrigating crops in the field and greenhouses.
Set up and potential work at the farm store
Volunteer coordination / supervision
Friendly interaction with our customers during CSA pick-up and farm store hours
Property and equipment maintenance, fixing stuff
Other varied tasks around the farm as needed
Schedule and Remuneration
Position 1: Start of April until the end of November, 5 days/wk or 40 hrs/wk
Position 2: Start of May until the end of October, 4 days/wk or 32 hrs/wk
Occasional weekend/evening work will be required
Work hours: 8:00 - 5:00 April-June & October-November, 7:00 - 4:00 July-September, 1 hr lunch unpaid
$16.50/hour
Requirements
Good attitude, enthusiam and sense of humour :)
Experience in farming or other outdoor physical work is an asset
Experience working with and/or coordinating volunteers also an asset
Happy working solo or in a team
Good physical fitness and stamina - lots of bending, crouching, and lifting required (up to 50lbs)
Ability to do repetitive tasks quickly and precisely
Resilience to working in all weather conditions
Clear and concise communication skills
Creative problem solving skills 
Willingness to adapt to change in a dynamic environment 
Keeness to improve efficiency in all our systems and processes
Bilingualism is an asset
Preference given to
Interest in future co-op membership
Experience marketing vegetables or other products
People with social media skills
Store and re-sale products management
Eligibility 
We require that our two 2023 workers be eligible and willing to be part of an application for certain wage subsidy grants which include the following criteria:
Aged 30 years of age or younger
Hold Canadian citizenship, permanent residency or Canadian refugee status
Certain other eligibilty criteria may be required
Benefits
Our farm is surrounded by forest, right beside the Ottawa river, in Ottawa's Greenbelt between Nepean and Kanata North
Learn how to grow food with and for the local community
Stay in shape without going to the gym
Benefits include the equivalent of approx. one small weekly CSA basket, a 25% discount at the farm store, and access to non-marketable vegetables
Opportunity for future employment beyond the 2023 growing season 
Eligibility to become a member of the co-op (farm co-owner) following one season of employment leading to greater involvement
Housing opportunities available (please let us know if you are interested in housing).
How to apply
If the above appeals to you and you'd like to be part of the 2023 Beetbox team, please send your resume with a brief introduction/cover letter email to csa-asc@beetbox.ca  We will be reviewing applications starting in December 2022 and will be contacting interested candidates starting in early January 2023.
Please indicate you saw this posting at FoodWork.