REGENERATIVE FARMING
Position: Mixed Farm Worker
Farm: Farm One Forty
Location: Saskatoon, Saskatchewan
Eligibility: 30 or younger (see below)
Are you interested in agriculture, looking for experience on a mixed farm with livestock diversity and veggies on the prairies to gain more skills, knowledge and experience? Farm One Forty in Saskatchewan is offering an apprenticeship just for you!
ABOUT FARM ONE FORTY
Farm One Forty is located near Vanscoy, Saskatchewan within Treaty 6 Territory.
Arlie Laroche and her husband, Brett grew up on conventional farms, where they gained extensive knowledge about farming. As young adults they began learning about regenerative agriculture and permaculture and wanted to implement those aspects into their own farm. Their goal is health and diversity in soils, animals and humans.
They raise pastured pork, grass fed beef and lamb (and some years chickens) as well as garden veggies, some fruits, and honey bees.
They do planned grazing with their sheep and cows together in summer and in the winter they bale graze. The pigs are in a pasture rotation system as well. In the veggie gardens they have hugelkulture beds and wicking beds and harvest rainwater. They use mulched paths and compost. There is some grain production in their operation and they practice no-till, cover cropping and cocktail mix plantings.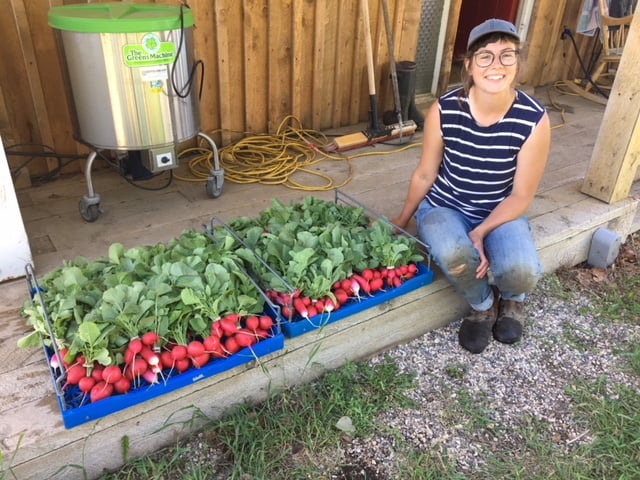 Another goal at Farm One Forty is to help reconnect urban people to where their food comes from and give them a connection to a working farm. To achieve this, the farm regularly hosts public farm tours, sleigh rides and fully catered on-farm meals in partnership with their Saskatoon restaurant, Odla.
About the apprenticeship:
The participant is to assist with a wide variety of livestock and vegetable production tasks. These include animal care tasks like feeding, watering, cleaning shelters, moving portable fencing and loading/sorting animals. As well as gardening tasks like soil preparation, planting, harvesting and processing vegetables.
The applicant will also assist with infrastructure projects like setting up irrigation, compost systems, and other small construction projects. There will be opportunities to meet and interact with customers at various events on the farm and in the farmer owned restaurant including farm tours, volunteer days, and "meet your farmer" events.
About the farm mentors
Arlie Laroche is the owner that is present day-to-day and the apprentice would work with her doing all animal related tasks and small construction projects. Brett Laroche does many of the repairs, welding and grain production side of things on the weekends and there would likely be some work with him as well.
Skills this farm has to teach:
The following skills are being offered by this farm. While you'll get exposure to many of these areas, it is likely that not all will be covered. Apprentices will work to identify the skills they want to develop through a learning plan with the host farm.
GARDEN MANAGEMENT WATERING AND FEEDING ANIMALS
BUILDING / REPAIRING / INFRASTRUCTURE
SEEDING / WEEDING / HARVESTING VEGETABLES
FARM TO RESTAURANT RELATIONS
ROTATIONAL GRAZING GRASS FED CATTLE PASTURE RAISED PIGS
DIRECT MARKETING
GRASS FED SHEEP
Skill required of the apprentice
Some experience working with animals and driving a regular vehicle is a must. Driving tractors, quads, etc. would be considered an asset but is not required.
Most importantly, the successful candidate will have a willingness to learn and be a critical thinker with common sense, highly motivated and passionate about regenerative ag.
Good social skills and communication are key as well. If the apprentice is interested there is opportunity to help out with workshops and farm tours.
Being flexible and able to switch gears regularly, sometimes midway through a task as occasionally things pop up that demand immediate attention.
Ages 18-30 an asset because this position is subsidized by a grant that requires it.
The apprentice will need to bring good work boots, gloves and work clothes.
Duration and Pay
The pay is $14/hour and the position is ~8 hr/day, 5 days/week.
The apprentice will have two days off per week. If they wish to take additional days off, they can likely work that in as long as it is communicated ahead of time.
The duration of the position is 16 weeks and we are looking to fill the position as soon as possible.
Applications
Submit your resume and an application letter indicating why you want the position and why you would be a good fit for the farm via email to info@farmoneforty.ca Application deadline is May 7.
Please indicate you saw this posting at FoodWork.ca.