JOB POSTING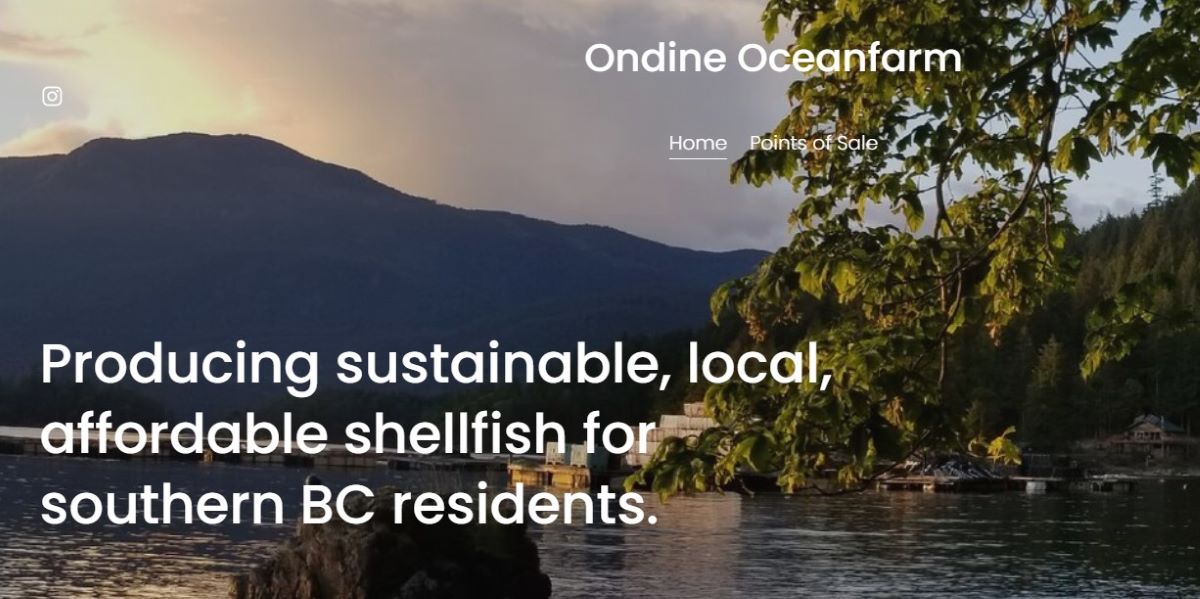 Position: Sales Representative
Employer: Ondine Oceanfarm
Location: Fraser Valley, BC (position requires vehicle transportation, see below)
The Position
Do you have an interest in having the autonomy to grow your own position? To be directly rewarded for your contributions? Do you want to learn and be part of a team that is growing the regenerative food movement in BC?
This position provides you with an opportunity to stretch and strengthen your entrepreneurial skills, while being part of a team.
The Company
Ondine Oceanfarm is a regenerative ocean farm located on Nelson Island. Our goal is to reimagine shellfish as a sustainable, accessible food source for BC residents, rather than a luxury food. We primarily sell our product locally throughout BC. Since taking over the farm in 2020, we have sequestered 5,600lbs of nitrogen; removed 4,900lbs of ocean plastics; and provided habitat for over 200 species of diverse ocean creatures.
Through food, we aim to knit our customers into the fabric of their environment, connecting them to the land and sea, the people that grew it, and the people they share it with.
The Position
We are looking to hire a sales representative to grow D2C, online, and B2B sales.
Our D2C sales are through our stall at the Vancouver, Squamish, and Port Moody Farmers Markets. D2C sales provide the business with a unique opportunity to learn about our customers, get their feedback on our products, identify market opportunities, and refine our marketing strategy. Additionally, the farmers market stall will give you the chance to engage new customers who might be interested in wholesale or retail opportunities. Please note that this position will require you to work Saturday and Sunday
Our B2B sales include retail and wholesale. This aspect of the position is very flexible and will require you to work autonomously. While the FM position is set to FM dates, this position has flexible hours. Your responsibility will be to maintain existing retail and wholesale customer relationships and provide them with information and sales strategy to grow their sales of our products. Additionally, you will be responsible for identifying, researching and making first cold contact with future customers, developing a sales strategy, including creating compelling sales and marketing offers.
Responsibilities:
Attending weekly meetings to provide progress reports.
Identifying, researching and making first cold contact. This includes cold calling.
Building and sustaining long-lasting relationships with new and existing customers.
Conduct face-to-face meetings with existing and potential customers.
Setting personal sales targets, and providing detailed accounts of meeting targets.
Maintaining an accurate record of all activity such as; leads, customer accounts, future/current client communication.
Representing the company authentically and transparently.
Tracking inventory to ensure you have enough product to fill current and future orders.
Communicating with the farm operations team on harvest targets and order fulfillment.
Coordinating marketing campaigns with social media representative.
Requirements
This position requires vehicle transportation. If you have your own vehicle, you must:

be able to transport farmers market equipment (tent, freezer, product, tables, tent decorations, etc.) each weekend, and deliver product to retailers or post office as required.
Driver's license in good standing.
Valid insurance.
You will be compensated for transportation costs.

If you do not have your own vehicle, we can find a work around, but you must have a drivers license in good standing.
Be able to lift 55lbs.
Effective communication and negotiation skill.
Exceptional customer service skill.
Able to keep detailed records:

Customer Relationship Management
Managing online store
Temperature records
Transportation
Marketing
Tracking inventory
Working with various freight companies to ensure order fulfilment and shipment tracking
Federal seafood tag tracking and record keeping

Experience with Google documents and sheets- or a willingness to learn.
Patience, a genuine love for the environment, a desire for a unique opportunity to gain hands on experience, ability to work independently, etc.
Independently of each other these all sound like huge jobs, I get that. However, we are not dealing with large volumes. Right now we are doing ~80 transactions a month through farmers market. We want to grow that (understandably). In the event the volume or diversity of roles becomes too much for you (because you have done your job so well) we are happy to engage in a conversation about growing the team to get you the support you need. We see this growing into a 3-4 prong team, but that is the eventual goal.
Compensation:
$20.00 per hour to start
After probation period:

commission for sales
Health benefits
To Apply:
Email your resume and cover letter to contact@ondineoceanfarm.ca
Application deadline November 25, 2021
Please indicate you saw this posting at FoodWork.ca.