FOOD SECURITY
Position: Social Support Maternity Leave Coverage
Organization: The Nourish and Develop Foundation
Location: Cannington, near Brock Township & North Durham Region Ontario
The Nourish and Develop Foundation (http://www.tndf.ca) is a charitable non-profit, located in Cannington. We are seeking a person to cover a social services maternity leave position which entails a variety of activities in our Food, Education and Support programs.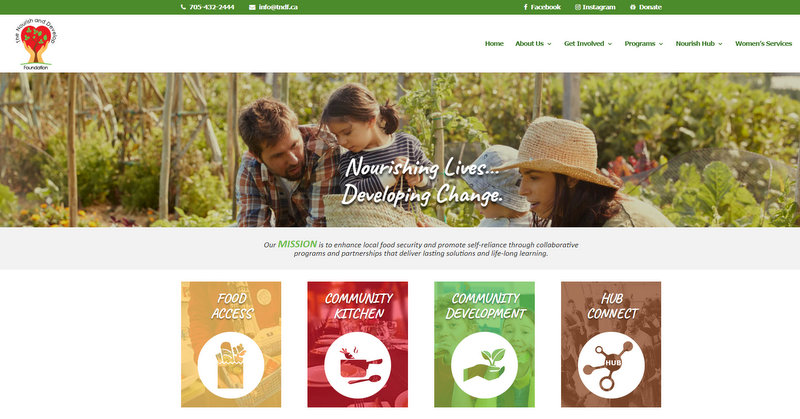 This 16 to 20 month full-time contract is for 35 hrs/week with a compensation of $20.00 to $24.00 per hour based on experience.
A full-time permanent position after the contract's completion MAY be possible. The preferred candidate is someone who is ambitious and communicates well with people. An understanding of the role of social services in relation to food security, a commutable distance to Cannington, and familiarity with the Brock Township and North Durham area (living and/or working) is considered an asset.
Responsibilities May Include:
Develop/apply creative strategies to reduce social isolation and increase participants' connection to community
Engage in outreach opportunities and support community fundraisers to recruit and serve program participants.
Work one-on-one with community members to offer emotional support, assess presenting needs, develop goals
Make referrals for external services (housing, mental health, employment support, etc), and help navigate the system with transparency and follow-ups
Inform community members and partners of current TNDF events, programs, and services and screen prospective program applicants against criteria to determine program eligibility
Work with community partners to fill service gaps and ensure community needs are being met
Assist Women's Services Coordinator with initial intakes, life skills workshops, and development of the Shelter
Procure material goods such as clothing, furniture, and housewares to meet basic needs of participants
Provide immediate crisis intervention services to defuse and de-escalate conflicts with established protocols
Keep accurate service records and program documentation, provide reports and statistics, uphold safety measures/protocols, attend staff meetings, interact in a professional non-judgemental and respectful manner
Supervise social service work program college students (delegate tasks, meet objectives, reporting performance)
Collaborate with all TNDF staff to ensure cross promotion of programs and community resource development
Participate in professional development trainings and workshops to learn and apply new knowledge and skills
Perform other related errands and duties as required (within a 60km radius of Cannington)
Qualifications and Requirements:
3-5 years of work experience in a community based non-profit and/or volunteer work in the social service field
A diploma/degree in a related field of study (community development, nutrition, social work, addictions, mental health, psychology, or social work, etc.) and a valid driver's licence with access to a reliable vehicle is a necessity
A valid Criminal Record Check with Vulnerable Screening is required upon hiring
Registered in Good Standing with the Ontario College of Social Workers and Social Service Workers preferred
Ability to apply sound judgment, tact and discretion, upholding the principles of confidentiality
Excellent relationship building skills, a high level of flexibility with a positive energy, a drive to help others
A demonstrated ability to work with rural and diverse communities by using a strengths-based approach, showing sensitivity to those who experience poverty/discrimination
Ability and willingness to work evenings, weekends and holidays, when required
Strong organizational and problem-solving skills, good time management with the ability to prioritize
Self-driven with an ability to work independently as well as collaboratively within a team setting
Strong verbal and written English and Familiarity with Microsoft Office 365
Our office hours are Monday to Friday, from 8:30 am to 4:30 pm. The successful candidate will benefit from a comprehensive training program and quality supervision. TNDF is carefully practicing COVID-19 safety measures as ordered by Durham Health and as outlined in TNDF's Emergency Action Plan. Candidates must be prepared to make safety provisions while performing all job duties and be adaptable to changing requirements. We are an equal opportunity employer. We work to develop an inclusive work environment where team members feel empowered to express authentic ideas and experiences. We welcome applications from all qualified applicants with an interest in advancing our mission, vision and values. If contacted for an opportunity, please advise us of any accommodation measures required to enable you to be assessed in a fair manner. Information received will be addressed in confidence.
To Apply:
Please apply by emailing your cover letter and resume to info@tndf.ca by September 26th 2021
Please indicate you saw this posting at FoodWork.
Note: Only candidates selected for interviews will be contacted.