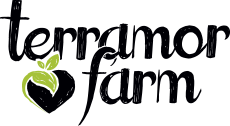 SUMMER JOBS & STUDENT JOBS
Positions: Organic Farm Workers (2)
Type: summer jobs / age 30 & under
Farm: Terramor Farm
Location: Burnstown, west of Ottawa, Ontario
About Terramor Farm:
Consciously growing delicious and nutritious, non-certified organic vegetables! With years of experience in the restaurant industry our love of food brought us back to the country.
Our farm is located in Burnstown just 50 minutes west of Ottawa. We have adopted bio-intensive farming practices, using mostly hand tools, cultivating just over an acre of land. Each year, we produce over 30 varieties of vegetables providing for our CSA program, restaurants and markets.

About the Position
Terramor Farm is looking for self-motivated, responsible employees to join our team.  Positive, goal oriented individuals who enjoy the rewards of working hard and being outside (in all weather) will love this job!
Perks include: being part of an amazing team, eating lots of delicious veggies, getting fit both Physically and mentally aa well as Friday team lunches cooked for the crew by Dana and Luke from the farms bounty! 
Join Our Team
Email us, terramorfarm@gmail.com your CV with a brief description of yourself and interests.
Please indicate you saw this posting at FoodWork.
Application Deadline: June 30
Positions Available: 2 full time employees to join our team for the 2021 season.
Responsibilities: Wash/Pack, cultivating, weeding, planting, harvesting, irrigation and general farm tasks
Hours: Tuesday – Saturday; 7am – 4pm. (hours may vary)
Starting Wage: $14.25/hr (negotiable based on experience)
Must have a valid drivers license. No onsite living available.