VANCOUVER LOCAL FOOD & EDUCATION
Position: Executive Director
Organization: Growing Chefs
Location: Vancouver, BC (remote position with the expectation to be present in the Vancouver office a few times a month)
Support healthy, sustainable, just food practices and systems. Improve the health and nutrition of kids and youth. Make local, sustainable food accessible. Connect communities through food.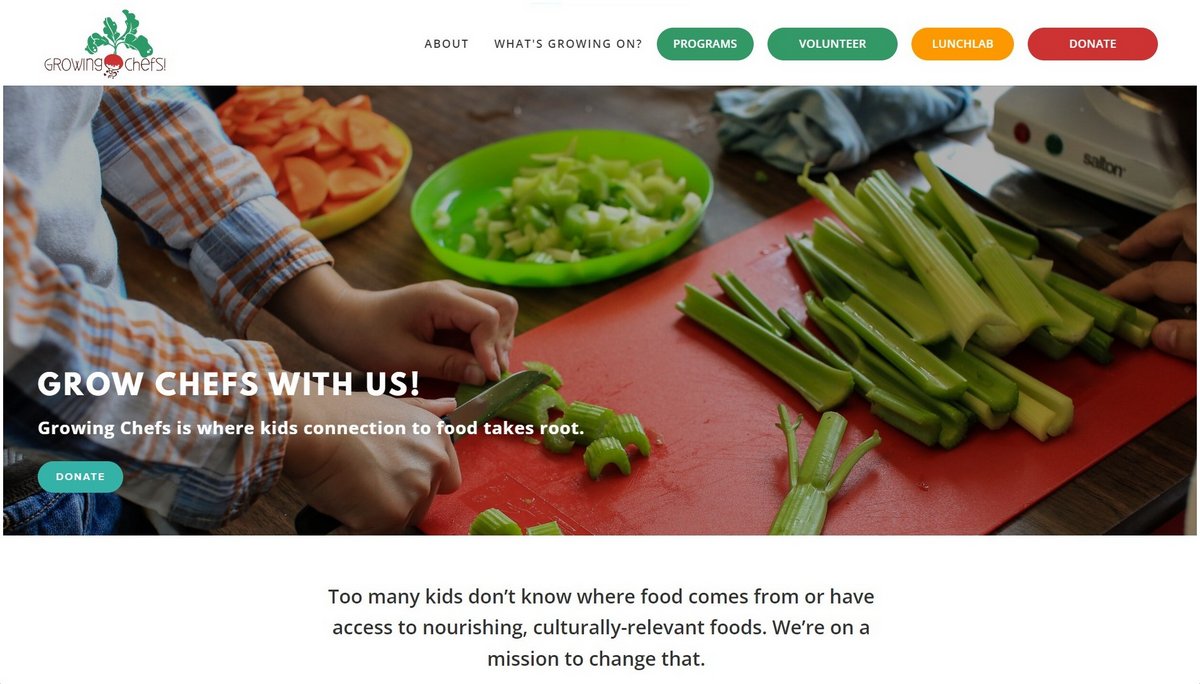 If you are an experienced executive driven by these goals, you should become the Executive Director of Growing Chefs!
Too many kids lack access to fresh, healthy food. Growing Chefs is on a mission to change that. Our vision is a world with healthy, just, sustainable food practices. We believe food can be a powerful catalyst for positive change in the lives of kids and youth.
Working with volunteers from the chef and restaurant industry, Growing Chefs engages kids in hands-on and virtual food literacy activities with the whole food cycle—from seed to plate to compost. Growing Chefs is where kids' connection to food takes root. You can learn more about what we do at growingchefs.ca.
Why Growing Chefs?
Growing Chefs is a dynamic non-profit organization that works with food professionals and educators to get kids excited about healthy, sustainable food. For over 15 years, we've been growing our programs and our ties to the community. We plan to continue building on our successful foundation to become one of the leading education and advocacy organizations in our field.
We have a caring people-first culture in which we value our staff and nurture their growth. We support staff at all levels in meeting their personal and workplace goals. Our staff love their work and have a great deal of respect for each other.
Growing Chefs is committed to equity. We encourage people who face barriers to employment to apply, and if there is anything we can do to shape the recruitment process to best fit their needs to let us know.
Salary: $78,000-$92,000
Benefits: Health and dental plan; four weeks paid vacation + paid winter shutdown per year; 10 paid personal wellness days per year (aka sick days); 35-hour work week; annual professional development funding; paid volunteer days; flexible work hours.
Executive Director's Roles and Responsibilities
Working closely with the Board of Directors, the Executive Director (ED) provides leadership for the staff, programs, organizational operations, and the execution of the Growing Chefs mission. The ED supports the development and implementation of the strategic and operational plans that guide the organization.
The ED is responsible for:
Developing and implementing our strategic plan
Nurturing our people and culture
Developing the budget, managing finances and financial reporting
Ensuring effective and efficient operations
Prospecting, cultivating and engaging with funders
Communicating and engaging with our communities
Acting as the public face of the organization
The ED works closely with the Chair(s) and reports to the Board of Directors.
Qualifications
We are looking for :
A passionate changemaker connected to the vision and mission of Growing Chefs
An innovative and dynamic leader with three or more years experience and a proven track record of successfully leading a medium-sized non-profit organization (or similar experience)
A creative and strategic thinker and decision maker with a systems change approach
Demonstrated ability to use a complex problem-solving approach and to act decisively when needed
Demonstrated success in fundraising and understanding a culture-of-philanthropy approach
Demonstrated success in building and supporting a nurturing, respectful people and culture practice culture that helps staff thrive
Demonstrated ability to grow strong relationships with a wide range of community partners
Excellent communication skills: written, verbal, and presentation
Demonstrated ability to work with a range of online collaborative workplace systems
Experience in managing a budget and financial reporting
Skills in operational management, infrastructure, and capacity building
Experience with IT systems, tools, software related to organizational function, financial management, administration, fundraising, or similar
Knowledge of the hospitality and education fields in BC, as well as an understanding of governance best practices, would be an asset
Interested in a more complete job description? Awesome! Go to our What's New web page to see more of the nitty gritty.
To Apply:
Please visit and submit your application via Workable.
Please indicate you saw this posting at FoodWork.ca.