REGENERATIVE FARMING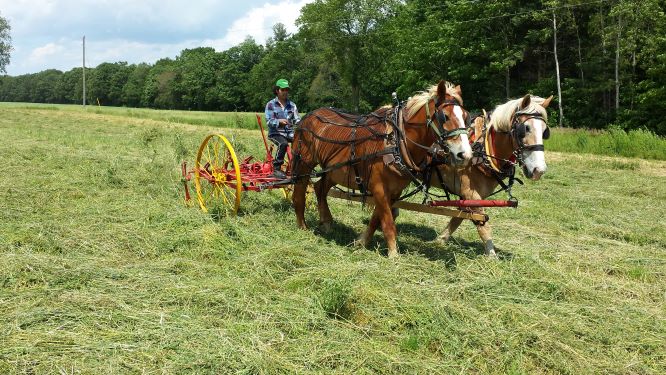 Opportunity: Share a working farm
Farm: Mats Fine Oils
Location: Straffordville, Southwestern Ontario
Accommodation: apartment on the farm for full time
My wife and I want to share our regenerative farm to reduce our workload as we age. I need to spend more time continuing to managing the fields to build soil health as well as working more with our draft horses.
We press Sunflower, flax, camelina and hemp oils from crops on our farm. We also produce rye and spelt flour along with corn meal from our fields. We have heritage chickens and organic eggs.
We are self sufficient in feeding ourselves and our animals, have solar cells and generators that run on sunflower oil for our own electricity. We also have grid available.
As well as the four draft horses we have four tractors that run on sunflower oil, a combine and a swather with all of the equipment needed in the fields as well as everything for baling hay.
We practice regenerative farming using pastures and animals, having crops only after many seasons of pasture.
We have a welding shop, machine shop and wood working shop and all the equipment necessary for making and maintaining our equipment.
The farm is debt and mortgage free and have a good customer base for our oil and flour sales.
We built a new two bedroom apartment over our new workshop and would like to find a family or couple that want to share this lifestyle in hopes that they develop their own business as well as work on the farm. To begin, we propose that we provide an apartment, a shared garden, and a field to grow their own business in return for 15 -20 hours a week working on the oil pressing, in field work and equipment maintenance. Wages are also possible depending on Soil health knowledge, farming skills, horsemanship, welding, woodworking and machine shop ability.
To Apply:
Email mat@matsfineoils.com
Please indicate you saw this listing at FoodWork.ca.